Inter Forward Joaquin Correa: "We Can Take Control With Derby Win, I Want To Score Against AC Milan"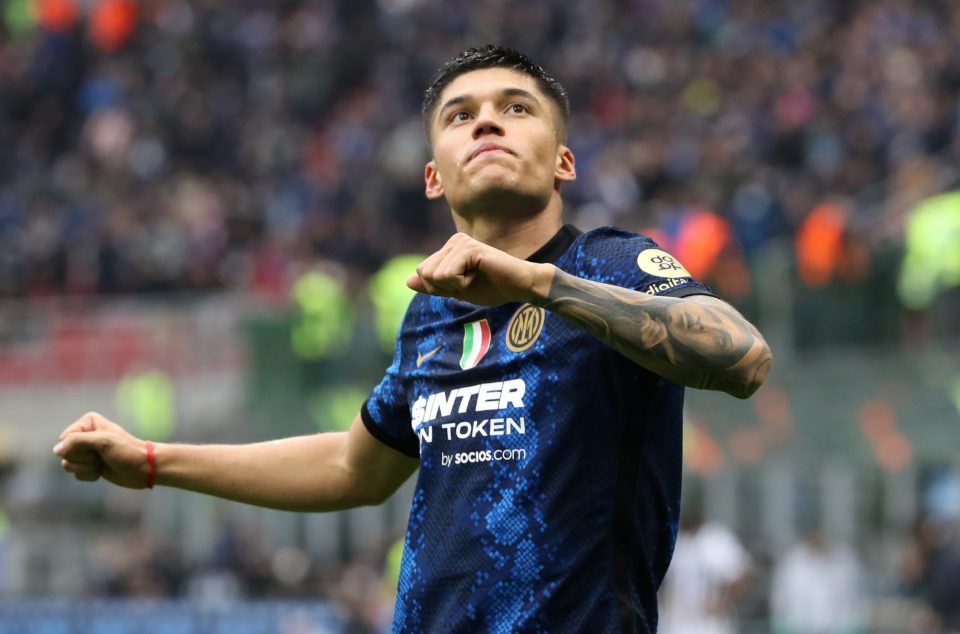 Inter forward Joaquin Correa is looking forward to his first Milan derby as a player, and wants to make an impact to help his team get back into the title race.
Speaking to Milan-based newspaper Gazzetta dello Sport in an interview published in today's print edition, the Argentine spoke about how he hopes to score a goal in one of the Nerazzurri's biggest matches of the season thus far.
Correa is now a couple months into his Inter career, and he has been on the sidelines through one of the team's biggest matches of the season in the form of their match against Juventus as he suffered an ill-timed injury.
The 27-year-old is all ready to make himself available for the derby, however, a fixture which is always massively significant for both clubs and both sets of fans, and which is even moreso now given that the Nerazzurri have to find a way to claw back the deficit on their city rivals in the table with a win in this vital head-to-head.
"We are still at the beginning of the season, but you certainly feel in the air that this is a special match," Correa said of tomorrow's massive match, "one of those that can change a season: Nerazzurri fans look to us for great joy and we want to give it to them."
He went on that "It would be wrong to think about the risks and dangers. Instead, we have to think the other way around, think about how important it would be to get to just four points back. With a win everything can change, it would be a message, it would mean that we can still be protagonists."
"But now the predictions are useless, we need to stay close to the top of the table," the 27-year-old went on.
About his record of five goals in nine matches against the Rossoneri, Correa stated that "I am particularly attached to the goal I scored in the 2019 Italian Cup semi-final with which we got past the round, especially because in the end we also took the trophy home. Another time I scored a goal in the 94th minute: they were all important goals, but I want to score more."
Of his earliest Milan derby memories, Correa said that "As a child in front of the TV and on the pitch there were smoke bombs, a thousand lights and many champions. I thought about how nice it would be to be there, even just to see it. And now I play in it as well."
Of who he turned to for advice when he made the switch to Inter, Correa said that "An important phone call was that of Veron, a role model for us at Estudiantes. It was incredible, he didn't miss a step."
"This time I asked him about the club and he immediately said: 'Go!' He made me how great Inter is, what it means to be here," he went on. "I didn't hesitate for a moment about it: I had this dream since I was a child when I had only briefly touched Inter."
On his early trial at Inter, Correa said that "I remember Pinetina, breathing the air, the emotion: I wanted to move at all costs also because I was already a fan of the club given the many Argentines had played there. In the end, the clubs did not agree: obviously it had to go like this, I had to to arrive here as an adult."
About reuniting with former Lazio coach Simone Inzaghi at Inter, he said that "After my agent, I listened to him as well as the club. He made me understand that this was an important step forward. Hearing him at that moment made me feel happy and safe."
"I don't see him as having changed," he said of the Inter coach, "he's always calm and determined. Very intelligent in how he manages: an older brother who makes himself loved by his players. And his staff also work very well: that's why I think things will go well for us, just have patience."
On having former Rome derby opponent Edin Dzeko as a teammate he stated that "I always joke with Dzeko: I tell him that in Rome we always won. Having him as an opponent was tough, better as a teammate, it's crazy, he scores a lot."
Of his relationship with club and international teammate Lautaro Martinez, Correa stated that there is "Healthy competition, but we are all going in the same direction. Indeed, Toro is helping me a lot with everything: he is a top player on and off the pitch. Before I moved he would call me constantly to ask me about it: he wanted me to come here."
"I expected to be more physically fit and, therefore, to play more," the 27-year-old said of his start to then season. "But small injuries have punished me and this makes me angry. But my time will come: now I'm fine and I'm ready to play more minutes."
"The level of the squad is very high," he continued. "Brozovic, beyond his jokes, is impressive: how much distance he covers all over the pitch."
And of the incident with Lazio defender Luiz Felipe after Inter's game at the Stadio Olimpico, Correa stated that "In the end I was the bad guy for the angry reaction! It was not the right time, but we immediately made peace, and he remains a great friend. On the pitch, however, he wept not for me, but for the red card."