Five Things We Learned From Inter This Week: "Hakan Calhanoglu A Man Inspired Against AC Milan"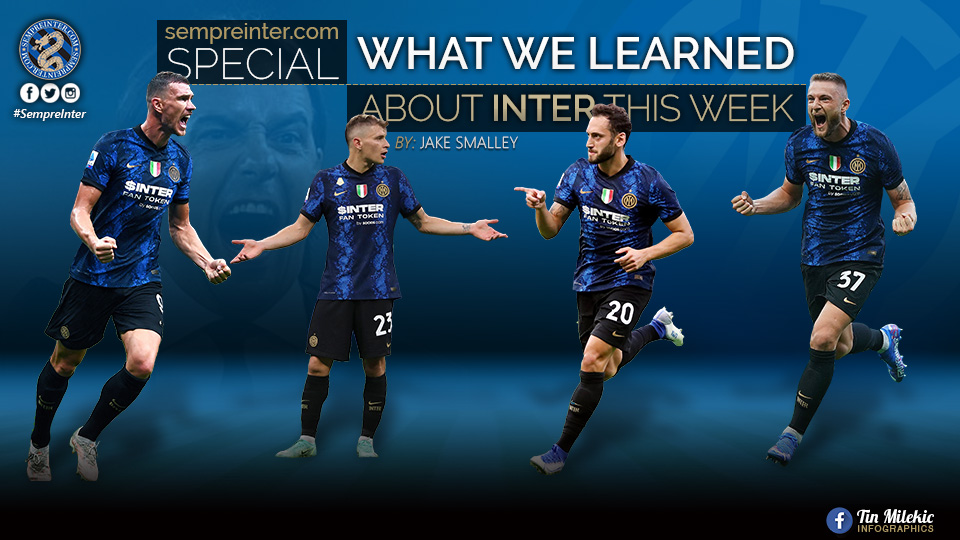 Inter put themes in a strong position in the Champions League this last week but will perhaps feel they missed an opportunity in the derby on Sunday night.
A missed penalty and fluffed finish from Lautaro Martinez as well as shots cleared off the line from Nicolo Barella and Arturo Vidal left Inter settling for just a point against rivals Milan.
Inter once again balking at a key moment in the game and costing themselves points in a big match this term. Here's what we learned from Inter this week.
1) Beat Shakhtar & Inter Are Laughing
Beat Shakhtar at home? Sounds simple right? Haven't we been here before?
Inter beat Shakhtar and Real beat Sheriff and it's done. Inter will reach the knockout stages.
Back to back wins over Sheriff puts Inter in the driving seat as they now, despite a sloppy start, look odds on to reach the knockout stages.
It is now up to Inzaghi's men to finish the job and avenge twelve months earlier.
2) Hakan Calhanoglu A Man Inspired Against His Former Side
Hakan Calhanoglu was a man possessed as he seemed very keen to make his former club rue letting him leave over the summer.
The Turkish midfielder slammed home a penalty and celebrated with aplomb in front of his old supporters and put in arguably his best shift in Inter colours.
Tough in the tackle, quick across the ground and a driving force in the centre of the pitch, Calhanoglu gave hope to Inter fans that he may be able to fill the void left by Christian Eriksen.
Now it is up to the former Leverkusen man to make it a regular thing and not just one good game in every few.
3) Lautaro Martinez Out Of Sorts
The real worry when Romelu Lukaku departed was who would step up and find the goals.
There has been an early flurry from Edin Dzeko but many thought this would be the time that Lautaro Martinez stepped into Inter's key striker role.
So far those people are wrong.
Lautaro's lack of clinical instinct is the sole reason he is not a top striker.
His goal droughts, one of which he is currently in the middle of, as well as his inability to score more than one in every three chances is severely holding him back.
The former Racing man has been a success since his arrival at San Siro, but for him to hit the high accolades of one of the world's best forwards he simply must score more goals.
4) Nicolo Barella Injury If Not Serious Not Necessarily A Bad Thing
If it's weeks and months then of course it would be bad but if it is a niggle that keeps him out of the international fixtures this week, Barella is simply going to have to just sit at home which means he finally gets a rest.
Inter's talismanic midfielder has simply run himself into the ground the past 18 months with little break and has looked ragged in spells this season.
With Simone Inzaghi seemingly unwilling to rest Barella, an enforced break should do him absolutely no harm whatsoever.
A fit, firing and energised Barella would be a scary thought.
5) Simone Inzaghi A Bottler Of Big Games?
Given Inter's inability to beat Juventus (bag refereeing call), Atalanta (missed a late penalty), Real Madrid and now Milan begs the question of whether the manager can win these key games.
During his spell as Lazio boss, Inzaghi was often criticised for his use of substitutions which was once again brought into question on Sunday night as the subs he made destabilised the side.
His opposite number Stefano Pioli on the other hand made changes that gave his side the edge and allowed them to finish the game stronger.
Inzaghi is new to the club, fairly inexperienced as a coach when compared with Conte and has overseen a solid start so far in difficult circumstances.
However, to progress with this side, he must find a way to come away from games against top sides with maximum points.