Former Inter Midfielder Borja Valero: "Nerazzurri's Scudetto Was Built On Luciano Spalletti's Groundwork"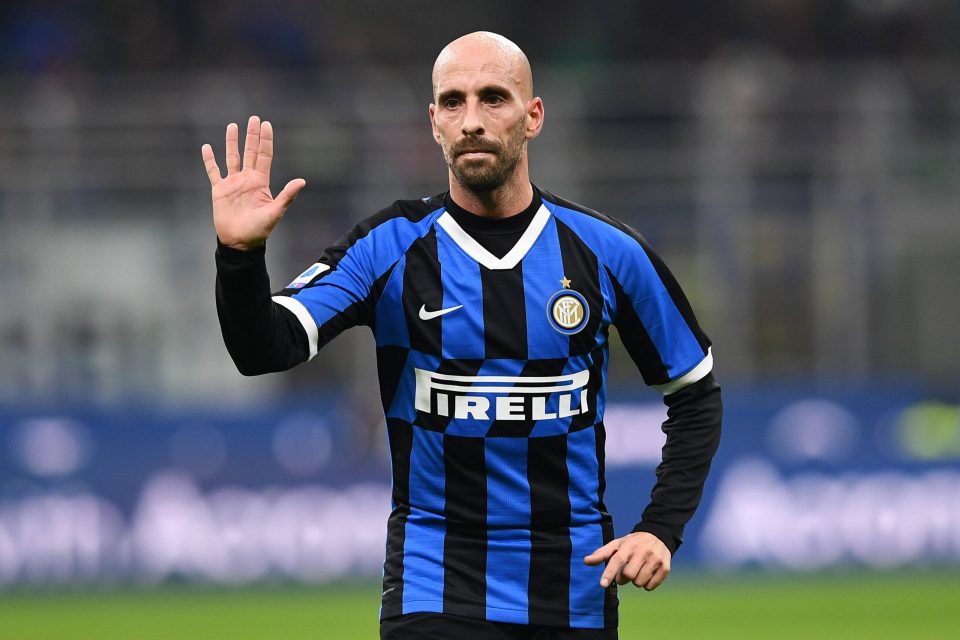 Former Inter midfielder Borja Valero believes that last season's Scudetto was partly thanks to the work done by ex-coach and current Napoli boss Luciano Spalletti.
Valero played under Spalletti, who was at the helm between 2017 and 2019, before the coach was replaced by Antonio Conte and the club secured a first Serie A title since 2010 in May.
In an interview published in today's newspaper edition of La Gazzetta dello Sport, the Spaniard argued of the importance of Spalletti's work to Inter's recent success, including returning the Nerazzurri to the Champions League after a lengthy absence.
"Each coach added a piece to the club's recent history. Spalletti managed to bring Inter back to the Champions League and that was the beginning of everything," Valero claimed.
"The club wanted to be among the greats and they succeeded. Basically, he built the foundations for Conte's extraordinary and decisive work.
"If there is a coach capable of changing the environment, of immediately bringing ideas and of adding enthusiasm, that is Luciano Spalletti. We too saw that immediately at Inter. He managed to rebuild and achieve the goals that the club had. Even now at Napoli he had an incredible impact and deservedly is at the top.
"He is very good at getting inside the players' heads, at making them feel strong. When he has a team with the quality of Napoli at his disposal, everything is simpler."
Valero also suggested that there were still signs of Spalletti in the current Inter team, despite his departure more than two seasons ago, ahead of the coach's return to the Stadio Giuseppe Meazza with his Napoli side tomorrow.
"There is one sign above all, playing Marcelo Brozovic in this new deeper position in front of the defence. At the beginning he considered him an attacking player, but Marcelo could not make a contribution further up the pitch.
"At that point he moved him a few metres back and became a devastating playmaker, a unique one. there is no other midfielder capable of doing so many things, all of them well, like him. The system has changed at Inter, but Brozovic has remained right where Spalletti had put him."
Spalletti was also considered a key factor in winger Ivan Perisic not joining Manchester United, and Valero felt he was essential to this.
"It was decisive for him to stay. Ivan was really fundamental for him, especially for his way of attacking, as a tall and powerful winger. He spoke to him with an open heart and said, "for me you are fundamental and you shouldn't go." He convinced him and made him a great player at Inter. In recent years Perisic has improved even more."
Valero then turned his attention to Inter's defence, having seen Alessandro Bastoni and Federico Dimarco establish themselves in the first team after being academy products during his own spell at the club.
"I'm not even a little bit surprised by them, they had extraordinary qualities and self-confidence, this always makes the difference. I remember them as good people who make the right atmosphere in the dressing room. After all, it is always said that in Serie A it is important to have an Italian core.
"The loss of [Stefan] De Vrij to injury is serious, but I saw an excellent [Andrea] Ranocchia and there are many other possible solutions. Napoli's [Victor] Osimhen is one of the most dangerous strikers in the league, but Inter have the weapons to stop him. Above all by defending as a team."
Looking ahead to Inter's transfer activity, the Nerazzurri have been linked with Napoli captain Lorenzo Insigne but Valero hoped he would remain with his hometown club.
"From the outside, you never know exactly what is happening and when there are expiring contracts the matter is always delicate. Insigne is not just a captain at Napoli, but a symbol, a son of the city.
"It would be beautiful and romantic if he ended his career in his hometown, but only Insigne knows what is best for him and his family. his decision will still be respected. If he becomes available on a free transfer, then he could be an asset to many teams, including Inter."
The Nerazzurri take on leaders Napoli tomorrow and defeat would see them fall 10 points behind, but Valero urged his former club to see it as an opportunity.
"If the other teams continue to win, then the gap gets bigger. But this is an excellent opportunity for Inter to get closer to the top, above all because so far they have not beaten direct competitors. For me, regardless of the result with Napoli, they will still be challenging for the title," he concluded.