Inter Coach Simone Inzaghi On Champions League Clash With Shakhtar Donetsk: "We Have Everything In Our Own Hands"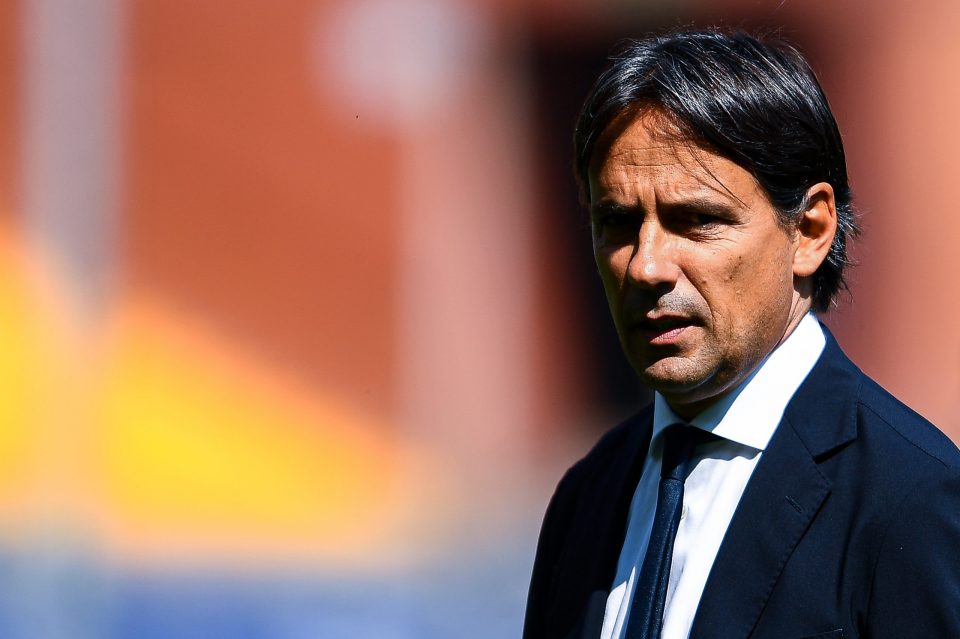 Inter head coach Simone Inzaghi knows how important tomorrow's head-to-head clash with Shakhtar Donetsk in the Champions League will be.
Speaking in a press conference ahead of the massive fixture, as reported by FCInterNews, the coach emphasized that it is up to his team to secure progress in Europe's top competition with a positive result.
The Nerazzurri did not enjoy an encouraging start to their Champions League campaign, losing to Real Madrid in frustrating fashion before a goalless draw away to Shakhtar Donetsk in their second match of the group stage.
However, they defeated Sheriff Tiraspol twice, something no other side in the group had been able to do, and now they are sitting on seven points in the group.
Being second in the group table, a win over Shakhtar could potentially be enough to see Inzaghi's team to the knockout rounds of Europe's top competition should Real beat Sheriff as well.
On the significance of the win against Napoli on Sunday Inzaghi stated that "I think we had a great match on Sunday, we beat Napoli, who had the best defense in Europe."
"The guys gave a great display of maturity and character," he went on. "We know that tomorrow everything is in our hands. After the wins against Sheriff we are where we need to be, we know we are facing a team that has an excellent coach and gave us a hard time in the first leg so we will have to play well."
"We have to recover physically," he said of fitness in the squad, "on Sunday we exerteda lot and I had some problems during the match because Barella and Correa both asked to be substituted."
"Calhanoglu was the only player on the pitch who was on a yellow at 3-1," he went on, "I preferred to take him off."
"Considering that Dzeko has not been in his best condition and Satriano is not available," the coach went on, "I have to make some evaluations. There is no question that de Vrij and Sanchez will not be available tomorrow but the hope is that the injured will recover."
"We know that tomorrow is very important," Inzaghi emphasized, "it is key to achieving one of our goals. I said at the beginning of the season that  our goal had to be to return to the round of sixteen."
He characterized tomorrow's clash as "A decisive match because the last one will not be very easy in Madrid, but we also know that we come up against an opponent of great quality who can make life difficult for you. So we will try to prepare for it in the best possible way."
"I am fortunate to have very high-level players," the coach stated when asked about the style of opponent he prefers, "who have been playing at this level for many years. It makes no difference, as we have seen the last few games."
"We have come up against teams that have tried to play high up the pitch or deep," he continued, "I know Shakhtar very well, I have faced their coach several times and he has managed to quickly convey his ideas to a very technical team with excellent individual players."
On whether he expects Shakhtar to be less motivated given their current status in the group Inzaghi stated that "I don't think the match will change much."
"In my opinion it will be an excellent match," he went on, "A European-quality encounter with two teams that play good football. For us it is very important, which can motivate us a lot."
"In the first match either team could have won," Inzaghi went on. "Maybe we had more chances, but Shakhtar had more possession. We are aware that we are facing a team that wants to control the game and we must try not to let them do so."
On the impact that he feels he is having on the team, the coach stated that "I think there is a process of growth and we are on the right path but the work is still far from done because I think every coach has their own ideas."
"I was lucky enough to come into a great environment that welcomed me from day one," he went on. "We have made excellent progress after trying to bring my ideas in for the past four months."
"Sunday's game can give us a lot of self-belief because in my opinion we had never played badly in a big match but we lacked the necessary result," Inzaghi added.
On Italian sides who play similar to tomorrow's opposition he named "Napoli, or De Zerbi's Sassuolo. They are teams similar to Shakhtar, and they try to gain possession to pull you in and then find ways to open you up."
"In the first leg we created a lot of chances," Inzaghi reflected. "We had to be more clinical and also have a bit of luck. I remember Barella's shot that hit the crossbar, Dzeko and Lautaro shooting from great positions."
"I think we'd need to worry if we weren't creating chances, but we can always create problems," he added. "Shakhtar had more possession and a few opportunities, but not as clear and big as ours."
Lastly the coach spoke about the situation of midfielder Stefano Sensi, stating that "I have some guys who train very well. We are without De Vrij and Sanchez, important players that we hope to recover as soon as possible."
"The others are showing great signs," he went on. "It is normal that I have to make choices and in this moment I think they all played, some more, some less."
He explained that "Sensi trains very well like all the others and will have a place in the lineup. From now until Christmas we will have many games, he and the others will give us their contributions as necessary."