Five Things We Learned From Inter This Week: "Simone Inzaghi's Substitutions Must Be More Positive"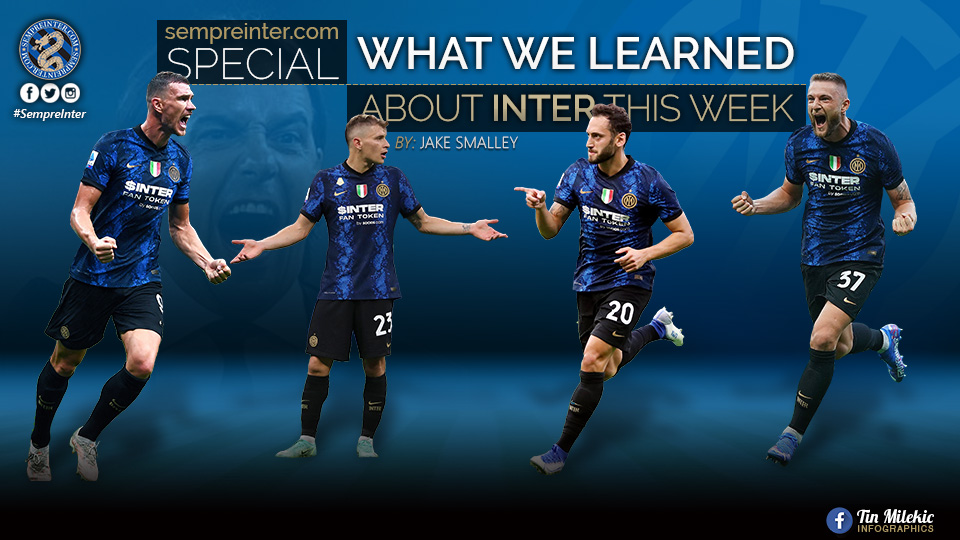 Inter secured a truly vital three points at home to Napoli on Sunday evening, putting them well and truly back in the title hunt.
Despite a nervy last 15 minutes, Simone Inzaghi's men were able to inflict a first league defeat on the division's top side, cutting their lead at the top to just four points.
Here's the key points from Inter's victory as they look to head towards a vital Champions League meeting this week with Shakhtar.
1)  Lautaro Martinez Back To Scoring Goals
It was terrific to see Lautaro Martinez end his goal drought and supply Inter with a conclusive goal in a vital win.
Coming off the back of the international break and nine game goal glut, Sunday's winner will have done him the world of good.
In a post match interview, Martinez was also very keen to point out that the goal was for the fans to make up for his recent lack of goals, in particular the missed spot kick in Inter's last game against rivals Milan.
Hopefully he can hit a real run of form over the coming weeks up until Christmas.
2) Nicolo Barella's Break
After inexplicably being used so heavily in the international break, it was comforting to see Barella sit out the last quarter of Sunday's game.
Albeit Inzaghi's subs did cause late difficulty, it was refreshing to see Barella given a little break from proceedings to preserve himself for midweek.
The former Cagliari man must be preserved as much as possible over the coming weeks when the fixtures are beginning to look a little kinder after recent games against the top two and the Derby D'Italia.
3) Good To See Martin Satriano Unleashed
Although it exposes Inter's chronic lack of depth in this position, it was great to see Primavera starlet Martin Satriano given a run out.
The tenacious Uruguayan has been in scintillating form for Inter's youngsters and to see him included in a matchday side gives hope to the players currently working their best to become established pros.
Despite him rarely touching the ball, it was terrific for fans to get a glimpse of the youngster who could come in handy over the coming weeks as Dzeko begins to tire significantly.
4) Simone Inzaghi Must Learn To Be More Positive In His Substitutions
The only real negative of Simone Inzaghi's time in charge of capital side Lazio was his inability to make effective substitutions.
It appears this is an issue that the former striker is still battling.
His substitutes in the final quarter of the game surrendered Inter's position in control of proceedings and led to them having to hang on.
Ultimately, there was a reason why Antonio Conte was largely against a lot of changes to his side as the players in reserve aren't as good as the regular starters but it is about how you use the substitutes that measure their effectiveness.
The team was left devoid of any creativity whatsoever so had Napoli been able to score one of two missed chances at the end from Mario Rui or Dries Mertens, Inter would have surrendered two points.
Be bravery Simone. Do not surrender control of the game to the opponent. Especially not in games were the team you're playing can really hurt you.
5) Focus Turns To Europe
Whilst wins in the past two match days have given Inter a real chance of making the knockout stage, they will be completely in vain should Inter fail to beat Shakhtar at home this midweek.
After a bore draw in the reverse fixture, Inter will be hoping to lift their Shakhtar curse and put the Ukrainian side away and hope that Real see off Sheriff so that they can book their place in the next phase.
Inter must be proactive and front footed against a side who will be happy to play counter attacking football and will once again need the weekend's talisman Lautaro Martinez to be on-song.
A win for Inter is vital as it seems every game of late has been but the game is in Inter's hands as their fate is in their control.
Please no Pazza Inter. We are sick of Shakhtar.