Inter Defender Andrea Ranocchia On Champions League: "It Was An Important Goal That We All Wanted To Achieve"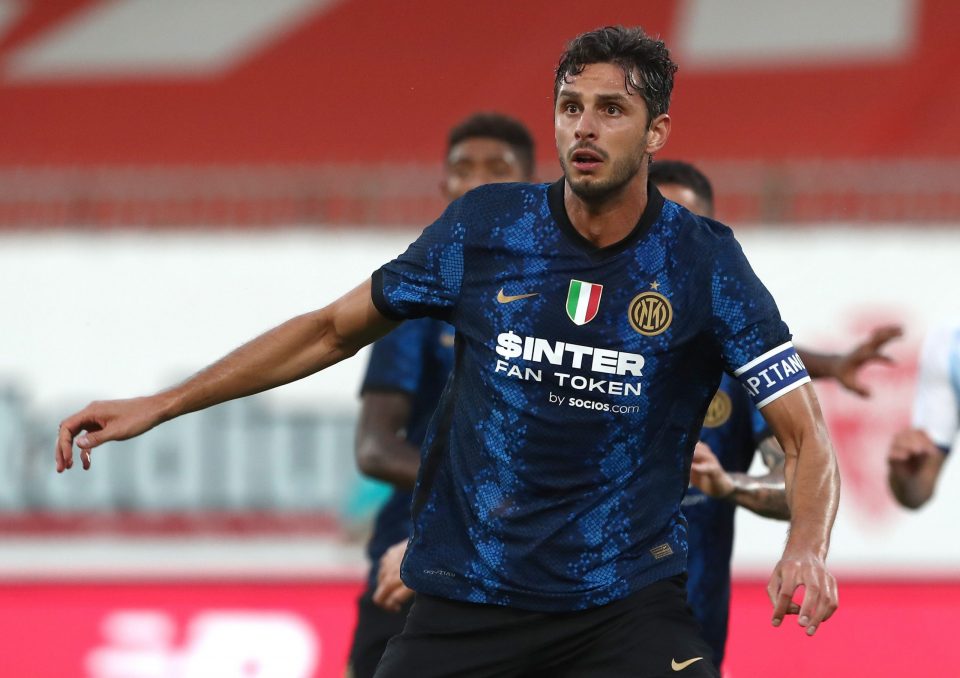 Inter defender Andrea Ranocchia has emphasised that importance that qualifying for the latter stages of the Champions League held for the team, according to a report in the Italian media today.
Speaking during a press conference ahead of the match against Venezia on Saturday evening, via FCInternews, Andrea Ranocchia said that the Champions League progression is particularly important given Inter did not start well in the tournament.
"An important goal, all of us and the club wanted to achieve it. An important step above all because we didn't start well in the group and then we put things back in order. It gives us peace of mind for the Champions League, but tomorrow we have a very difficult game."
Whilst not wanting to directly compare him to others, Andrea Ranocchia had praise for the work of Simone Inzaghi.
"I don't like making comparisons with the past because situations change all the time. The coach has shown that he knows how to manage a group of great players, I hope it will go on like this to achieve the objectives set."
Andrea Ranocchia almost left the club at the end of last season but decided to stay for another year and he clearly does not regret that decision.
"I had a lot of fun and it's a satisfaction. Playing with this group gives you a lot of satisfaction and makes me happy with my choice. I'm really happy that we managed to win these two games, but the past is over and tomorrow we have another match for three points."
Andrea Ranocchia played against both Napoli and Shakhtar Donetsk in place of the injured Stefan de Vrij, but some feel the third game in a week would be too much for him.
"We don't know who will play, the coach is making his assessments and we have to see who is recovered. I'm always ready, the problem is not playing two or ten games. The important thing is to do well and that everyone helps each other as we are. I've been doing this for some time. If I go on the pitch I'll be ready."
At 33-years-old, Andrea Ranocchia is one of the more experienced members of the Inter squad. He says his approach to the game has changed as he has gotten older.
"A specific moment no, my way of approaching the day, training, match, post-match has changed. With age we mature and grow. It is a journey that began several years ago.
"At the moment I'm fine, the coaches have given me a great hand, from Spalletti, to Conte, to Inzaghi. The teammates are the same. I'm one of the many who go on the pitch."
When asked if he regrets not having more regular playing time in his career, Andrea Ranocchia said: "It is more a problem for others than mine. Professionalism is this, being ready. If you are not called it is because it is not your time. I hope to be ready as long as possible."
Inter lost two key players in the summer but Andrea Ranocchia feels that is just part of the sport and cannot derail the team.
"First of all, the group formed over the years, in difficulties, which gradually became stronger and stronger. We lost important players, everyone was worried but the club worked hard to replace them and the group did the rest. We are on the right path, so as not to make us regret the past but the path is very long."
Speaking further about the journey of the team, the defender said: "In these things there is no magic bullet or the decisions of one or two people. It is a journey, over the years positive or negative things happen.
"In the negative ones, most of the guys reacted in the right way to get to the group who won the Scudetto and who today has many goals still to be achieved. It is a long journey and must be done by extraordinary men like those in this locker room."
Andrea Ranocchia refused to name a specific opponent when asked who Inter are fearing. He said: "They affect too many things, I have no idea. There are many teams in front, including us.
"There are cups, injuries. I would have a hard time answering. We are a little behind, but we are there and it is important."
When asked about Inter teammate Marcelo Brozovic and his contract situation, the 33-year-old said: "The important thing is that I see him as I have been seeing him for 4-5 years now. Each game improves, the rest are company affairs and Brozo's, they will see how to do it."
When finally asked about the chance of a second Scudetto, Andrea Ranocchia said: "They are external sensations, of the fans or of the environment. We have the feeling from the beginning that by working in a certain way we can go far."