Inter CEO Beppe Marotta: "No Change Of Ownership, Us Directors Will Extend Soon"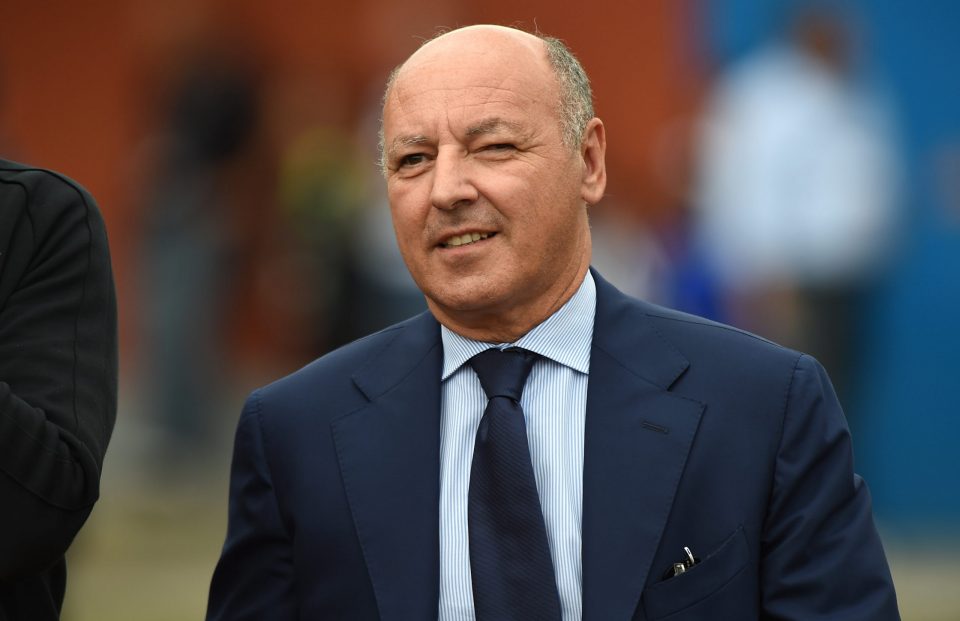 Inter CEO Beppe Marotta does not expect the Nerazzurri to change hands any time soon from current owners Suning.
Speaking to Italian journalist Fabrizio Biasin, as reported by FCInterNews, the executive expressed confidence in the current owners and also stated his intention to renew their contracts at the club alongside those of other key directors.
Rumours have been swirling for some time that current owners Suning could be forced to sell the Nerazzurri due to the financial problems at the company brought on by the pandemic.
However, Marotta made a point of refuting these rumours, and also was clear in his intention to keep the project going with a continuity among the directors by extending their contracts.
The Italian executive is confident about where the club is at for the moment, and believes that it can keep moving forward as it has been.
He began by speaking about qualification for the Champions League knockouts, stating that "The players and the coach achieved an important milestone that had been lacked for the past ten years, they've given an answer."
"It takes us back to past glories," he added, "but we must not live in the past and assessments must be made cautiously."
"The equation that whoever spends the most always wins does not always hold true," Marotta said.
"A full wallet helps, but where there is no money you must compensate with competence and dedication. I've found these virtues at Inter," he added.
"We have arrived at a turning point in a period of transition," he said of the club, "today we are at a stage more befitting the history of the club."
On the early success of coach Simone Inzaghi he stated that "I am not surprised because I was able to work with him as a player."
"On a personal level he meets the requirements," he explained, "and then there is the professional side where at Lazio he was clearly a young, dynamic coach who he had many positive characteristics and knows how to win."
"We made our choice after several hours of discussion," he explained of the former Lazio boss's appointement," and he is a coach who plays the same formation Conte. The results at the beginning of the season have been satisfactory."
Elaborating on the process of choosing Inzaghi, Marotta stated that "He had been in my notebook, as well as those of Ausilio and Baccin."
"The choices must be agreed upon," he added, "we have a good dialogue even if the final decisions must be mine."
"When you come in for criticism you have to have courage," he said. "We spoke to him a few hours before he was considering renewing with Lazio. We acted quickly."
"It would not have been easy if he had re-signed with Lazio," he added, "I can tell you that we were looking for an Italian coach."
"Not because we wanted to exclude foreigners," Marotta added, "but because we really have different characteristics."
On the departure of Antonio Conte he said that "That's the thing about football, things are always changing."
"We recognize and are thankful to Conte for guiding the team through a period characterized by good performances and result," he stated. "I must give him credit for that."
About the issue of Conte's severance pay, Marotta stated that "That's in the past. Let's talk about the present."
Addressing the foreign ownership of the club, the executive stated that "The English clubs are owned by foreigners. The owners do not always keep up in the day-to-day running of the club, there are directors whose role that is."
"The owner must give stability," he went on. "I give my thanks to the Zhang family, first and foremost Steven who is very passionate about the club."
Marotta explained that "In recent years hundreds of millions of euros have been lavished on the team. If Inter have found stability and have enjoyed a successful period they owe it to the Zhang family."
"The pandemic has created problems for everyone and even Suning was affected," he continued, "but their input was never lacking."
"The contacts with the directors are very frequent," he explained. "They make sure we are supported."
"The previous model cannot be sustained because there is a financial contraction all around," Marotta made clear, "we need to find different models that are sustainable."
"We sell players and replace them well," he added. "I also think that this is more ethical, because the costs are disproportionate to the revenues."
The executive explained that "In Italy we have been overtaken by various European nations, we need to reconsider our football model."
"We have a big problem with the cost of labour," he added. "We have to contain costs and produce players, perhaps even exploiting the value that these players have on the market. For Italy, this has even led to wining the European Championship."
On the prospective renewals of Marcelo Brozovic and Ivan Perisic, he stated that "If the players want to stay we are proud to keep them. The player's will is the fundamental thing."
"We cannot hand out millions of euros," he reflected, "if the players understate that this is how the new model of Italian football and of Inter must be, then we can continue together."
"I say with great pride that players are well-compensated by Inter," he added. "I believe that elsewhere it is difficult to find this love from fans, seriousness, professionalism, competitiveness as is found in Serie A. I really think we can reach an agreement."
And of the January transfer market, Marotta stated that "There are two considerations. January is a market to reinforce the squad, we are lucky to have a squad that does not have big it holes in it."
He added that "The squad is doing as well as we had hoped, they deserve to continue together."
"The winter window is difficult," Marotta explained, "we need to keep going. We are third in Serie A, and in the round of sixteen of the Champions League. I don't think there will be major upheavals."
"The fact that Baccin is in Argentina is part of the normal activities of a director," he said of the reported scouting mission of River Plate's Julian Alvarez.
"He monitors the leagues in Argentina and in neighbouring countries to find players who fit our model," he went on.
Turning to Fiorentina striker Dusan Vlahovic, Marotta said that "Vlahovic is a modern forward, very talented."
"There is a bit of turbulence to our relationship with Fiorentina but I hope it will be resolved because I want to see the relationship to continue cordially," he explained.
Of Vlahovic he said that "I can say that he represents one of the most intriguing young players in the Italian league. There is a good blend of experience of experience and youth, and high quality."
Of the search for attacking reinforcements, he stated that "We must have ambition, even if this means going into negotiations that seem impossible."
"Then there are signings that we will not be able to make," he went on, "but we think positively. We keep moving forward and try to grasp favourable opportunities. It is still early."
Marotta spoke about the departure of Romelu Lukaku in the summer, stressing that "The will of the player is fundamental."
"In this instance the will of the player to return to Chelsea happened to coincide with their interest," he went on, "and the club could not turn down an extraordinary sum."
"But had it not been the player's will we would not be talking about this," the executive made clear, "I'd like to debunk the myth that we forced him out."
Of his own departure from Juventus a few years ago, Marotta reflected that "There is a cycle for players and coaches, it is only natural that this is also the same for directors."
"I am very happy to be at Inter," he stressed. "I went to watch them at Appiano Gentile, travelling from my house on my bike, I remember the Grande Inter."
"At that time there was the custom of Milanese to go to retreat in Como or Varese," he went on. "On Saturdays we went to hotels."
"I met [Nerazzurri legend Luis] Suarez when I was ten," he continued. "As a child I supported Varese and I owe a lot to them for where I am today. I saw Inter and AC Milan in Lombardy, or on Swiss TV."
Marotta spoke of his relationship with the Rossoneri, stating that "I know the Milan directors personally, I admire them."
"We have had lunches and dinners in which we talk about all sorts of things," he went on, "but I was at Juventus and I wasn't available to join them."
On recent controversies around capital gains in Italian football, he stated that "That the Italian model must make sure players can move freely. We are a transitional league, top players no longer finish their careers here."
"With Lukaku and Hakimi we have seen that those who come to Italy then have the hope of going to PSG or to the Premier League," he reflected.
Marotta emphasized that "We must also look at these situations, because Hakimi and Lukaku have generated capital gains for us."
And on whether any problems with capital gains exist at Inter, he made very clear, "Absolutely not."
On his expected renewal, Marotta stated that "We directors have a good relationship with the owners. We will see how COVID affects Steven Zhang's return to Milan."
"But Ausilio, Baccin, Samaden, and I are happy to continue our experience at Inter, and it is something that the owners also want," he made clear.
Marotta stated that the the renewal will be made official "At the first opportunity when there are the conditions to do so, I believe."
And on how long he and his fellow director expect to extend until, Marotta stated that "This remains to be seen."