Ex-Inter Sporting Director Ernesto Paolillo: "I Hope Situation In China Changes So Suning Can Invest In Inter"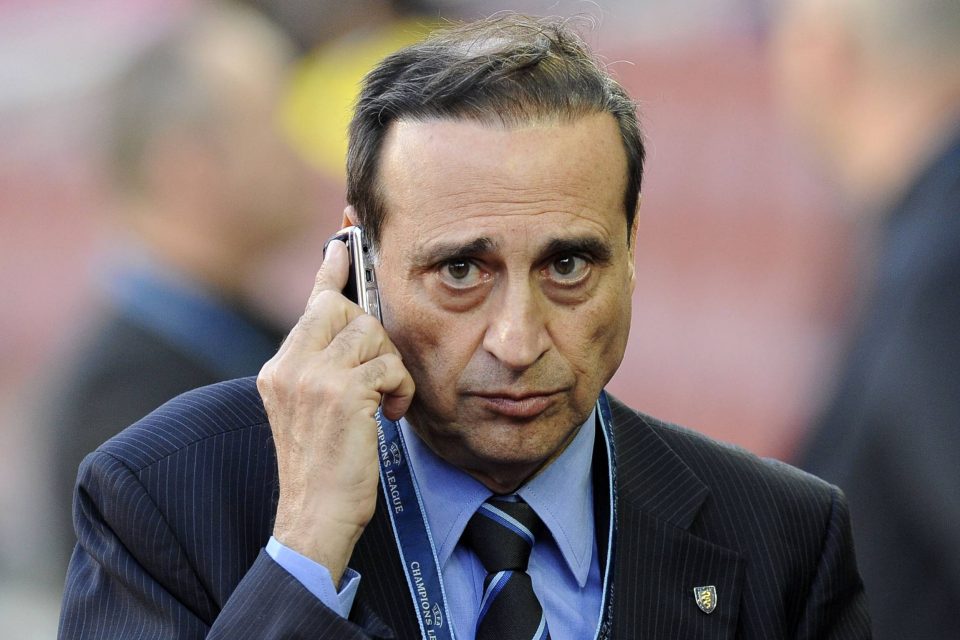 Former Inter Sporting Director Ernesto Paolillo his hoping that the Nerazzurri will see more investment from owners Suning in the near future.
Speaking to Italian news outlet FCInter1908, Paolillo expressed his desire to see the political and business circumstances in China can change to allow the owners to give more financial support to the club.
Suning have not been able to inject cash into the Nerazzurri as some owners have been at top European clubs.
This is due to the debt and liquidity issues at the parent company, exacerbated by the pandemic, as well as by restrictions from the Chinese government on investing in foreign sports.
Should these circumstances change, then the owners could ease some of the financial issues that have worried the club and caused players to have to be sold, and Paolillo is hoping that he will see this begin to happen.
The former CEO is not surprised that the Nerazzurri are in good form, stating that "I was expecting the team to be strong because Marotta worked very well."
"He hired a coach who has been able to get the best out of many of the players from last season, and has kept the level of the team high despite the sales of Lukaku and Hakimi," he added.
Paolillo stated that "Marotta excellent and the team is showing it on the pitch. The losses of Hakimi and Lukaku mean that we are not clearly superior to our rivals, but at the same time Inter are not inferior to Napoli, Milan and Atalanta, and certainly ahead of the rest."
"There are two pillars at Inter," he went on. "Marotta and Antonello, who are the two managing directors."
"One has great intelligence and competence on the sporting side," he said of Marotta, "he knows how to make the right choices."
"And Antonello has kept up a club stable even in moments of greatest difficulty," he went on. "Last year he had to keep the club afloat despite not being able to pay salaries. And yet, everything went so well that they won the Scudetto."
Of Inter owners Suning, he said that "I hope that things will settle down economically in China, and that the  Zhang  family will be able to give the club more support on a consistent basis."
"Their problems are the result to China's difficulties and not their unwillingness to move forward," he added. "They have shown that even though they are in debt they have been able to keep the club going."
"I hope they will continue until things in China  settle down and they can resume investing in football," Paolillo said.
Of the transfer market, the former CEO said that "Small adjustments can be made, perhaps with a few small transfers that do not involve the top players. There will be no decisive signings."
Regarding the investigation around capital gains at Juventus, Paolillo stated that "It is a practice already used in the past by other teams, obviously of lesser stature."
He added that "I'm amazed to hear about this. I still find it hard to believe that this goes on at the top clubs. If the investigations lead to anything concrete then there must be consequences at a sporting and non-sporting level."
Regarding the Bianconeri's mediocre form this season, he stated that "I am not surprised to see Juve so far behind."
"Every club has great cycles, but then they end," he continued. "It was like that for Milan, and for Inter after the Champions League. Age weighs heavily on footballers, it was understandable that even Juve's cycle could end."
Paolillo explained that "It happens to all teams – if they are good then they will rebuild a new cycle."
Of coming up against Spezia tomorrow, the former CEO stated that "Facing Spezia is a point of pride, for me and for the Moratti family."
"We took over the club that was close to going under and we rebuilt it with youth players from Inter," he explained. "As president I brought in excellent young players from the Inter Primavera side as Meggiorini, Dellafiore, Cordaz who has now returned to the Nerazzurri."
"We won the Italian League Cup," he added, "then the club was sold, but the foundations wer so strong that it was already on the right track."
"Now, seeing Spezia vs. Inter in Serie A is wonderful," Paolillo stated.
Regarding current Roma and former Inter coach Jose Mourinho, Paolillo said that "I am emotionally attached to Jose, and not only for the fantastic treble season."
"During those years I spent more time with Mourinho than with my family," he continued, "because we played in all competitions, every two days."
"He is a great coach," he said of the Portuguese, "but he also needs a team that is up to par. He is doing great things with this Roma side."
"On the pitch he seems tough, severe, but he has a big heart, a very sentimental person," he added.
"And it showed in how much it hurt him to leave Inter," Paolillo explained, "even though he made his decision. I am convinced that it will be emotionally difficult for Mourinho to face Inter, but that he will try to do the best job for Inter."