Nerazzurri Forward Joaquin Correa: "I Want To Win The Scudetto With Inter"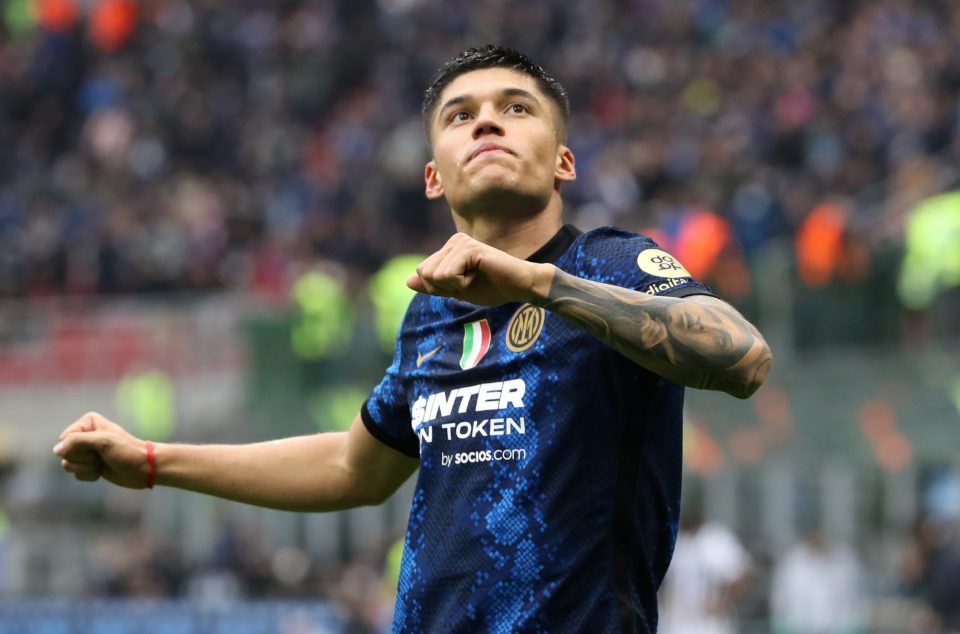 Inter forward Joaquin Correa is happy with his decision to have joined the Nerazzurri in the summer and wants to have success at the club.
Speaking to to Milan-based newspaper Gazzetta dello Sport in an interview published in today's print edition, the Argentine emphasized wanting to win the Scudetto and spoke highly of Inter as well as coach Simone Inzaghi.
Correa was Inter's last summer signing, with the club deciding to reunite Inzaghi with a player who he had enjoyed a very positive working relationship with over three seasons together at the Biancocelesti.
The 27-year-old was the last attacking piece added to the squad after the sale of Romelu Lukaku, and while he has not always been in the starting eleven, he has already popped up with key match-winning goals on several occasions and been a part of potentially season-defining wins.
The former Sevilla and Sampdoria forward is happy with having chosen to come to Inter and wants to further establish himself at the Giuseppe Meazza.
Reflecting on his first three months in an Inter shirt, the Argentine stated that "It's been positive."
"I had some muscle injuries that kept me out," he went on, "but the staff and my teammates welcomed me in a great way. I'm happy here and I really want to reach our goals."
"Thanks to the entire group," he went on. "When people started to say that my arrival in the summer was a possibility, many of the guys wrote to me to convince me. It was an extra push to say yes."
He added with a laugh that "Lautaro was already at it when we were at the Copa America together, he told me that I had to join him, then Calha and Vidal started."
He also noted that linking up with Inzaghi again helped him make his decision, stating that "His influence was also very significant. I had other possibilities, but I strongly wanted to work with him again."
"He is a great coach," he went on, "someone who makes you feel good. At Lazio he achieved excellent results and built a very united group in the which everyone knew what they could contribute. He is an ambitious coach, perfect for Inter."
Correa then spoke about tomorrow's opponents in Serie A, Roma, stating that they are "A strong team with excellent players."
"Beating them will not be easy," he explained, "but I remain convinced that with our weapons we can make life difficult for the Giallorossi. We need to concentrate and show that we are Inter."
"Against Atalanta, Juventus and Milan we drew matches in which we deserved more," he added. "Against Napoli we put things right and now we have to do it again."
About his decision to leave Lazio, Correa stated that "I was there for three seasons, we lifted two trophies, qualified for the Champions League round of sixteen after twenty years and won twelve games in a row at home, setting a record for the club."
"My time at Lazio is an experience I remember with great affection," the Argentine went on, "but the time had come where I wanted to leave. It felt right."
His ambition now is "To help give Inter a great season. We deserve to be there at the top of the table and we can stay there because we keep growing."
"We want to confirm our status as Italian champions by winning the Scudetto," he added.
The 27-year-old also spoke about the possibility of winning the Champions League, stating that "I would love to lift that as well. Along with the World Cup, that is the dream for my career."