Nerazzurri Midfielder Nicolo Barella: "I Love Inter & So Does Marcelo Brozovic, Liverpool Won't Be Happy Drawing Us Either"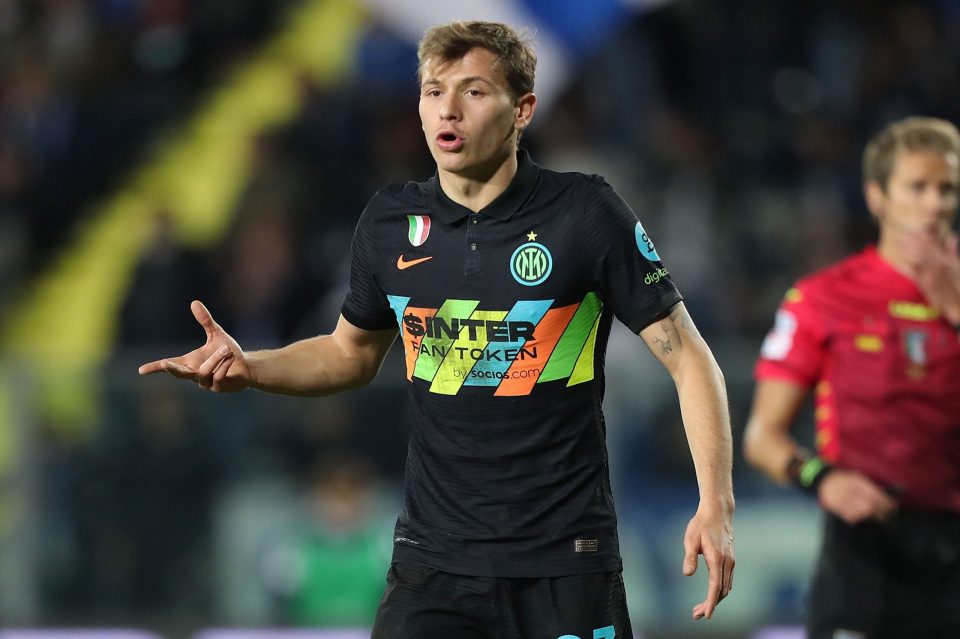 Inter midfielder Nicolo Barella is fully committed to the Nerazzurri, and he feels that his teammates and particularly Marcelo Brozovic are as well.
Speaking to Milan-based newspaper Gazzetta dello Sport in an interview published in today's print edition, the 24-year-old opened up about his thoughts on the season so far and the club, including looking ahead to the Champions League tie against Liverpool.
Barella has been one of the key players for the Nerazzurri virtually since his arrival during the summer of 2019 from Cagliari, and he has only been growing in influence.
The 24-year-old won the Scudetto as a regular starter last campaign, followed by the Euros with Italy over the summer, and now his football looks to have taken a further step up under Simone Inzaghi.
Barella will not be able to play in at least the first leg of the Champions League round of sixteen tie thanks to an ill-advised red card against Real Madrid, but there is no denying his importance to the run that has led the team to the knockout rounds to begin with.
"Ever since I was a boy I had imagined myself playing for Inter one day, dreaming of being there while the team was winning the Scudetto for the second star," he stated.
"Now that I am here I don't want to stop, I want to win it already," he added.
Of this season's Scudetto race the midfielder said that "There is more competition than last season, I think the competition will be balanced until the end."
"But we have something more than the others," he went on. "We have self-belief, experience. We know how to win, we have already done it."
"And we carry this inside us, every time we go out on the pitch it is something that we feel," he continued.
"We feel it, and our opponents feel it too," he added.
"I think this season is showing that while some great players left, others just as good have arrived," he said of the Nerazzurri's recovery from a difficult summer.
He went on that "Reasserting ourselves is certainly more difficult than winning the first time was."
"We are driven by the desire to prove that we are still strong, we are still who we are, we know how to be the best team," he continued. "And we will show it to the end."
Of the players who left in the summer Barella said that "Everyone makes their own choices, some had the opportunity to leave and decided to do so, others decided to stay."
He continued that "I have always said that my goal was to stay at Inter, at least for the moment. I am delighted with the choice I made, as well as with the trust the club has in me."
"Everyone has their own story," he stressed. "And at the end of their career they will look back and see whether they're happy or disappointed with the choices they've made."
On what coach Simone Inzaghi has brought to the team, Barella stated that "He's made us a little more free to express ourselves."
"Not because Conte 'forced' us in to doing this that or the other thing," he added. "But Inzaghi has had the effect of giving everyone more of a decision-making role with his charisma, he's giving us the possibility to make choices."
"And this has been something that we probably needed and it has helped us at all levels," he went on, "after two intense years in which we always worked following the same ideas."
On drawing Liverpool in the Champions League round of sixteen the midfielder stated that "In Europe, it is inevitable that you'll meet certain teams when you get to the knockout rounds."
"You can't escape it, the level is very high, it's the Champions League," he explained.
The midfielder gave the view that "Liverpool are very a top team in great form, but I don't think they were very happy to have drawn Inter either."
"I think the match will be balanced," he predicted. "In Madrid we dominated for sixty minutes, then I made a mistake and I ruined the evening for myself and my teammates. I hope to at least be there for the second leg."
And on midfielder Marcelo Brozovic, who has yet to renew his contract with the Nerazzurri which expires next summer, he gave an optimistic impression.
"I know that Brozovic is very attached to these colours," he stated, "the proof is in the spectacular way he is playing."
"He loves Inter and he has given a lot for this team," he added. "And he did so even in years when it was difficult to play here. Now the choice is all his, of course."