Nerazzurri Coach Simone Inzaghi: "Lautaro Martinez A Leader, Nicolo Barella Will Become An Inter Icon"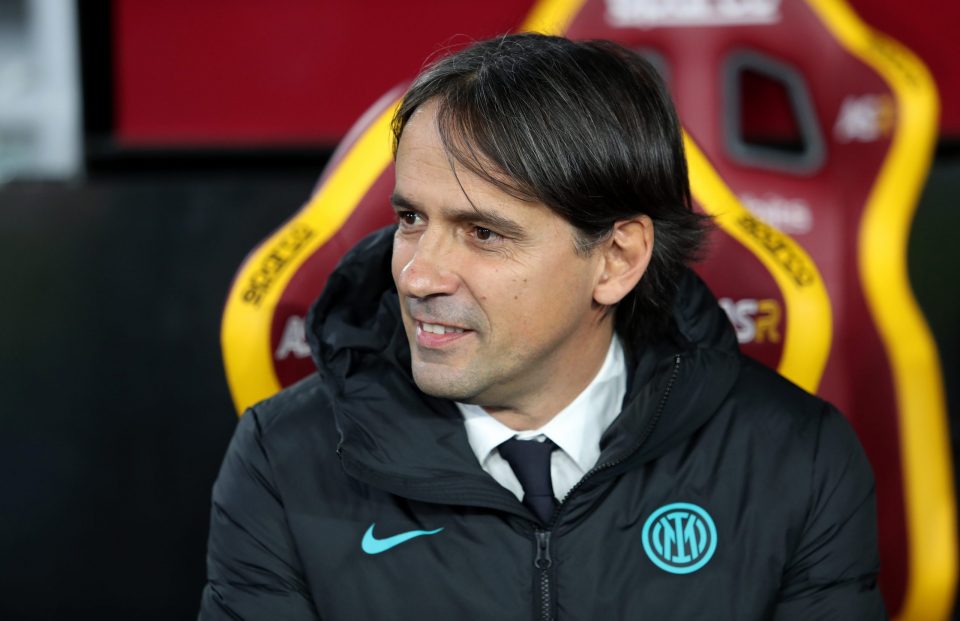 Inter head coach Simone Inzaghi feels that Lautaro Martinez has become a leader within the team.
Speaking to Italian broadcaster Gazzetta.it, the coach gave his thoughts on some of the players in the squad, also emphasizing that Nicolo Barella can go on to become a club legend.
The Nerazzurri have relied on a number of players this season, but two of the most important contributors have been 24-year-old pair Barella and Martinez.
Both signed new deals with the club earlier in the season, and both have become players who Inzaghi relies upon to get the team playing his style of football.
In the coach's view, both players have important roles in the present and also bright futures with the Nerazzurri, and he feels privileged to be able to work with them in his team.
Of Martinez, he stated that "He is a complete player, he understands his responsibility. He knows he is one of the leaders at this Inter."
"He had an excellent first half of the season, scoring eleven goals," he added. "He always gives everything on the pitch, he gets angry if he is substituted early or if he is not used from the start."
"On the pitch for me he is Toro or Lauti, at first I called him Lauto, but then I realized that Lauti sounded better," he added with a laugh.
Inzaghi called Barella a "Great player but also a great young man, as shown by his contract renewal. He will become an Inter icon because he knows what it means to wear the Inter shirt."
"He has a always gives his all with everyone, and works well with all of us in the staff," he added. "I am very happy to coach him."
Inzaghi spoke about Federico Dimarco next, stating that "I call him Dimash, which is what many of his teammates call him."
"I was intrigued by working with him him, and he has been a revelation this season," he went on.
The coach said of Dimarco that "He is a very technical and intelligent player, he understands the game and plays his position in the best way. He adds a lot to the team and I think should do very well in his career."
Moving on to Denzel Dumfries he stated that "He is fortunate to have De Vrij in the team who, from what I've seen, helped him get settled in, then we in the staff try to help him keep growing day by day."
"He must continue like this," he went on, "he knows that we have another great player in his position in the form of Darmian, who had an amazing first half of the season."
Inzaghi said of Ivan Perisic that "I came up against him many times and he always struck me as a top player, and now that I coach him I am even more pleasantly surprised."
He characterized the 32-year-old as "A player who had a surprising first half of the season. He could always be relied on. What struck me most has been how willing he is to work hard even though he's already a top player who's won everything."
Speaking about Edin Dzeko, the coach stated that "When Lukaku's sale happened, the first name I gave to the directors after five minutes was Edin's."
"They replied by saying that they were already of the same mind," he continued. "He is a player I already knew well from having faced him in many Rome derbies. He has always been one of the best in Serie A."
Lastly, Inzaghi spoke about the addition of Hakan Calhanoglu, stating that "He is the player who, when Eriksen had his unfortunate health scre, after a couple of days with Ausilio and Marotta we immediately thought of him."
"I remember that I was on vacation for three days in Ponza with some friends, and my wife and children," he continued. "I felt like I was spending more time on the phone with Hakan than I was with my family, but at that moment he was the ideal player for my idea football, and to replace Eriksen in our Inter and in my mind."
"He combines technical quality and workrate," he said of the Turk, "it is normal that he needed a bit of time to adapt, but the strength of this Inter is the group: he is in a dressing room that welcomed him in the best way possible."