Can Inter Hold Top Spot In Serie A For The Rest Of The Season?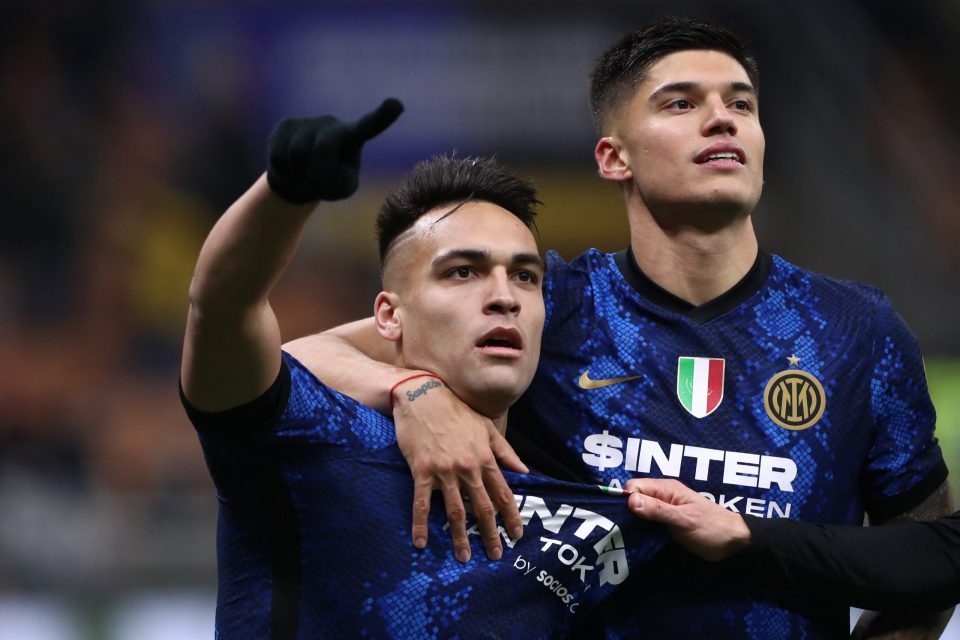 Last season was a special one, as Inter managed to put an end to Juventus' run of nine league titles in a row.
It was 11 years prior to that, that Internazionale last managed to claim the Serie A title when they won it in the 2009-10 season.
Now, the Nerazzurri are looking to win back to back titles for the first time since that 2009-10 season when they picked up their fifth Serie A title in a row.
And they're in good stead for it too, sitting atop of the league table ahead of city rivals with whom they share their stadium, AC Milan.
As it stands, Inter sit four points adrift at the top of Serie A on 46 points, with AC Milan in second on 42, Napoli on 39 in third place, and Atalants on 38 occupying the final Champions League qualification place.
But are Inter able to go the rest of the season without losing the coveted top spot? Or could someone knock them off their perch and steal the Serie A title away from the San Siro?
Before The Season
Going into this season, many questioned whether Inter had enough about them to compete for a second title in a row, especially after losing star man Romelu Lukaku.
They also lost Danish midfielder Christian Eriksen to certain Serie A rules that would not allow him to play in the league following the discovery of heart problems after his shock collapse at Euro 2020.
But players will always come and go, such as Stefano Sensi who will decide his future in January.
However, Inter brought in some good reinforcements to help strengthen their side with the likes of Edin Dzeko who has managed 11 goals and four assists this season.
And whilst he may not be bagging the same numbers as Lukaku did last season, they have goals coming from elsewhere too, with Lautaro Martinez also bagging 11 goals for the Serie A side, although with just two assists to his name.
But, even with their reinforcements, before a ball was even kicked, they were sat behind Juventus in many season previews, as La Vecchia Signora were given odds of 5/4 to reclaim the Serie A title back.
Inter were not far behind though, as second favourites to win the league at 2/1. But it seems whilst many thought losing Ronaldo to Manchester United would be good for Juventus, it appears to have had the reverse effect.
The Season So Far
As we said, going into the season having lost key players, Inter weren't given much of a chance. But despite some poor form early in their Champions League campaign, they dominated domestically.
In 19 games so far, they've managed to win 14, only drawing four and losing once, when despite an early 1-0 lead, they collapsed against Lazio in the second half to lose 3-1.
Whereas the season favourites, Juve, have managed five losses, drawing four and winning only 10. Not what their fans, and many pundits expected from them this season.
And it wasn't like they were losing to their title rivals either, there were some embarrassing defeats to the likes of Empoli, Sassuolo and Verona.
The nearest challengers to Inter now are AC Milan, who were top of the league themselves until a recent dip in form. They too have been in good form for most of the season though, managing 13 wins, and three draws and losses each.
However, if they are going to catch up to their rivals and claim a first Serie A title since the 2010-11 season, they're going to need to sure up their defence, and find more goals from somewhere, because as good as Zlatan Ibrahimović is, relying on a 40-year old striker isn't a good look.
Current Form
If we're going off current form with our predictions, there is no one that is on the same level as Inter right now. They have won their last five games of the season so far, and the latest betting odds have them as 10/29 favourites to win the league.
They're that hot at the moment in Serie A, that the nearest teams to them are AC Milan and Atalanta, who are both 10/1 right now.
And unless there is a spectacular collapse, or they begin racking up injuries, we don't see anyone dethroning the defending champions right now.
That's not to say Inter won't drop points. They will no doubt draw a few games, possibly even lose one or two as well.
But as long as they aren't conceding points to lower league sides, and they can keep that gap between them and the rest of the pack chasing top spot, they should be fine come the end of the season.
Then fans can rejoice in the fact that not only have Inter dethroned Juventus last season, but they're now on a streak of titles having won two on the bounce.
The one thing that could potentially derail them though, and allow someone else to come in and steal their top spot, would be battling on multiple fronts.
As Inter are still in the Champions League where they face Liverpool FC in the Round of 16. It's a tough tie for the Italian side, facing arguably one of the best teams in Europe right now.
A team who also have already been to the San Siro and won this season, when they helped in knocking AC Milan out of the Champions League group stages.