It has been over a decade since Inter Milan were last crowned Kings of Europe, when Jose Mourinho led the Italian outfit to a Champions League final against the most successful Bundesliga side in history, Bayern Munich.
On the night, it took just two goals from Diego Milito to ensure victory and help to put an end to a long wait for European silverware.
Could that long wait since their victory in the 2009-10 season be over now though? Seeing the reigning Italian champions return to the heights of Champions League glory and be crowned Kings of Europe once more?
Well, it's going to be no easy task. It never is in the Champions League. But after losing star striker Romelu Lukaku to Chelsea in the summer, no one gave them a chance of retaining their Serie A title this season.
And they now sit comfortably top of the table halfway through by four points. So where are Inter in the Champions League right now?
The Journey So Far…
Inter's journey on the quest to seek European glory once more began in the competition's group stages. They were drawn against last season's runners up in La Liga, Real Madrid, 13-time winners of the Ukrainian Premier League, Shakhtar Donetsk, and Champions League newcomers, FC Sheriff Tiraspol of Moldova.
It was a group that entering the tournament wouldn't have caused too many worries amongst members of the Inter hierarchy and their fanbase.
In fact, the best online sportsbooks had them as 9/4 to win the group, only Real Madrid being above them with odds of 4/11.
But they still had a 72.5% chance to qualify with online betting companies giving them odds of 1/4 of making the knockout stages.
However, Inter didn't get off to the best of starts. Their biggest challenger was Real Madrid, and they lost 1-0 at home in a closely fought contest that didn't really see either side dominate.
They then followed that up with a 0-0 draw away to Shakhtar, leaving them on a single point after two games. Whereas Sheriff Tiraspol, the new boys, had somehow managed to surprisingly beat Shakhtar 2-0 and Real Madrid 2-1, leaving them atop of the group after just two games, five points ahead of Inter.
If the Nerazzurri were going to live the dream of being Kings of Europe once again, something was going to have to change.
And it did, with Inter registering back to back wins over Sheriff, before making it three in a row by claiming victory over Shakhtar as well.
They did lose their last game away to Real Madrid, but they had done enough to progress to the knockout stages in line with what betting companies and pundits had predicted.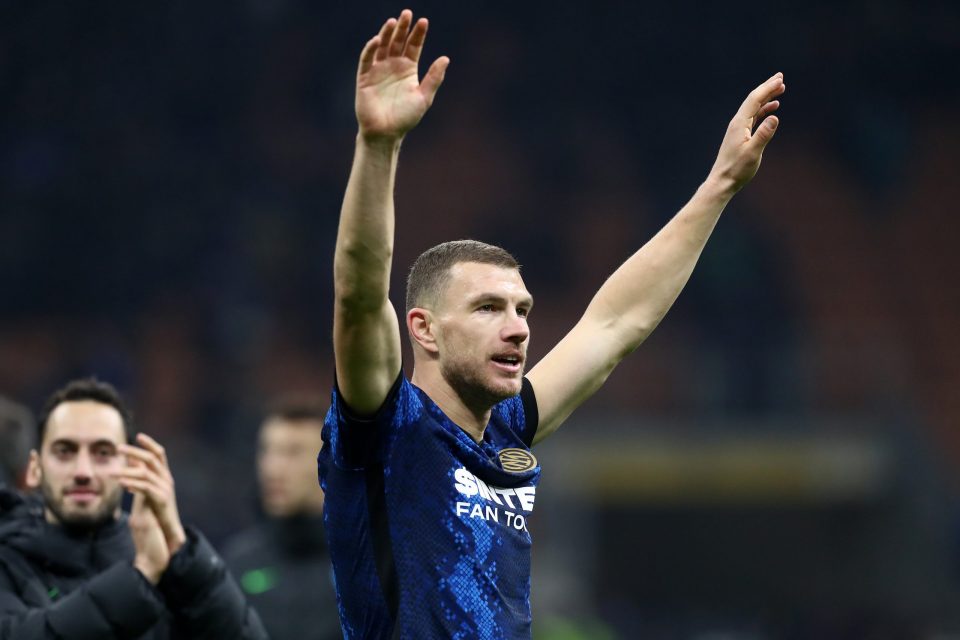 Who Stands In Their Way Now?
Having qualified for the knockout stages, the next question Inter faced was who would they draw in the knockout stages.
As group runners up, it was always inevitably a tough tie for Inter having to face one of the winners from the remaining seven groups.
Although due to certain rulings, they wouldn't be able to face Juventus as teams in this initial stage cannot play someone else from their domestic league, or someone from the group from whence they came.
Limited to who they could get, it was Ajax that the Italian champions were drawn against. It was a tough tie against a team who had won all six of their group stage games, with the Dutch side also seeing off Borussia Dortmund twice in some excellent goal-filled ties.
It wasn't the best tie they could have got, but it wasn't the worst either. There were much bigger teams available they could've got.
But then things got worse. Due to a number of errors made by a third-party (UEFA's excuse) the draw had to be re-done. It did mean that Inter could get an easier tie, but unfortunately, lady luck was not on their side.
And instead, they would be drawn against one of the most in-form teams in Europe right now, the Premier League's Liverpool FC.
A team consisting of the likes of Alisson Becker in goal, Virgil van Dijk in defence and Mohammed Salah up front, which explains why they were third favourites to win the tournament at 11/2.
Can Inter Become Kings Of Europe Again?
It's going to be a tough task, however, the knockout stages consist of a two-legged tie. So at least it doesn't all come down to a one-off game, however, maybe that would have better suited Inter.
Because whilst Liverpool must come to the San Siro, although that could be moved to a neutral venue due to COVID-19 restrictions, they must play the second leg at Anfield.
A stadium synonymous with magical European nights, sadly, not very often do they go in the favour of the away team.
As it stands, Liverpool are favourites to progress at 2/7, with Inter 3/1 to make it through to the next stage. But if they lose the home advantage in the first game, it could hurt their chances of progression.
Although, having said that, Liverpool have already had success there this season where they beat AC Milan 2-1 in the group stages.
The good news for Inter is at the moment, Liverpool are riddled with injuries and players out with COVID-19, and they don't have a winter break to allow the players to refresh themselves.
This could play into Inter's chances of progressing further into the competition, although it could also mean that this Liverpool team are much sharper having been constantly playing through the winter.
If Inter are to be Kings of Europe though, they'll have to find a way. Ideally, if they get to play Liverpool at the San Siro with their fans behind them, then they have a chance.
If they can remain solid and take advantage of some poor defensive performances from Liverpool this season, they could capitalise and get a lead to take to Anfield.
Especially if they can exploit Liverpool's weaknesses from set pieces this season with the likes of Edin Dzeko in our ranks.
They would then have to stay switched on at Anfield and stay solid defensively, keeping mistakes to an absolute minimum. Because this Liverpool side will punish them if they don't.
It's unlikely that Inter will come out on top against one of the best sides in the world at the moment, but there is always hope, and the Champions League is no stranger to upsets happening in the competition.
If they manage what seems like an impossible task, they will only have more difficult games ahead. But knocking someone like Liverpool out of the competition would give this team a boost of confidence like no other.
And that's the kind of result that could spur Inter on to once again becoming Kings of Europe.