Inter Coach Simone Inzaghi: "Marcelo Brozovic Is Happy Here & I Think He'll Extend His Contract"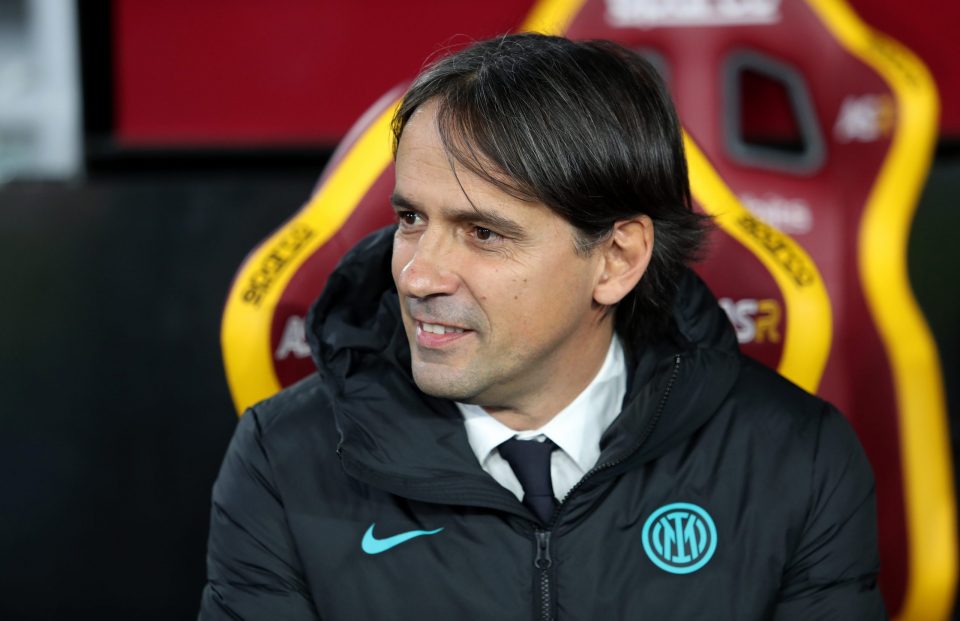 Inter head coach Simone Inzaghi expects that midfielder Marcelo Brozovic will agree a new contract with the club.
Speaking in a press conference ahead of the Nerazzurri's Serie A clash with Bologna tomorrow, as reported by FCInterNews, Inzaghi expressed conference on the team's progress in extending with the midfielder while also giving his thoughts ahead of the match.
Inter return to Serie A action following the winter break with a trip to Emilia-Romagna to face Bologna tomorrow, and the match is not without its talking points.
The Nerazzurri are without three members of their squad through positive tests for COVID-19, while the Rossoblu are even harder-hit by cases in their squad, with eight players set to be out for the match.
Nevertheless, the match is scheduled to go ahead, and Inzaghi is ready to guide his team to what he will hope is an eighth consecutive win in Serie A.
"I expect a tricky match," Inzaghi said ahead of the match. "Bologna won 3-0 away to Sassuolo, not an easy match. We know the quality of our opponent and their coach. We will have to play a good match."
On the effect of COVID on the match, the coach stated that "I think there's an atmosphere of uncertainty which isn't good for football and makes preparations difficult, but we know that tomorrow we will travel to Bologna."
"We have three positive cases, Bologna have eight," he added. "It's up to the authorities to decide. Both Mihajlovic and I know that until the kick-off you have to be ready for changes to your team and tactics."
"In these past two years this has happened many times, it is not good for football but it affects all teams, and as we have been told for the Supercoppa Italiana, it's the authorities who decide," he went on.
On how he'll accommodate absences in the team, Inzaghi stated that "I have been thinking about it, but I'll keep my ideas to myself."
"We have the three positive cases plus Calhanoglu missing the match," he continued. "Not even the guys know the starting eleven, tomorrow morning I'll talk to them and decide at the last minute."
On the Nerazzurri's form prior to the break, the coach stated that "Being winter champions doesn't count for anything, but it is nice to be top of the table."
"Being favourites will only motivate us to do well," he added, "we know that we're in first place, and everyone will want to be at their best to make things tough for us."
On recent comments by Chelsea striker Romelu Lukaku about regretting leaving Inter, he stated that "I prefer not to talk about it because it's not something I know much about."
"I can't say much, just that Lukaku is a great player and that he has had two extraordinary years here," he continued.
"He was here for ten days while I was coach, and he worked at his best," he added. "Now he plays elsewhere and I hope he does well for them, and I'm sure he will as he's a top player."
"I hope we pick up where we left off," Inzaghi said of returning from the winter break. "We have a great streak going, but tomorrow we come up against a strong team."
"We trained at our best both in the individual sessions and then when we were able to have full training sessions, and we know that we're facing a good team with quality players who can hurt you."
"A couple months ago people had stopped calling us the favourites, now they're saying we are again because we're first in the table," Inzaghi reflected. "It's not a problem for us, as I said it must motivate us."
"As far as the transfer window, we're still awaiting the arrival of the club President for the Supercoppa match," he added, "I am lucky to have directors who are working well, but at any rate we're focused on the many matches we have coming up."
On being honoured as Serie A's coach of the month for December, he stated that "It's nice, it means that all of the staff here are doing well."
"But I think that the only objectives that matter are the collective ones, winning trophies," he emphasized. "I've succeeded at that in the past and I want to do so here as well. We're working hard towards it every day."
Asked whether he plans to play Federico Dimarco as a set piece taker with Hakan Calhanoglu suspended, the coach stated that "I've been hearing this, but if Dimarco or Calhanoglu play it's because they deserve to, regardless of set pieces."
He added that "We also have Brozovic or Sanchez who can take them well."
"Regarding Brozovic I have said on multiple occasions that in my view he's very happy, he's important to this team and I think he'll renew."
"Marotta and Ausilio are working on the negotiations every day," he stated, "I concentrate on the pitch."
"I'm happy with what I hear from colleagues," he said of being considered favourites for the Scudetto, "I know I am at a top club with extraordinary fans and great players."
"We dropped a few points at the start but since August 23 we've managed to show more consistency," he went on. "After a very good first round of matches we are half done, now we see who can be the best until the end of the season."
"I feel like I've seen it all as a coach and I know that there are few certainties," Inzaghi emphasized. "I am very satisfied with how we work each day and what the team gives me."
He added that "I've never been too good at making predictions. We just have to keep going as we have been, we know that winning a few matches isn't everything."
"In the last two months the table changed quickly," he emphasized, "we have to be ready against each opponent, starting tomorrow in Bologna."