Coppa Italia – Inter Vs Empoli: Match Predictions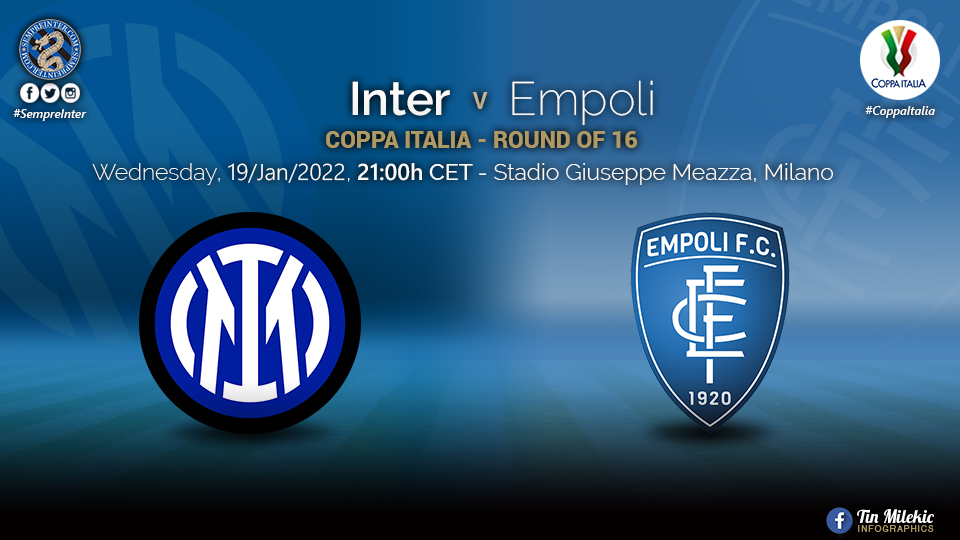 Inter is facing off against Empoli on 19 January in round 16 of the Coppa Italia. When the two teams met back in October, Inter easily won.
Could we see a repeat of this performance or is there a chance that Empoli will pull off an upset?
Inter is usually a pretty safe bet since they've long been one of the best teams in Serie A. One of the best, but also tensest, things about football though is that it's anyone's game. It's always possible for a team to come from behind or get lucky with a well-aimed penalty kick.
The ever increasing popularity of online betting has led to the appearance of a lot of new bookmakers.
Sorting through which of these bookmakers have the best odds, protections and payouts can be really time consuming, but using a bookmaker guide can simplify the process.
It's simplistic and usually wholly unrealistic to assume that the team sitting at the top of the table will win every single match.
So, let's take a look at what the season so far can tell us about what we can likely expect from the matchup between these two sides.
Inter's Season So Far
It's safe to say that Inter is having a great season and are clear contenders for the title this year. They've won 14 of their last 19 matches and have only lost a single game – meaning that, as of the start of 2022, they are four points clear of AC Milan.
Many pundits believed that the loss of Antonio Conte would hurt Inter's chances of holding onto the title this season, but that doesn't appear to be the case.
As Real Madrid coach Carlo Ancelotti notes, Simone Inzaghi has done a fantastic job of guiding his team so far this year.
The smooth transition from Conte to Inzaghi has primarily been attributed to the fact that both coaches seem to deploy their players in a similar formation on the pitch.
During his time at Lazio, Inzaghi also developed a reputation for being the kind of coach who can get the best from his players.
Inter's offense has certainly kept things exciting, scoring ten goals in their last three matches alone. Denzel Dumfries has been particularly enjoyable to watch in recent weeks – his strength and speed make him a difficult opponent to challenge.
Their success is also down to the strength of their defence. As of January, Inter had only conceded 15 goals, in contrast to their 49 scored.
That's more than three times as many goals scored than conceded! It is easy to see why goalkeeper Samir Handanović is still considered one of the best in Serie A.
Empoli's Season So Far
Empoli is an unusual team. Their record over the last few years seems to show a team that is too good to play in Serie B but not quite good enough to hold their own in Serie A.
They have been promoted or relegated a staggering nine times since 2000. They've also bounced back and forth between managers.
Aurelio Andreazzoli is currently in his third stint as head coach of the club. He previously led the team in 2017-18 and part of the 2019 season. As Andreazzoli saw the team to a promotion at the end of the 2017-18 season, he is a popular figure.
Unusually for Empoli, they have been sitting at the middle of the table this season. Additionally, it has been a very average season.
Of the first 19 games, they've won eight and lost eight and the difference in goals scored and goals conceded is only four.
Inter Stretched Thin?
While more football is great for fans, it can be exhausting for the players. This can lead to players needing to rest for certain games or even to more injuries occurring.
Between the regular season, the Coppa Italia and the UEFA Champions League, Inter's players are being kept very busy.
The one relief for Inter is that none of their players have been called up to compete in the African Cup of Nations. If they had lost star players to that tournament while also playing so frequently, it could have created a real problem for the team.
When Inter faces Empoli, they will have played Atalanta just three days prior and will be up against Venezia only three days after.
It will be a busy week for both teams – but since Inter is fighting to maintain their position at the top of the table, the stakes are much higher for them.
In order to remain dominant, Inzaghi will need to keep a close eye on his players and be willing to use the entire depth of his bench. This month could end up being a great testing ground for some of his younger players.
The threat to Inter from Empoli is slim, but there is still a chance that the team that so unsettled Napoli last month might be able to pull off another big win.
It is more likely, however, that Inter will continue to dominate just like they have all season.