Five Things We learned From Inter This Week: "A New Number Nine A Must In The Summer"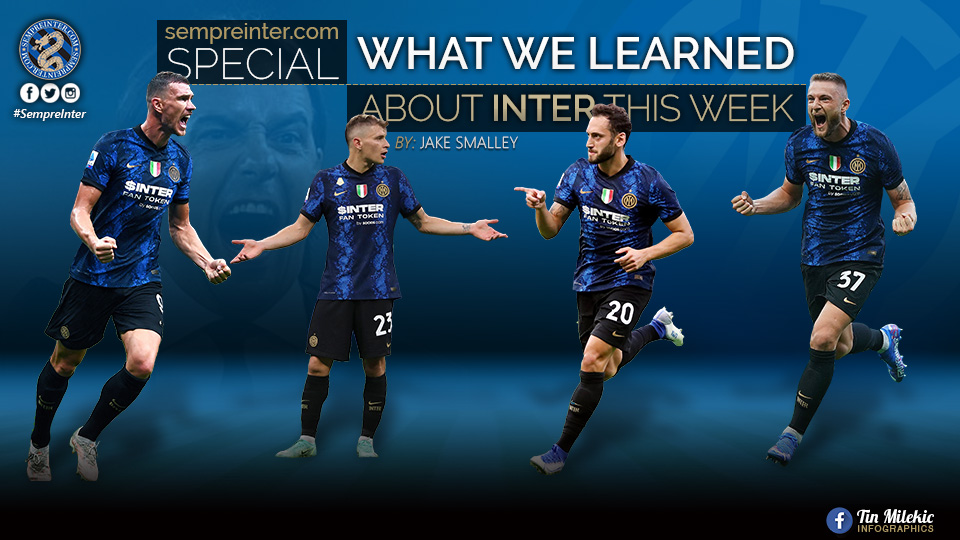 Inter sacrificed three points in the race for the Scudetto on Saturday evening. A turgid and passive display in the second half saw Milan reverse a one goal deficit to claw back three points on the Nerazzuri.
A really disappointing evening saw questions asked of the manager, referee and goalkeeper. Here's what we picked out from an infuriating night at San Siro.
1) Inter Way Too Lackadaisical
It is true that Inter have hit the buffers to a certain extent since Christmas.
This was to be expected as the Christmas break came at the wrong time for a side that were simply destroying everything in their path.
Plucking out a result in the Coppa after extra time, having to come back at home to Venezia and limping to a point against Atalanta are all examples of Inter's levels of performance dropping.
This is excusable in the fact that it would be impossible for Inter to play high octane football every week in every competition but the issue is game management.
In the reverse fixture against Milan, the Juventus game at home (robbed by VAR) and the away trip to Sampdoria have all been games where Inter had the game in the palm of their hands yet seemed to slow things down and paid the price.
1-0 is never a safe scoreline. Missing chances and sitting back are going to cost Inter. This needs addressing quickly.
2) Simone's Stinking Subs
It appears that Inter's coach is still struggling severely to manage his changes in big matches.
Making heavy changes that you'd make if the game was won with games still in the balance on the hour mark is Inzaghi's greatest downfall.
For Inter to be 1-0 ahead and starting to look lazy, Ivan Perisic who had an excellent first half, Lautaro Martinez and Hakan Calhanoglu were all replaced in favour of weaker replacements.
Sure that's going to be natural to a certain extent given that they're bench players who come on but Inter lost vats of creativity by making this decision which cost them dearly when they were pegged back.
These changes would've been fine at 2-0 with 10 minutes left, but by bringing on Vidal for Calhanoglu you're blunting your attack.
This becomes a huge problem when you're in a winning position and let a goal in so you then have to create another chance.
Settling at 1-0 is never going to work especially in a game of that magnitude. Inzaghi must stop with the early changes when games are still in the balance.
3) Samir Again In The Firing Line
A good save from Tonali in the first half sure but the big Slovenian going down in stages for Giroud's winner was difficult to watch.
His lack of mobility and weak palms were rightly questioned in moments of anger by Inter fans.
A poor piece of goalkeeping from a goalkeeper in the waning days of his Inter career.
Summer replacement Andre Onana can't come in quick enough. Especially when you could see the difference a great goalkeeper makes by looking down the other end of the pitch at Mike Maignan who kept his side in the game in opening first 45.
Sad to see but once again it draws attention to Inter's desperate need for a new number one if they're to compete on all fronts.
4) A New Number Nine Is A Must
Edin Dzeko has been an excellent signing in response to the departure of Romelu Lukaku.
On a free and has also popped up with some crucial goals.
However, his tendency to miss a few simple chances with games in the balance and his startling like of pace, he can't be relied on much further than this season.
This is in no way a hammering of a 35 year old striker who has hit double figures for Inter this term by January but more so the admission that a younger and more streamline model is needed.
Gianluca Scamacca looks as if he is the man to fill the role which brings about a truly mouthwatering proposition.
5) Massive Month For Inter Starts On Sour Note
Milan were poor and shouldn't have been given a chance to drag themselves back into the game.
Niggly fouls and feigning injuries played right into the hands of Pioli's side as they effectively spoiled their way to a win in the last ten minutes.
This should provide ammunition for Inter as they are set to hit the most crucial part of the season in the coming weeks.
A rotated side must head to the capital in the Coppa with one eye on the weekend against Napoli, which has now become a must win game.
The Champions League ties with Liverpool also loom and will provide Inter with their toughest test in years.
It is important that Inter block this weekend's result out of their minds but use the anger and frustration caused by their lack of intensity to put things right as they head to Rome and Naples next week.
The season is at risk of derailment if Inter don't bounce back instantly.