Five Things We Learned From Inter This Week: "No Marcelo Brozovic, No Party For The Nerazzurri"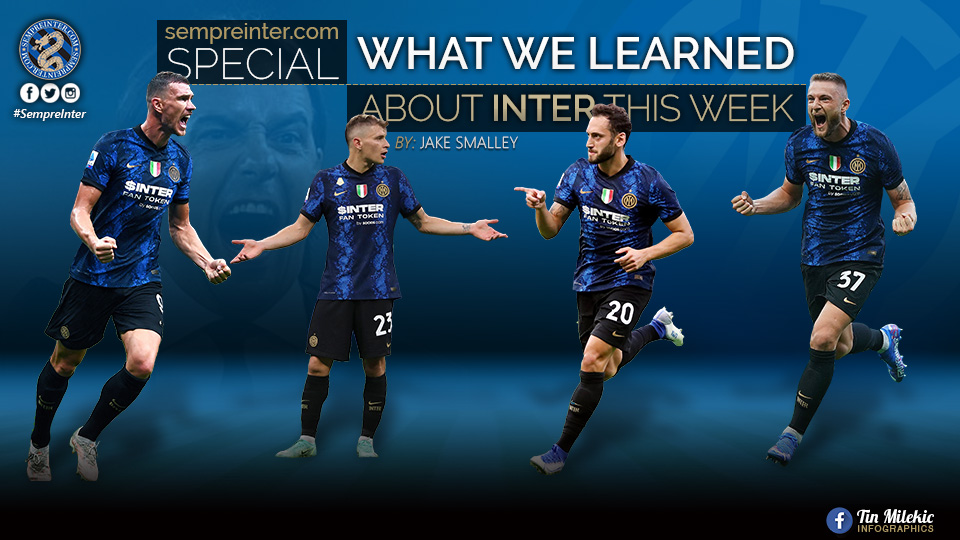 It feels strange to type this given Inter's recent home successes over the past two seasons but we arrive at this week's feature on the back of two straight defeats at San Siro for Inter this week.
A rather harsh lesson in Champions League action against Liverpool was followed up by a humbling by Sassuolo in Serie A on Sunday evening.
Here's what we learned from Inter's toughest on-field week in recent memory.
1) Do Inter Really Have Squad Depth?
Sunday evening saw Simone Inzaghi tamper with the side after a brutal recent set of fixtures.
Few argued with that decision as it spoke logic given Inter's recent set of games but fans were once again reminded of some of the ineptitude within the ranks at Inter.
Once again this is said in relation to the fact that Inter are now planning on challenging domestically and competing in Europe every year.
Performances from Roberto Gagliardini, whom was rightly hooked at half time, Federico DiMarco, who seems to be suffering from being in and out of the side and moved positions constantly, and also arguably Alexis Sanchez's worst performance in Inter colours, proved again that Inter cannot rely on players to step in and be difference makers.
Younger and perhaps hungrier replacements for the likes of Vecino, Vidal, Sanchez and Gagliardini are needed in the near future.
2) Marcelo Brozovic Is Vital
Inter will be hoping that Broz's ink has set on his new deal or else they may be answering a call from his agent after watching how poor Inter were without him.
Thanks to the wizardry of Tuscan duck Biancaneve's owner Luciano Spalletti, Marcelo Brozovic has become one of Europe's top registas.
Inter simply lack any cohesion without him and were despicably out ran in the first half against Sassuolo.
Dictating tempo, winning back the ball and holding shape, Brozovic is Inter's most important player. It is vital that he plays when possible.
3) Why Sign Felipe Caicedo If You Wont Play Him On Games Like On Sunday?
Sure he's had a niggly injury which stopped him being thrown into the squad since he arrived but Mr. Clutch goal himself should've been thrown on on Sunday.
Yes that would have left two units up top and maybe perhaps added to Lautaro's continual woe, but to utilise a presence from a man with a point to prove should've been deemed necessary.
Bringing in a vice Dzeko until summer was sensible business and it gives Inter another option to Sanchez, who was poor on Sunday it must be said, so why not use him?
He can't be being paid to sit around on the bench and given his reputation for late headed goals and being a good hold up player, he needs utilising, especially in a tired squad.
4) Champions League Defeat Harsh But Down To Poor Finishing
Inter did give the ball away a little too much as times in areas and could've defended both set pieces better that they conceded from but their main issue against Liverpool was their lack of finishing.
Lautaro and Dzeko simply cannot take their chances and in games of that magnitude they simply cannot afford to miss as many chances as they are doing.
In games against Liverpool, one of Europe's best and a side that boast vast experience of the competition, Inter are simply not allowed to miss as many opportunities with the ball as they did on Wednesday evening if they want to win these ties.
For the large portion of the game Inter were in control and didn't look like losing but the experience told when the side with more credence at that level snatched their two shots on target to score two vital goals.
A lesson for Inter.
5) An Opportunity To Put Things Into Perspective
Inter have now played Juventus, Milan, Roma (away in the Coppa), Napoli and Liverpool in the past few weeks.
This is a gruelling schedule and one we all knew would be a true test to a side aiming to retain the Scudetto and push on in Europe.
To win the Supercoppa, progress in the Coppa Italia and still remain top once these games were concluded is still something which should be seen in a positive light.
Yes they have had their deficit cut short and now no longer remain top after the defeat to Sassuolo but let's put things into perspective.
Inter prior to Christmas played better football than at any point last term and looked capable of steam rolling their way to a title.
However, since the break, their lack of clinical finishing and brutal schedule have shone a light on the frailties in Simone Inzaghi's Inter.
Romelu Lukaku's goals, X-Factor and sheer strength to lead the line are missed. Dzeko has done more than imagined to help replace him but he isn't at his peak anymore and Lautaro simply cannot be relied on to score enough goals.
Inter's midfield depth is poor, Calhanoglu hasn't been on form in bigger matches and Inzaghi's subs leave a lot to be desired.
All in all we must though remember the differences between this year's Inter and last year's.
Despite losing stars and having a less experienced coach they remain in a strong position for the title and have progressed even further in Europe.
A reaction to Sassuolo is needed and with games against two relegation battling sides, it could only really go one of two ways. Either Inter will rise again and hit the straps or the wheels could fall off.