Ex-Inter Striker Julio Cruz: "Criticism Of Nerazzurri Has Been Excessive"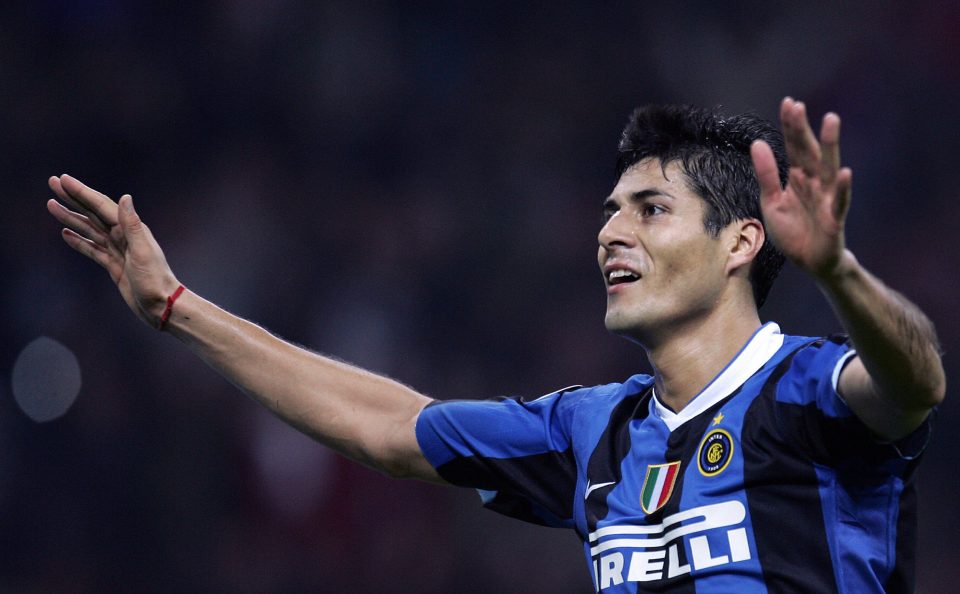 Julio Cruz believes the criticism of former club Inter has been over the top, as the Nerazzurri have endured a tough spell of form in recent weeks.
Simone Inzaghi's side have enjoyed just one win from their past five games and suffered losses to AC Milan, Liverpool, and Sassuolo, slip to second in Serie A and face elimination from the Champions League.
However, in an interview with FCInterNews.it, former striker Cruz felt that critics were being too harsh on a team that were still only two points off top spot with a game in hand.
"When a team aims to win the Scudetto, they have to try to win all the games. But the team are not playing badly, there has been a decline, perhaps also due to their commitments in the Champions League, and therefore it is something normal. But honestly, I don't see the Nerazzurri in such difficulty," the Argentine claimed.
"For me, Inter are still the favourites but there is still a long way to go. But look at the results of the rivals. Napoli drew in Cagliari. If you are aiming for the Scudetto then you must beat the Sardinians. The same goes for Milan against Salernitana. Let's not criticise Inter too much."
Cruz was a teammate of Inzaghi at Lazio and felt that he had surprised many by proving himself as a coach, whilst emerging from the shadow of brother Filippo.
"Obviously at the time I didn't think who would have undertaken a career as a coach. As a player he showed a lot, even though he had his brother Pippo in front of him, who scored even more goals than him. In those years there was more talk of Filippo than Simone, but today the situation has reversed and he has become a great coach. It is no coincidence that he did so well for Lazio.
"I have faith in him at Inter because of the excellent work he did in the Biancoceleste, which is the reason why he leads the Nerazzurri today," Cruz added.
The former Bologna striker represented Inter during a highly successful period for the club, between 2003 and 2009, and felt quality competition in attack is helpful, despite the struggles of the current team.
"It is normal for everyone to want a centre-forward who always scores, but there are moments where this does not happen. A period of goalless matches also happened to me. But let me assure you of one thing. As soon as Lautaro scores the first goal, he will start scoring again and again. I have faith in all the Nerazzurri forwards, they are strong and have already shown it.
"In my time at Inter there was [Christian] Vieri, Adriano, [Obafemi] Martins, [Zlatan] Ibrahimovic, [Hernan] Crespo. We trained every day with the desire to do well in training to have the possibility of being a starter or at least making the bench. There was healthy and important competition. Anyone who played was 100% prepared to do so. 
"I understand what you mean, that maybe you can think that today's forwards are complacent because they know they are playing. But I don't think so. Lautaro, also took to the field several times with the national team. His decline is only temporary."
Meanwhile, fellow Argentine Joaquin Correa is set to make his comeback from injury and Cruz was looking forward to his return.
"I'm sorry he got injured twice. On his debut with Inter he had done very well and his talents had already emerged at Lazio. When a player does not have continuity due to physical problems, he cannot prove what he is capable of. But I am sure that when he is over this, he will become an important resource for the Nerazzurri."
Inter face AC Milan in the Coppa Italia on Tuesday, just weeks after falling to defeat in Serie A, but Cruz felt that they did not deserve to lose.
"I saw the last derby and I can honestly tell you that the Nerazzurri didn't deserve to lose, since the Rossoneri weren't the best. But this happens in football. Now there is the possibility of a new challenge, I hope Inter can do well. 
"My best memory of all the derbies I've played is in 2007. The fans were expecting a lot. I started on the bench and 11 seconds after I came on I scored the equaliser. Then there was my assist for Ibra's winning goal.
"Scoring against Milan and Juventus bring strong emotions. The goal at Juve had a special taste because Inter had not won in Turin for more than 10 years. It was a unique emotion, for me and for the fans. But it is always wonderful to win the Derby d'Italia with Juventus or the derby with Milan, even more so if you score a decisive goal," he added.
Cruz admitted that he would be proud to see son one day play for Inter, as former teammate Adriano had also hoped for his own son, and suggested that they could form a devastating partnership in attack.
"Any player who has passed through that beautiful club that is Inter hope that if they have a professional son, he will wear those colours too. But he knows, the life of an athlete is difficult. I have already fulfilled a dream seeing my son make his debut with Banfield. Now I hope he can continue his career. It would be nice to see him in Europe, especially in Italy. But only fate knows whether or not he will wear the same shirt as his father.
"Mine was a different era to his. He could have made his debut two years ago, before the pandemic, but now at 22 he is doing very well. It was at that age that I moved to Europe and I'm happy because so many speak well of him and his qualities. Those who knew me well tell me that my son has something more than what I had.
"Let's hope for another Cruz-Adriano partnership, let's hope. It would be wonderful!" he concluded.