Inter Coach Simone Inzaghi: "Marcelo Brozovic Is Fundamentally Important, We've Missed Him A Lot"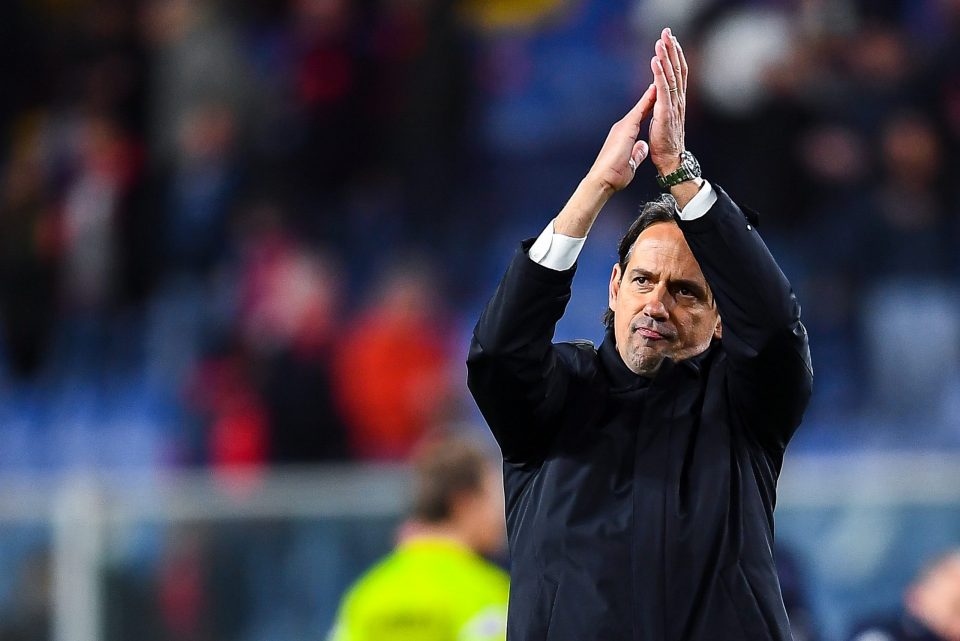 Inter head coach Simone Inzaghi is happy to have gotten Marcelo Brozovic back for the starting eleven in tomorrow evening's Serie A clash with Juventus.
Speaking in a press conference ahead of the match, as reported by FCInterNews, the coach highlighted the 29-year-old's importance to the team and looked ahead to what could be a decisive match in the team's season.
Inter should have Brozovic back in their starting eleven for tomorrow's match, and this is good news given how they performed in his absence when he missed the clashes with Torino and Fiorentina before the international break.
Even with the Croat in the team, there is hardly a guarantee of anything out of the Derby D'Italia, but the coach feels that the team's chance of a positive result are better with him set to return to the pitch.
"We all know the importance of Marcelo and of all the players," Inzaghi said. "He is fundamentally important, we've missed him a lot."
"Over the past few days he's worked quite well," he added. "Today, along with with de Vrij he'll complete a full training session and we'll see. Having him with us is already important."
Looking ahead to tomorrow's match, the coach stated that "I think it's very important, in the sense that there could not be a better match for us to send a message not just to our rivals but also to ourselves."
"We've all been together only for the last two days, but yesterday we had a good session," he said of the team's preparations.
"It's up to us to put in top performances and to show our intensity and character to start doing better," he said of getting back into form after a negative few weeks. "We know where we were a month and a half ago."
"We've dropped more points than our performances would merit," he added, "and we know that with pace, aggressionm and determination tomorrow we will have to play a great match tomorrow against top opposition."
"We'll travel to Turin showing personality and character," he ensured.
Of the drop in form experienced by the team since the start of February he said that "I think all the teams have had moments like these."
"Ours coincided with the loss in the derby and then two-legged tie against Liverpool," he added.
The coach reflected that "At the beginning of the season, I would've signed up to have made it to the beginning of April having won the Supercoppa Italiana, making it to the Champions League round of sixteen for the first time in ten years, and fighting for the Scudetto and top four, which is what the club asked from us."
Inzaghi said that tomorrow he is looking for "The result, because as far as performance is concerned, we've never been lacking."
"Even the statistics in our most recent matches suggest that we have created a lot despite taking just seven points from seven games," he added.
"We feek disappointment especially regarding the results," he continued. "We want to win knowing that we have nine finals starting tomorrow, certainly the most demanding one of the lot."
The coach stated that "The Derby D'Italia is not a match like any other. It very much feels special for the fans, we know we have to play a great match, it will affect morale and the table a lot but we still have eight more games plus a second leg of the Coppa Italia semi-final which will be equally important."
On some of the doubts that have been raised recently, Inzaghi said that "Criticisms must be accepted and I have the intelligence to understand this. I know where they come from and I don't take them into consideration."
Inzaghi said of the Bianconeri that that "We won in the Supercoppa Italiana and in the other match against Juventus there was a late controversial incident that cost us."
"However, we are facing a team that are in good form and have returned to the position that everyone was predicting for them at the beginning of the season," he cautioned.
"We know Juve quite well," he went on. "In January they made significant signigns in the form Vlahovic and Zakaria because they saw shortcomings in the team and improved."
"Notwithstanding that they were already a great team," he added. "Clearly there's Vlahovic, but also Morata, Dybala, and Kean are all strikers to keep an eye on."
The coach admitted that "I didn't like the approach against Fiorentina and Torino. Analyzing the matches we had two excellent second halves. We know we approached them badly to start with an we have to do better because that will be important tomorrow."
"As coaches we depend on results and performances," Inzaghi said. "I am delighted and proud of the choice the club made in June."
"I knew that Inter were Italian champions and would probably lose two of the best players," he continued. "We've done a great job along with the staff and have gotten the club back on its feet, and despite the fact that we're in the hunt in all competitions and have already won a trophy, criticisms have come," he continued.
"But those are always there regardless of the results," he reflected.
On the condition of midfielder Nicolo Barella after missing out on World Cup qualification with Italy, Inzaghi said that "I think he's worked very well the past few days, like Bastoni, Vidal, Sanchez, who all had big disappointments over the break."
"But this is football and they have to leave them in the past," he stressed.
On being named as Scudetto favourites by Juventus coach Max Allegri, Inzaghi said that "I think he expressed his opinion, there is great mutual respect between Max and I."
"Everyone is entitle to expressed what they think without it being a problem," he added.
"When you face Juventus, the match give you a lift," the coach continued. "We recently won against them."
"We play away this time," he added, "we had two excellent matches in the last two head-to-heads against them. We have the duty and the obligation to play a match match worthy of Inter."
And on the situation with the midfielders and suggestions that they should be playing better, the coach said that "I think this is just people talking."
"The threat level has remained the same compared to November or January," he added. "It's just that kind of moment, we're working on our shortcomings to improve ourselves starting from tomorrow."