Inter Striker Lautaro Martinez's First Senior Team Coach: "Always Had Fire Inside Him, Could Play Well Alongside Paulo Dybala"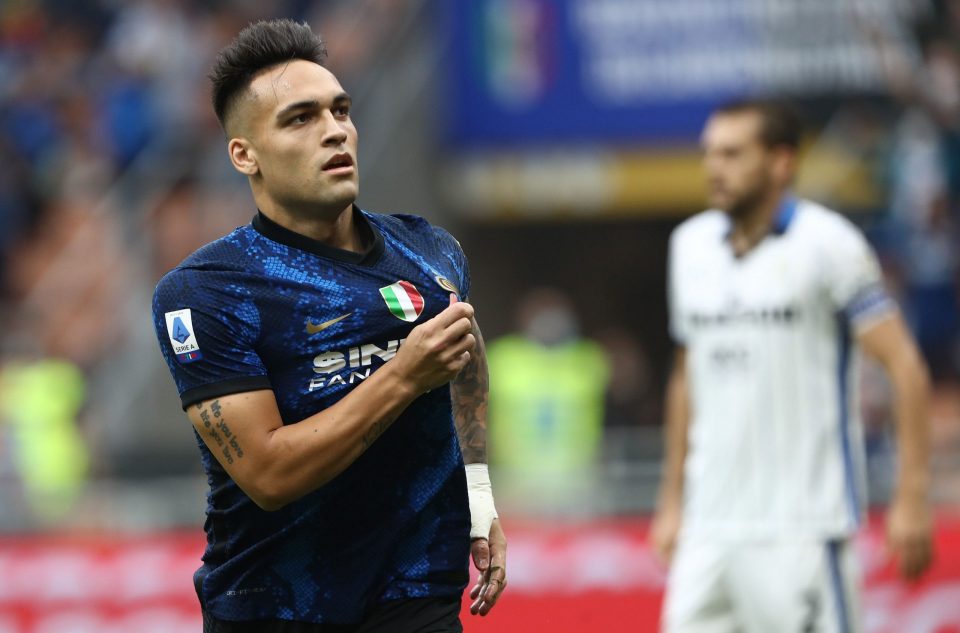 Inter striker Lautaro Martinez is a player who has always been extremely motivated and driven to succeed, according to his former coach.
The striker's coach from his time with Bahia Blanca, Alberto Desideri, spoke to Italian news outlet L'Interista about the player's mentality, and also gave the view that he could form an effective strike pair with Paulo Dybala.
Martinez joined Inter from Racing Club in the summer of 2018, and by that time he had already begun to build a strong reputation for himself not just within Argentine football but as an overall top young prospect.
The young striker did not immediately become a regular starter for the Nerazzurri but he did make an impact and showed many flashes of his quality when given opportunities.
In his second season with the club, Martinez became one of Inter's key players in attack under Antonio Conte, and last season he went on to help the team to their first Scudetto in eleven years with his goals and intense play.
"He already had the makings of a great player," Desideri said of his time working with Martinez, "we could see that he had a lot of room to grow."
"He had a great spirit of sacrifice, and, compared to others, a greater predisposition to learn the things that were taught to him," he added.
The coach explained that "This was an important thing for him, given that his level, when he was young and we launched him in the first team, was already good. By his nature, let's say."
"But if I have to tell you about something that struck me about him and that I remember, it was precisely his discipline and desire to learn, as well as his technical qualities," he continued.
Of the striker's defiant celebration after his goal against Spezia, Desideri said that "He has always had that in him, he's always been a competitive guy, he never wanted to lose any match."
"He didn't like to lose," he added, "when we conceded goals you could see that he did everything to recover the result in the shortest possible time."
"He was a boy with a great temperament, as he remains today," he added, "but with a positive attitude, predisposed to winning. He had the fire inside, to lead the team to victory with his goals."
Of Martinez's partnership with Dzeko, Desideri gave the view that "When you have to form a new strikepair, you know you have to invest a lot of money, so it's not easy, and then work a lot on the understanding."
"With Lukaku he paired very well, but it's never right to make comparisons," he added. "The important thing is that he can adapt to the teammate he has now or that he'll have in the future, as well as the other way around."
"But this also includes the midfielders and their ability to support the attack, to facilitate the work of the forwards," he continued.
Desideri suggested that "It all depends on the tactical approach and how the team is set up. Lautaro, however, I'm sure he doesn't have big problems from this point of view, nor has he ever had any, because he has a great ability to link up with his teammates."
On Martinez's improvements, the coach said that "He's improved a lot in terms of his aerial game compared to when I worked with him, now he's really good with his head."
"Playing at Inter there are always aspects in which you can improve," he continued. "He already has a good basis of individual technique, but perhaps he can grow further."
On the possible arrival of fellow Argentine Paulo Dybala this summer, Desideri argued that "He can link up well with Dybala, they are two great players."
"With Paulo then it would be easy for him to play in my opinion," he added, "because he always finds the right creative spark to free his teammates, so Lautaro would certainly find it easier to score."