Inter CEO Beppe Marotta: "We're Angry But Not Depressed, Absolutely Continuing With Simone Inzaghi"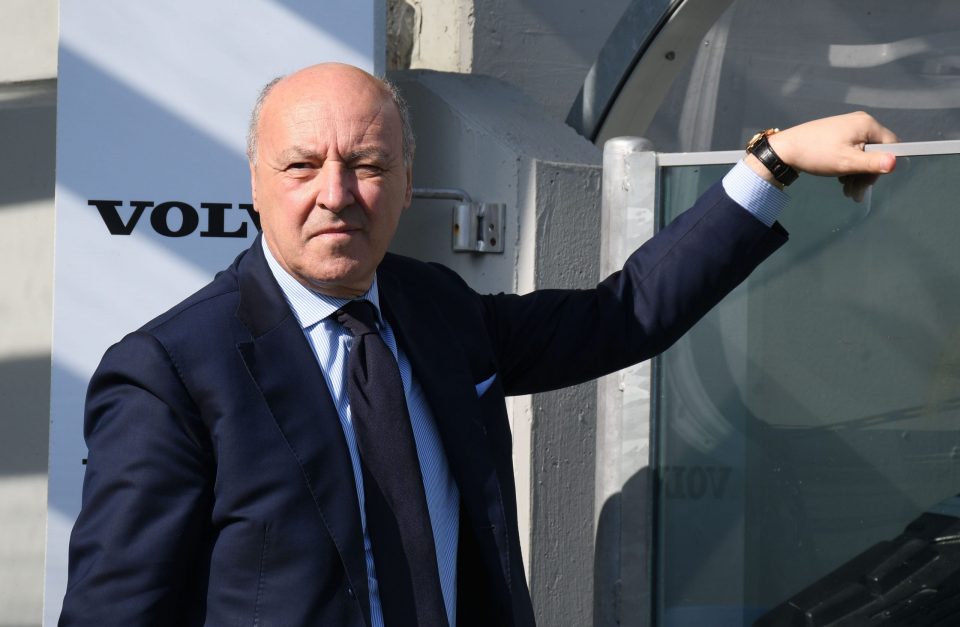 Inter CEO Beppe Marotta feels that the team are fired up rather than depressed after their 2-1 loss to Bologna in Serie A yesterday evening.
Speaking at the Il Foglio a San Siro event, as reported by FCInterNews, the CEO updated on the mood in the team after yesterday's major setback.
Inter are by no means out of the title race despite losing yesterday, but they've fallen from a controlling position to one in which they must hope that city rivals AC Milan slip up if they are to have any chance of winning the Scudetto.
According to Marotta, the reaction has not been one of letting their heads drop but rather has been one of defiance as the team immediately move on to preparations for their remaining matches in Serie A and the Coppa Italia final.
The result against Bologna is already in the past, and for the CEO, the key thing is for the team to take it as motivation and impetus to fight in the matches that are still to come.
"Of course there's a bitter smile to it," he said. "It's part of the game, we lost a battle but not the war. We're pissed off but not depressed."
"We have to see what happens," he continued, "there are four games left and nothing can be taken for granted in football like was the case in the 70's when there were teams that had nothing to play for."
"Today instead we have Crotone winning against Cremonese, despite having already been relegated," he gave as an example.
"First of all, there's been a levelling off of the teams," he continued, "it's been one of the most interesting league seasons in recent years."
"Last year we won the title with plenty of time to spare," Marotta added, "this season Serie A is intriguing in every sense."
On the situation of top clubs in Italy one year after the failed Super League initiative, the executive explained that "We're clearly in great difficulty."
"This historical moment had emerged before the pandemic," he continued, "the costs were already unsustainable and are even moreso today after the pandemic caused a financial contraction."
"The ideal would be to spend little and take in a lot," he added, "instead competitiveness has been sacrificed for sustainability. We must also look for resources to instill a winning mentality which is important in sport."
On the secret of how he's kept Inter competitive despite major sales last summer, Marotta said that "The equation isn't as simple as, the more you spend, the more you win."
"The departure of Conte and two players, as well as losing Eriksen who suffered because of a decision made independently of him, gave us a shock," he explained.
"Lukaku and Hakimi had expressed their willingness to go and gain experience in other leagues," the CEO continued.
"However, we had a strong ownership behind us and we were able to guarantee sustainability," he went on, "so we built a competitive team with a winning mentality."
"We chose an emerging coach in the form Simone Inzaghi who has met our specific needs," he added. "We're here now and we can say that we've won the Supercoppa, and the Coppa Italia final awaits us as well."
"We hope that we're successful at the end, but we're happy," Marotta said. "And we owe all this to the culture of work and the solidity of our structure."
Looking back to the signing of Alvaro Recoba on loan from Inter when he was running Venezia, Marotta said that "That was a stroke of luck, it was one of the few cases in my career in which and individual contributed to the final result at an incredible level even to the detriment of the team."
"Recoba won matches on his own," he added, "it was a nice chapter for us."
"I don't think it was the most enjoyable chapter of my career though," he went on,"there are dreams that come true and then others that are unexpected."
"I didn't imagine reaching fourth with Sampdoria," he said, "I didn't imagine joining Juve and winning seven league titles, and then reaching Inter and becoming Italian champions."
"Everything is possible in sport and this is proof of it," he said. "The thing is also knowing how to use experience, and it's helped me a lot to understand mistakes and how to find solutions."
On agent Mino Raiola, he said that "I have a friendly relationship with him which is also based on disputes that we've had."
"He's always been very clever, but fair," he went on, "he always said things to your face, puts his ideas clearly."
"The deal for Paul Pogba is an example of that," Marotta continued, "he was very good at making his arguments stand out for us. I'd consider him the best around."
Regarding the prominence of agents in the modern game, the CEO said that "Once upon a time they didn't exist, since contracts were practically for life."
"With the new regime of big transfers, these positions have emerged which are sometimes covered by people without the right skills to follow the career of a footballer," he added.
"Then there are many good, responsible agents," he went on, "but this is the case with every category."
"Each transfer comes with an economic transaction," Marotta went on, "I hope it doesn't cross a line into earning a fortune off their clients."
Regarding the problems of youth development and recruitment, he said that "In Italy I think that a big problem is the lack of a Ministry of Sport that also assists in other areas, because the crisis is in every area."
"There are no kids who sign up for these sports," he explained, "having a Ministry means understanding that sport is a fundamental element in school."
"Speakers and amateur clubs have either disappeared or are struggling to survive," he added. "Today sport is in the hands of sporting clubs, there are no structures."
"The second thing is the lack of training," he added, "there are no teachers like it the past, there is no longer the concept of training. It is up to politics to understand that sport is part of the heritage of our culture."
"Here is where the culture of defeat emerges," he went on, "judging a coach from the results he gets with the youth teams."
"This is absurd, we need to work to make it clear that the work in the youth sector must train boys into becoming men," he said.
"The coach, on the other hand, are under pressure because of the results," he said, "the positive aspects that come from how the players train must also be measured."
Moving on to the Champions League semi-finals, Marotta said that "The last rounds of the Champions League have featured Real Madrid, a team of model professionals who know how to never give up and who will do well in the second leg."
"This is an argument in favour of the format of a tournament which in the final stages are full emotions and spectacle," he added, "especially in modern football where the defensive mindset of the past is no longer there."
Looking back on coaches he's worked with in the past, Marotta said that "For me, a great coach, who could have had a better career, was Eugenio Fascetti," a former Varese coach.
On the effect of stadiums, Marotta said that "Of course, players are more engaged due to the home atmosphere. It affects things a lot, in Turin the stadium was always full and it was our 12th man."
Lastly, the CEO was asked about whether Inter want to continue on with Simone Inzaghi, and he responded "Absolutely, yes. We're very happy and he has a lot room for growth, I think he can be among the best around."