Inter Corporate CEO Alessandro Antonello: "Inter & AC Milan Moving Forward Together To Build New Stadium"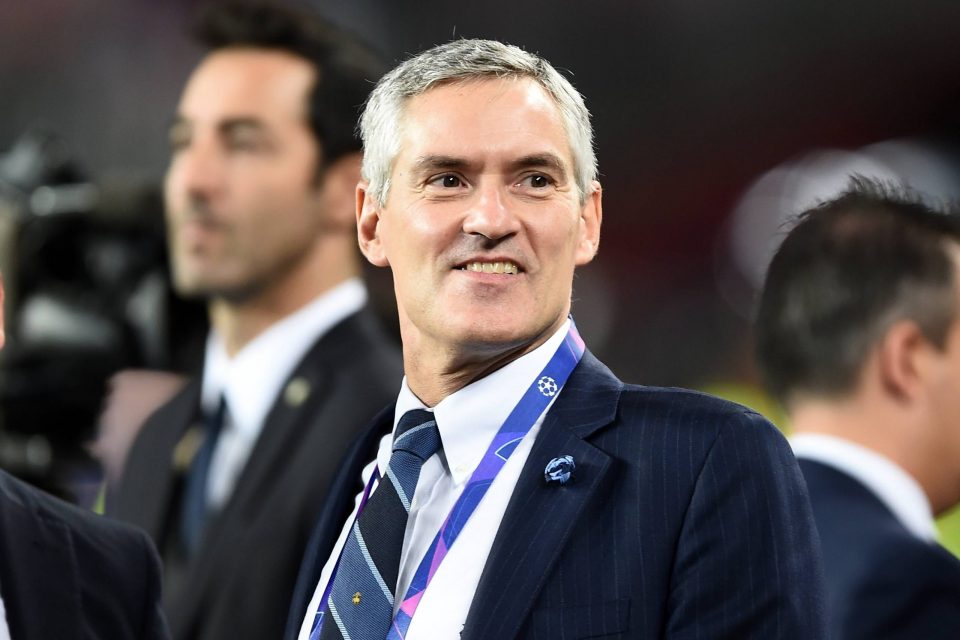 Inter and AC Milan are committed to moving forward in unison to build a new stadium in Milan, according to Nerazzurri Corporate CEO Alessandro Antonello.

Speaking at the Il Foglio a San Siro event, as reported by FCInterNews, Antonello provided further confirmation that both clubs in Milan are committed to the new stadium project.
The Nerazzurri and the Rossoneri have both been pushing for the construction of a new stadium to take place of the San Siro in Milan, as they see it as essential to modernizing their infrastructure and increasing revenues.
The clubs have faced some setbacks in the form of bureaucratic hurdles in recent weeks and months, but as Antonello made clear, their priorities are clear.
"The two clubs are working on this new project together," Antonello explained. "I'll give some data in terms of the international level – in the last ten years in Europe billions of euros have been invested in new stadiums in various countries, in Italy we cannot be left behind."
"There are projects already in advanced stages," he went on, "we hope that beyond the bureaucratic holdups we can unblock this situation that can benefit our country. Infrastructure can make the country grow."
"From a technical point of view, we're waiting for the municipal administration to appoint the person responsible for the public debate," he said of the specific delays.
"The process should end around the beginning of May," he continued, "we are working to integrate the 2019 project with a thousand-page feasibility study, as the Municipality has asked for a correction of the volumetric indexes."
"The clubs have followed the requests of the administration and have adapted our plans despite the fact that there's a law on stadiums that would allow for higher ratings," he added.
"The clubs listened to the requests of the city and made themselves available to review the initial project," Antonello went on.
"But the clubs are proponents of the project, it will be up to the Municipality to say whether they're satisfied with the project or not," he added.
"We started over a thousand days ago with a lot of enthusiasm," he reflected, "now there's a bit of disappointment."
"Milan has always been synonymous with efficiency," he said, "now there are political difficulties but Inter and Milan want to move with a modern vision and continue to add prestige to the city with a stadium that can keep pace with the top ones in Europe."
"We've declared that there is no exclusivity for the San Siro," the executive said. "Our urgency is to have a stadium as soon as possible."
"There's no mandatory deadline but we're evaluating other possibilities and whether they would be feasible," he added. "We're waiting for the public debate to be clarified and then we'll decide."
"Inter will always be committed to this project," he went on. "When it comes to infrastructures to be built over a long period, it's normal to think that there may be a change of ownership."
"This can happen anywhere," he said, "but that's not a reason why we're thinking of abandoning the current stadium."
"This is a strategic project," Antonello said, "which will be carried out with project financing, which serves to facilitate competitiveness at the European level."
"No interference from shareholders will be able to hold this up," he said.
On the possibility of building outside of the city of Milan, Antonello said that "Plan B exists, and must exist with projects of this type. Here the bureaucracy doesn't help and investors need time and certainty."
"The primary option was a new San Siro at the location of San Siro, now the priority is to have the stadium as quickly as possible," he explained.
"We need a new system that allows us to accelerate on increasing revenues," he added, "but not just that, we must bring something more to the citizens."
Antonello argued that "If we compare ourselves with many modern stadiums, they have many more event rooms."
"We are evaluating alternative options in the interest of the clubs," he acknowledged.
On the possibility of a San Siro without Inter and AC Milan he said that "San Siro is San Siro because of the successes of the clubs that have made it prestigious."
"When there's a new stadium, however, it will become just as iconic because the clubs will play in it and win," he predicted. "Time is the key."
As far as agreement and coordination with AC Milan, Antonello said that" On the Inter side I would say yes there is."
"There have never been any doubts about having a shared stadium," he emphasized. "I think we are unique in Europe in terms of shared management, even if our sporting objectives divide us."
On the possibility of a Milan derby clash to inaugurate the new stadium, he said that "I think a friendly match between us to inaugurate the new stadium would be a very interesting idea."
On the possibility that Milan Mayor Beppe Sala could be hesitant about having abandoning the existing San Siro as part of his legacy, Antonello stressed the importance of the Mayor having progress as part of his legacy.
"I think that Mayors abroad want to be remembered for what they've done," he said, "they pride themselves on the fact that they wanted to carry out great works. Sala should be asked the same, it's a difficult question."
Regarding whether the clubs could return to the idea of renovating the existing San Siro, he said that "We started off thinking about the renovation of San Siro, studies have shown that it would be very difficult."
"Two teams play in the stadium and would have had to move to another location," he explained, "just think of what it meant to find a venue within a 100 km radius to host the two sets of fans."
"San Siro, then, wears its ninety years," he added, "the three rings are disconnected from each other, there are architectural elements that are very difficult to arrange."
"The nature of the restructuring would also be difficult," he said, "not to mention the lost revenue. As far as hospitality sections in the third ring, there are structural problems that would have to be investigated."