Hakan Calhanoglu: "Inter My Home & Want To Stay Here For A Long Time, Defeat Against AC Milan The Worst"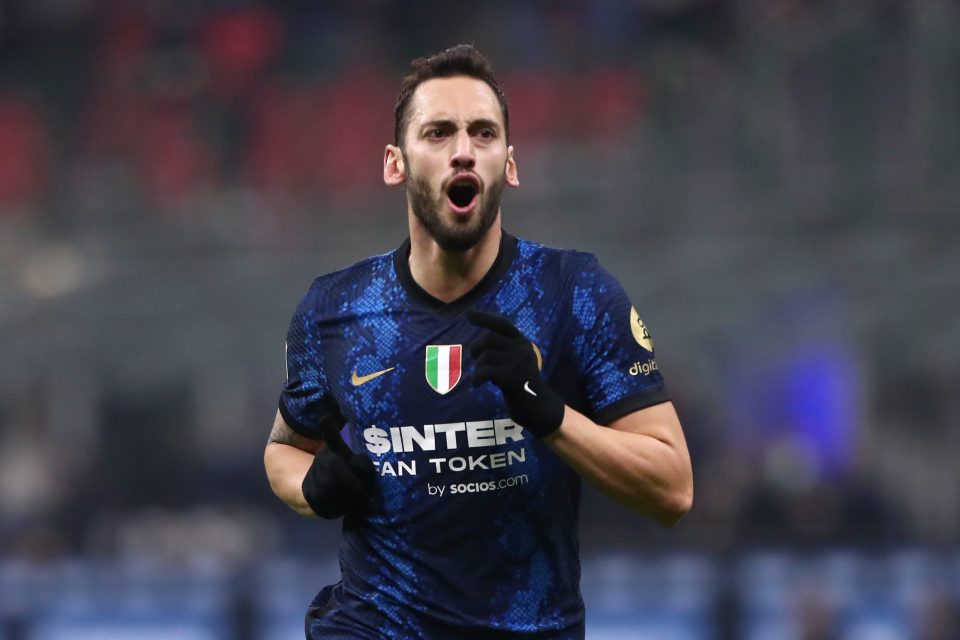 Inter midfielder Hakan Calhanoglu feels that the Nerazzurri is where he belongs, and wants to stay for a while and establish a legacy at the club.
Speaking to Italian broadcaster DAZN, the 28-year-old spoke about his happiness playing for the Nerazzurri and also admitted that the most difficult defeat of the season was in the derby against his former side AC Milan.
Despite only arriving at Inter last summer, Calhanoglu has already made a significant impression in a Nerazzurri, cementing a regular starting place for himself and chipping in with goals and assists in addition to his strong all-round game.
The Turk has only been at the club for one season so far, but he wants to kick on and keep building his career in a Nerazzurri shirt.
Asked what he wanted for his future, he said "To always be calm, I'm happy here. I want to stay at Inter as long as possible because I'm at home here. "
On what convinced him to join Inter, Calhanoglu said that "I remember the words from the coach, I was with the national team and I spoke with him two or three times, I immediately had a good rapport with him, we spoke a few times but we were immediately happy upon my arrival at Inter."
On the stylistic transition of his move from Milan to Inter, he said that "I played in many roles, even as a winger or as an attacking midfielder there, now I play as a mezzala."
"I'm trying to do my best," he added, "I'm an intelligent player and I don't think it's difficult to play in this role but I just listen to the coach and understand what he wants. I immediately found a place for myself in the team."
"I don't like talking about myself," he added, "but if you ask me I'll say that I gave my best for Inter and my teammates."
"I'm trying to give my best for the guys because we want to stay at the top and then success arrives," he added. "I'm happy but I can still improve."
On dealing with pressure when taking important penalties, Calhanoglu said that "There's no secret to it, I've already taken many penalties before coming to Italy, even in Germany."
"I'm used to it," he added. "I have faith in myself, and a penalty against strong teams like Juve or Napoli is worth a lot. You don't have to think too much in the moment, you just have to believe you can do it."
On joking around with Denzel Dumfries in training, he said that "We play these jokes from time to time. Denzel and I are very close in training and we try to pass the time that way."
He named the defeat against AC Milan as the most painful of the season for him, while he named the San Siro as his favourite stadium he's played in and Liverpool's Virgil van Dijk as the toughest defender he's faced."