Nerazzurri-Owned Empoli Loanee Andrea Pinamonti: "My Family All Inter Fans, Not Thinking About The Future"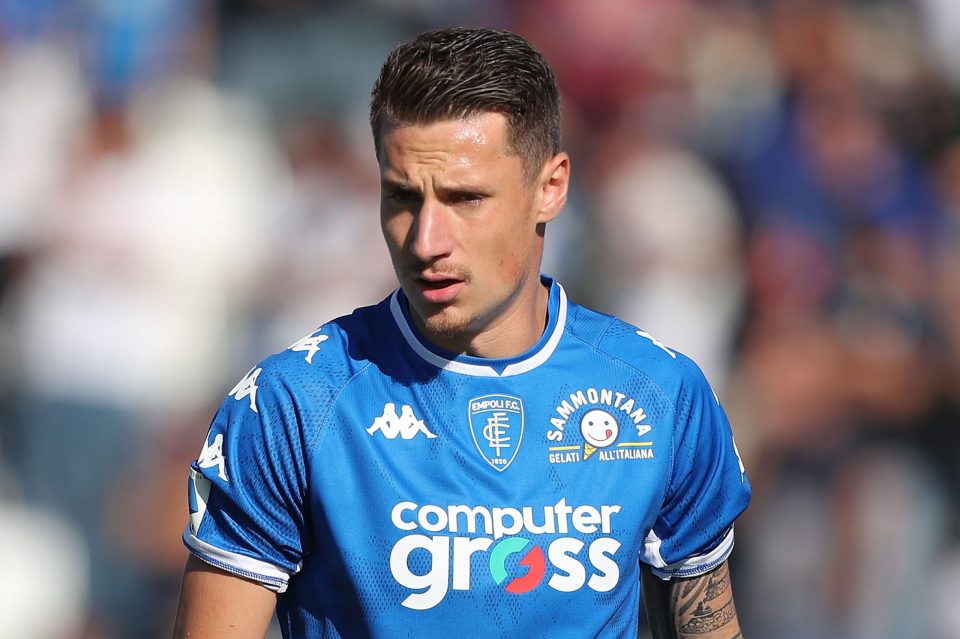 Inter-owned striker Andrea Pinamonti feels a deep connection to the Nerazzurri, but he's not thinking about the future at the moment.
Speaking to Milan-based newspaper Gazzetta dello Sport in an interview published in the Sportweek addition to today's print edition, Pinamonti spoke about his career so far and what being an Inter player means to him.
Pinamonti showed all his quality yesterday against his parent club by bagging a goal and assist for Empoli in the first half at the San Siro, though in the end the Nerazzurri came back to emphatically win the match.
This was far from the first positive sign from the 22-year-old, who looks to have taken his game to another level in Tuscany this season.
As he explained, he has always tried to be humble and hardworking, and now it is paying off more concretely on the pitch.
"In football it's like this," he said, "as soon as you have a moment of glory, everyone's cheering for you."
"By the same token, you can be back in the oblivion with very little," he added, "you go a few games without scoring. I'm used to it by now and I don't let it affect me."
"I'm fully immersed in this happy moment," he went on, "which has lasted since the beginning of the season, and, believe me, I'm not thinking at all about what come next."
"I want to enjoy this period precisely because I know that there will be less positive moments," he added, "when, as I said, people will start judging me differently again."
Pinamonti spoke about his family roots in the Nerazzurri, stating that "As a young man, my father used to go to the Curva at the San Siro."
"He's a banker, while my mother looks after the family farm," he went on. "And I have an older sister who lives in Australia."
"I was eight years old and playing for a regional club, Bassa Anaunia in Denno, when Roberto Vincenzi, a scout who worked for the big clubs, said to my parents: 'I can take him to an audition at Inter or Milan, or to Juve, Atalanta or Torino,'" he went on.
"And he said: 'Andrea, you decide,'" Pinamonti continued. "But I'd already decided while he was still talking."
On his position, the 22-year-old said that "I was born a striker and I'll always end up in the same role. As a child I was taller than other kids my age, so I played with the older kids."
"Contrary to what many think, I'm a humble guy," he said about the tag of being labelled as destined for success from a young age. "That kind of talk only motivates me."
Of his €2 million net salary with Inter, he said that "That's also a relative burden. If you want to reach the top, you have to take all kinds of pressure."
"From the outside, such a contract, at my age, may seem exaggerated, but there are many situations like this in football," he added.
"There's no shortage of criticism and negativity for that reason," he added, "but I've learned not to give it any weight."
Of his exceptional scoring record with Inter's Primavera team, Pinamonti said that "Those goals gave me self-belief and a sense of responsibility."
"But you can count on one hand the players you come through the Primavera and immediately blossom into great players," he added. "I still had to face a normal path of development."
On last season where he played a bit-part role at Inter, Pinamonti said that "I always felt a bit bad when I didn't come on, whether it was the first league match or the last."
"I spoke with Conte before the January transfer window, telling him that I wanted to go out on loan and play," he continued.
"And he was very sincere, saying more or less that 'I prefer that you stay here. You're not first choice, but you train well and don't cause problems," he added. "And by staying, you can learn a lot more than if you go."
"Matches are always better than training, especially at my age," Pinamonti went on, "but when you're being marked by guys like Skriniar or De Vrij in training, it makes all the difference in the world."
"And under the coach I learned what it means to have a winning mentality," he added.
Speaking about players who inspire him, Pinamonti recalled that "I saw Ibra when I first joined Inter. There's a blend of technical and athletic quality that only he has to such a high degree."
"Not to mention, his mentality," he added of Ibrahimovic.
He noted another early inspiration, former Nerazzurri captain Mauro Icardi, stating that "Icardi is completely different from how he's portrayed in terms of his life off the pitch."
"He's a great guy who did everything for me when I started living alone in Milan," he said of the Argentine. "He's my ideal center-forward – his movement in the box is better than anyone's, he turns every half-chance into a goal."
Pinamonti characterized former Nerazzurri striker Romelu Lukaku as "A gentle giant."
"Here his power and physicality made the difference," he said of the current Chelsea player, "in the Premier League he struggles more because there are many other players as physical as him."
Closing by answering a question about whether he'd accept a move to Inter's city rivals AC Milan, Pinamonti stated that "I'm not thinking about the future right now."