Inter Vice-President Javier Zanetti: "Things Are Different Now Than When I Was A Player"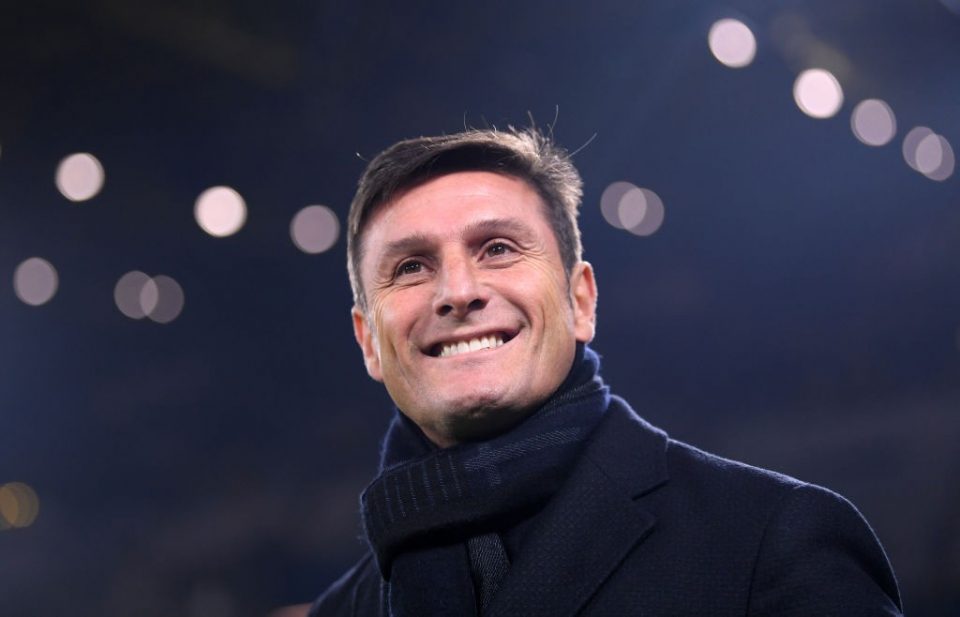 Inter Vice-President Javier Zanetti feels that even though his role at the club and lifestyle have changed dramatically from his playing days, he still has as strong a connection with the Nerazzurri as ever.
Speaking to InterTV for the "Careers" series, via FCInterNews, the former captain and current Vice-President reflected on what Inter has meant to him over the years.
Zanetti spent nearly two decades as an Inter player, making close to a thousand appearances for the club and acting as the club captain in the majority of those matches.
The Argentine certainly left his stamp on the team on the pitch, but he continues to guide the club in a directorial role, having acted as Vice-President since 2014 with no sign of stopping.
The 48-year-old gave his thoughts on the photo of he and the other directors celebrating the Supercoppa Italiana win in January, calling it "A victory with suffering, in this photo you can see everyone's work to ensure that the team performs at its best."
"I hope it will always be like this," he continued, "that there is a union of purpose so that Inter always have evenings like this."
The Vice-President reflected that "Life is different now, but I enjoy it because I'm still always tied to Inter. I do everything with passion, there are no personal interests."
Zanetti looked all the way back to his first day as an Inter player, calling it a "Beautiful memory, it was my introduction to Sebastian Rambert."
"I was met by a great man, Giacinto Facchetti, who built the history of the club," he continued. "It was my first time with Italy, this photo represents the beginning of my career at Inter."
He continued that "It was the first time I wore a suit, in Argentina you only wore one for big parties. When I learned that Inter had signed me I had to buy myself a suit which cost a lot."
Of another legendary former captain, Facchetti, Zanetti said that "Talking about Giacinto makes me very emotional, ever since I met him I realized that he was a great person."
"His presence in Appiano inspired respect in everyone," he went on. "He taught me so much, I miss him so much – I'll always have a great memory of him."
Zanetti spoke about his counterpart on the other side of the Milan derby, former AC Milan captain and current Sporting Director Paolo Maldini as well.
"I've always admired him," he said of the Rossoneri legend, "there's always been a great relationship on and off the pitch. A genuine person, very respectful."
"We've played many derbies and he defended the shirt and the history of his club as I did mine," he added, "but there's still a great friendship with him."
Regarding his most formidable opponents, Zanetti said that "I played against great players, Roberto Baggio is one who comes to mind – I have a good friendship with him as well, we became close when he arrived. As an opponent it was never easy to face him."
"Then I think of Zidane, Ryan Giggs, Lionel Messi whom I faced in the Champions League in a game with very high stakes," Zanetti went on. "But beyond what they can do on the pitch, they're all great people."