Inter Coach Simone Inzaghi: "Handanovic To Start Season As First Choice Goalkeeper, Onana The Future, Lukaku Will Score A Lot"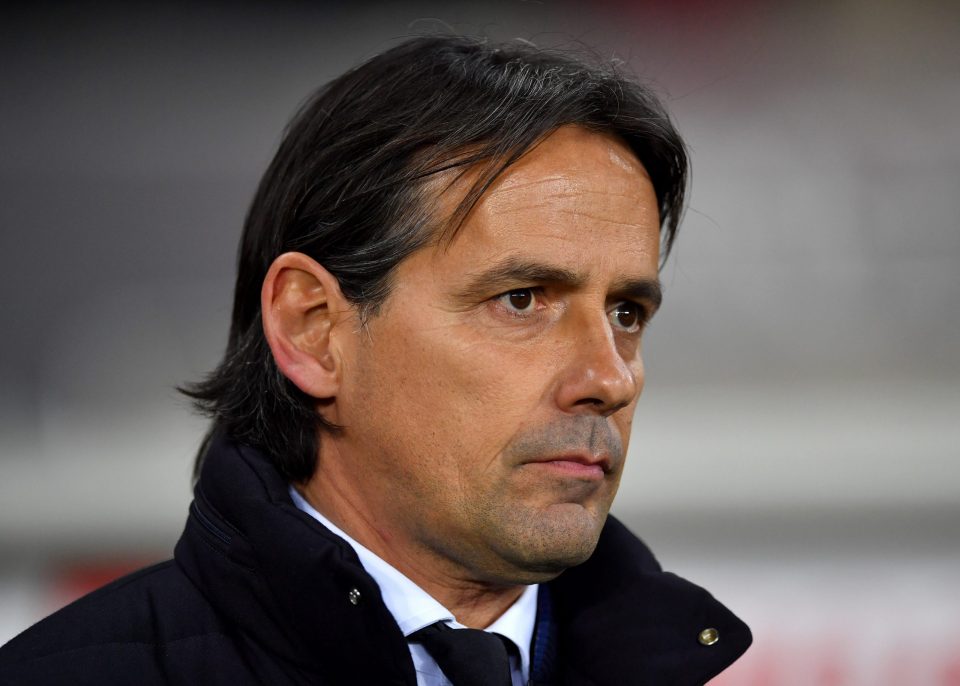 Inter head coach Simone Inzaghi expects that Samir Handanovic will begin the upcoming season as first-choice in goal and that Andre Onana will be gradually introduced into the team.
Speaking during the official kick-off to the season press conference, the coach gave his thoughts on a variety of matters relevant to the preparations for the upcoming campaign, including the squad and the transfer market.
Inter are set for a number of changes heading into next season, with several players having already been signed and a few having departed, whilst more arrivals and exits are still expected.
The high-profile return of striker Romelu Lukaku on loan from Chelsea and the signing of Onana on a free transfer from Ajax as the long-term successor to Handanovic are only a couple of the major pieces of business this summer.
Of the dilemma in goal, Inzaghi said that "Handanovic will start the season as the starter because he deserves it based on last season, which was excellent."
"We know how good Onana is," he went on, "he's the goalkeeper for the future Inter, and this season he'll have opportunities to show what he can do."
"It will be a unusual season because we have twenty matches in three months, and then the league stops for fifty days," the coach pointed out. "It's a novelty for everyone, we'll make our decision regarding preparations during the World Cup."
Regarding the return of Lukaku, the coach said that "An excellent relationship has been established with the player even though he wasn't around for very long last summer."
"The club informed me of this possibility," he said of the signing of Lukaku, "for me it was a huge signing, but let's not forget that our attack was already the best in Serie A."
"Lukaku will bring us many goals and attacking ideas," he predicted, "but let's not forget what the other forwards have already done.:
"We've won two trophies," Inzaghi said of the last season, "and then there's regret at not having won the Scudetto because with 84 points you win five times out of six. We go into next season with desire and enthusiasm, we hope we're right to."
The coach said that the goal for next season is "To win, because last year we all know what happened with the transfer market. We made the club safe, we as the staff rolled up our sleeves, and after that it was easy to say that Inter were favourites, as opposed to what everyone said during the summer."
"This year we start behind Milan, the Italian champions, and we'll fight it out with the other 5-6 teams," he predicted. "We want to compete, we don't hide that fact."
Of defender Milan Skriniar, linked with a big money sale this summer, Inzaghi said that "Skriniar is an Inter player, he's a player who had an extraordinary season."
"He'll be part of the preseason training, and then I don't know what will happen," he went on. "Last summer we were talking about Romelu. I always work closely with the club."
"Raising the bar for us would mean winning a treble, as we already won two cups last season," the coach reflected. "After our match against Samp, with the whole stadium cheering for us, I felt great satisfaction."
"Milan had won the title, but 72 thousand people cheered the guys on," he said with pride, "some players didn't have the strength to greet them because we did had just missed out on the title by by two points."
"We'll try with all our strength," he went on, "also because we have the support of our fans behind us, the core of supporters, who will accompany us on our journey which brings in Lecce."
Looking ahead to twelve months in the future, Inzaghi said that "We hope that we'll be able to say that everything has gone in the best way possible."
"Last season I had desire and hope, last season gave me great satisfaction based on the trophies we won and also reaching the round of sixteen in the Champions League but above all for the great chemistry between the team and the fans," the coach reflected.
"We were like one entity," he said of the synergy with the fans, "the last day of the season and the Coppa Italia final in Rome come to mind."
Regarding links to Paulo Dybala on a free transfer, the coach said that "We all know about him, it's pointless to talk about the player who obviously has great quality."
"We have six strikers in the squad, the four already mentioned, plus Pinamonti who just had a great season, and then Sanchez," he coach pointed out. "It's not right to talk about players who aren't under contract with us."
On renewing his Inter contract, Inzaghi said that "It gave me great pleasure, a great relationship has been created with the directors and the President."
"We're all pushing in one direction," he continued, "for the greater good of Inter. I have many people who work with me on a daily basis."
Asked if there is any player who he expects to have a breakout season, Inzaghi said that "If I need to come up with a name, none come to me."
"Everyone has given me what I asked for," the coach explained, "they worked hard to make sure that the season went a certain way."
"We made the round of sixteen of the Champions League against Liverpool which cost us a lot mentally and physically," he continued, "at Anfield we lost Brozovic and de Vrij to injury. I would have the exact same season again though, from start to finish."
"History showed that Inter hadn't reached the knockout rounds of the Champions League in eleven years," Inzaghi noted, "and then something more could be done."
"At the moment the English teams are almost unplayable," he argued, "but we've seen that with energy and determination we can play against them openly."
Regarding the 3-5-2 tactical system, Inzaghi said that "We'll try things out this month and ten days from the start of the season. I like this formation, I'm sure I have players with the right characteristics – we can also change it up, as we did against Empoli in the Coppa Italia."
"We now have Lukaku and Onana, but I must mention Bellanova and Asllani who are two exciting young players," Inzaghi pointed out. "I've always been a fan of Mkhitaryan, he has always created difficulties for me when I've faced him."
"Now we have to replace Ranocchia following his departure," Inzaghi said, "the directors are already working in that direction because now we only have de Vrij as central player in a back three."
"The goal is to have twenty starting-quality players in the squad because it will be necessary to use our substitutes a lot during the first part of the season," he pointed out.
"We want to add three players from the Primavera to this team after their Under-19 championship victory" he noted.
"The Carboni brothers are with us in preseason training, Franco, and then Valentin will join, as will Casadei." he said.
"Zanotti has already made his debut and he deserved it," the coach pointed out, "I hope to get him playing some more. I know it's difficult, but I hope to be able to do so because we want to focus on young players."
As far as tactical changes, Inzaghi cautioned that "It's not even July 6, it's early but I already have some ideas."
"Last year we alternated between playing a higher line and a lower defense, Lukaku can certainly give us even more tactical solutions," the coach said. "And then there are the other forwards, who are very good."
As far as young new signing Kristjan Asllani, the coach said that "He's very, very young but he plays in a very mature way for his age. He has clear ideas, he knows that there's a player ahead of him in his position who just had an excellent season [Marcelo Brozovic]."
"He knows that he'll have to learn from the games of the more experienced players," the coach added, "we've been following him for a year, and in the last six months he's experienced exponential growth."
Asked if he felt that the Nerazzurri had lost out on the title as much as AC Milan winning it, Inzaghi replied that "I don't know about that, I would have to reiterate that we're proud of what we did."
"This season we'll try to improve," he went on, "but it will not be easy or straightforward."
Inzaghi stressed that "We're Inter, we have an obligation to always try to win."
Asked if he feels that there is a pressure on the team to try and win the Scudetto this time around, the coach said that "I ldeal with the pressure calmly, a coach has to make choices every day, he has great responsibility."
"We know where we are in our journey," he continued, "this season we'll see what happens from now to the end of the transfer window, but we know that we've already worked in the best way possible so far in the market."
Regarding the status of youth team standout Cesare Casadei, Inzaghi noted that "Casadei has now made the Italy squad for the Under-19 European Championships, he was called up but now he's on vacation."
"It will be the club's decision," he said of Casadei's future.
Regarding the possibility of a big name sale, Inzaghi recalled that "Last summer we were convinced that we would only sell only Hakimi, but we know that the market is unpredictable and that anything can happen."
He stressed that "I can promise that from the very first day Inter will be right there trying to compete for the title along with the rest of the five or six top teams, last season it wasn't even obvious that we'd finish top four."
As far as the attack, Inzaghi said that "I like for my teams to score. At Lazio I had the best attack in the league, and then once again last season at Inter, let's hope that one of our forwards will become finish as the Capocannoniere."
Asked if thinks that there will be four forwards in the squad, Inzaghi stated that "Yes, because we think that the fifth can be a young player, but it won't be Pinamonti who's now a fully-fledged player after an excellent season on loan at Empoli."
"For now he's called up to the squad," the coach said of Pinamonti, "but he has many offers. The fifth forward must be a younger player."
Asked about Torino defender and reported Nerazzurri target Bremer, the coach said that "As with Dybala, I don't want to talk about players from other teams, we'll talk about them if the opportunity arises. Now it doesn't seem right to do so."
And of striker Edin Dzeko, the coach said that "We know the importance he's already had for us, this season he will once again have the quality to give us something."