Statistical & Tactical Analysis Of How New Signing Kristjan Asllani Will Fit Into Simone Inzaghi's Inter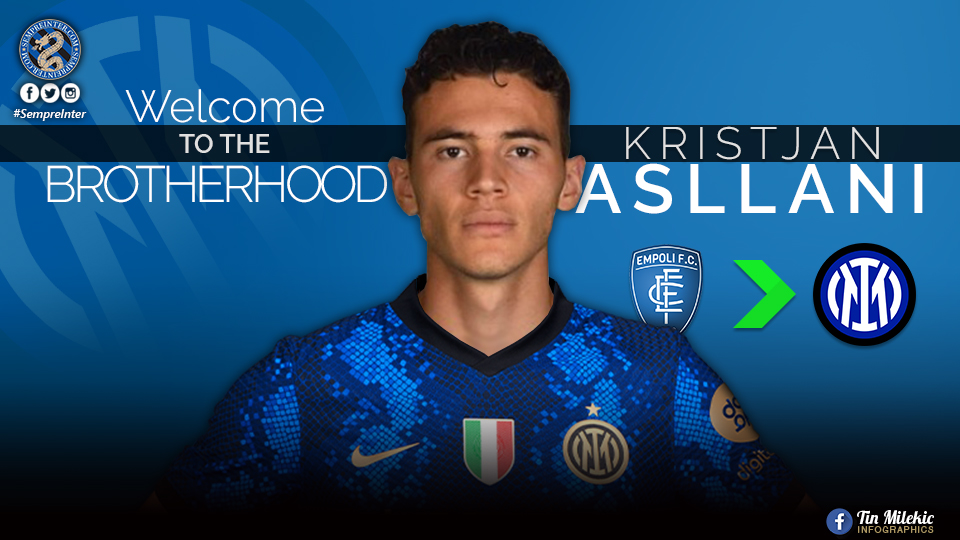 This series takes a look at the latest signings and statistically analyzes those individuals' contributions and how they compare to the current squad.
Inter Milan is continuing the ball-rolling by quick-firing a few signings right after announcing Lukaku: namely Kristjan Asllani, Henrikh Mkhitaryan, and André Onana.
For now, we are focused on Kristjan Asllani. Being a Central Defensive Midfielder, we will obviously compare him to Marcelo Brozović but, out of curiosity, let's include Lucien Agoume into this because he is also a CDM and his loan spell has ended at Brest, in Ligue 1 of France.
All stats were sourced via FBref.com and Wyscout.com and are provided in either "per 90 minutes" or as an overall percentage.
Arguably, the most important stats for CDMs are defending and passing, so that's what we'll focus on.
Goal contributions: To get this out of the way, Asllani provided 3 goals or assists to Brozović's 5 and Agoume's zero.
The "npxG+xA", or non-penalty expected goals and assists, was 1.9 per game to 3.0 and 1.5, respectively.
Granted, Brozović played twice as many minutes than Asllani, and a thousand more than Agoume, so their respective "npxG+xA" per game is 0.13 to 0.09 and 0.07.
Asllani actually performed to what was expected, Brozović slightly overperformed, and Agoume underperformed.
Pass Completion & Creativity: They are all safe passers overall: Asllani 82.7% to Brozović's 91.4% and Agoume's 84.4%; although, Brozović is the king of long passes (over 30 yards) at 86.8% to Asllani's 64% and Agoume's respectable 79.8%.
"Smart passes", those that are creative and penetrative, sees Agoume as the far leader here with 85.7% success while Brozović is 46.7% and Asllani is 40%.
They also perform these passes at 0.29, 0.51, and 0.25 per game (Agoume, Brozović, and Asllani respectively).
Passes completed in the final third are as follows Asllani 63.8%, Brozović 87.8%, and Agoume 77.1%. And, finally, passes into the penalty box are 25%, 65.1%, and 63.6% respectively.
Defending: The real quality of a CDM is their defending prowess. Agoume is actually the better defensive player, overall, with 10.55 "defensive actions" per game (be that a duel, interception, or tackle) to Brozović's 9.68 and Asllani's 7.27.
Agoume also wins more of his duels as well as aerial duels (63.1% and 47.4%) to Brozović (57.7% and 30.3%) and Asllani (54% and 40%).
We'll just quickly mention their dribble success rates: Asllani's 41.7% to Brozović's 64% and Agoume's 69%.
The powers that be at Inter must have seen something outstanding that don't jump out in the stats being reviewed here.
The only thing that stands out is the slightly overperforming "npxG+xA" and, while goals and assists do win games, I don't see how that slight bump in form would warrant ignoring Agoume's improvements.
Asllani and Agoume are both 20-year-olds, so maybe the idea is to have two youngsters compete to be Brozović's heir; have one improve defending while the other improves "npxG+xA"?
Previous article in these series: