Statistical & Tactical Analysis Of How New Signing Raoul Bellanova Will Fit Into Simone Inzaghi's Inter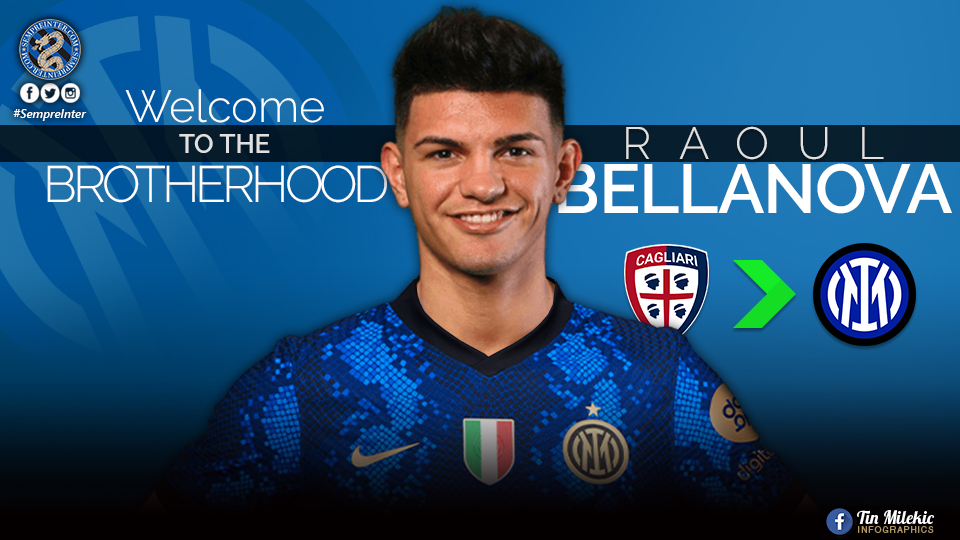 This series takes a look at the latest signings and statistically analyzes those individuals' contributions and how they compare to the current squad.
The latest in our back-to-back reviews is Raoul Bellanova, a 22-year-old wingback from Cagliari.
Being a right wing-back, we'll be comparing him to Denzel Dumfries and Matteo Darmian, his main competition for that role.
The key attribute stats we'll be focusing on for these Wingbacks is goal contributions, passing, dribbling, and defense.
All stats were sourced via FBref.com and Wyscout.com and are provided in either "per 90 minutes", as an overall percentage, or a percentile against all Fullbacks in the top 5 leagues.
Goal contributions:  Bellanova had 1 goal and 2 assists for last season; Dumfries had 5 goals and 5 assists; Darmian had 2 goals and 3 assists.  This translates to a per game ratio of 0.11, 0.39, and 0.25, respectively.
Their "npxG+xA" (non-penalty expected goals and assists) per game comes to 0.20 for Bellanova, 0.43 for Dumfries, and 0.19 for Darmian.
This tells us that, while Dumfries and Darmian were close to their expected outputs, they all fell short.
Incredibly, Dumfries actually rates as a top 99th percentile for all Fullbacks in the top 5 leagues; Filip Kostić topped the list last season with a "npxG+xA" of 0.44.
For reference, Darmian was top 71st percentile and Bellanova was 81st percentile.
As for shot-creating actions per game, Darmian leads with 2.54 (85th percentile) to Dumfries' 2.42 (82nd) and Bellanova's 1.91 (61st).
Passing:  Darmian leads this attribute with an 80.3% success rate, followed by Dumfries' 74.9%, and then Bellanova 72.1%.
They also receive passes well, Darmian being the leader here again at 89.5% to Dumfries' 82.4%, and Bellanova's 83%.
Dribbling: Dribbling success goes to Bellanova at 55%, followed by Dumfries' 51.6%, and Darmian's 42.9%.
Also, Bellanova's successful dribbles per game (1.19) actually puts him in the top 80th percentile of Fullbacks.  Dumfrie's 0.72 only puts him in the 51st percentile and Darmian's 0.21 is an abysmal 4th percentile.
Clearly, Darmian is not much of a dribbler.
Defense: Dumfries does the most defensive actions per game at 20.12, followed closely by Darmian's 19.16, and lastly Bellanova's 17.31.
More granular, tackle success rates are 47.2% (Bellanova), 62.5% (Dumfries), and 82.3% (Darmian); also pressure success, where the team regained possession immediately following a pressure, is 26.7%, 32.2%, and 30.9% respectfully.
None of them are particularly outstanding in defensive percentiles against all other Fullbacks with two exceptions: Bellanova is 60th percentile for blocks per game, and Dumfries has an amazing 93rd percentile of aerials won per match.
Dumfries turned out to be an excellent replacement to Hakimi, outperforming him last season in "npxG+xA", tackle success, pressure success, and aerials won while also matching Hakimi's goal contributions.
Darmian is a great defender with great passing skills, but doesn't seem to dribble forward if there is any pressure in front of him; maybe it's his age or just that he's never had over 50% dribble success rates.
Nonetheless, we need a right-side Wingback that can be the blend between both, Dumfries and Darmian; someone with an "npxG+xA" higher than Darmian that can learn better defense and hopefully grow into a goal contributor to match Dumfries.
Like Dimarco was last year, Bellanova is a coming-of-age wingback that has the potential to succeed in his new home.
Previous article in these series: