Player Ratings – Inter Milan 1 – 0 Hellas Verona: Lautaro Martinez The Hero When Nerazzurri Win But Fail To Impress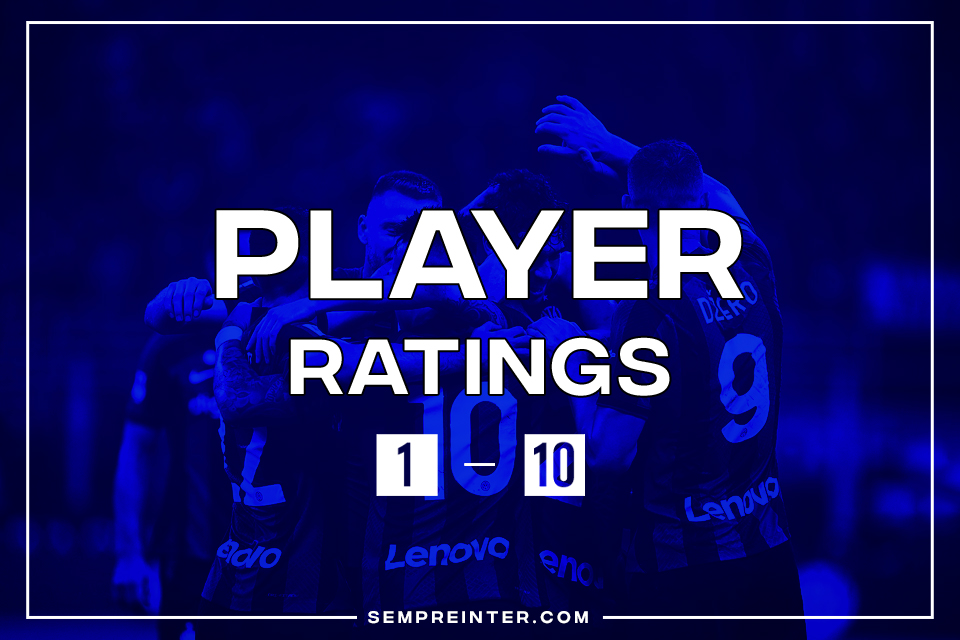 Inter returned to winning ways after Lautaro Martinez scored the only goal of the game in front of over 70,000 spectators at the Stadio Giuseppe Meazza.
The Nerazzurri got the best start imaginable breaking the deadlock after only three minutes when Lautaro Martinez slotted home to score for the third consecutive match.
In the second half, the Nerazzurri started the way they started the previous half but without creating those clear-cut chances.
Had a goal incorrectly disallowed which should have stood given the physical level referee Michael Fabbri allowed at times but in the end still managed to win and keep a clean sheet.
Next it is the Supercoppa Italiana this coming Wednesday against AC Milan in Saudi Arabia.
André Onana – 6: Didn't have much to do but doesn't exactly give off confidence when coming out for crosses. Communication with defenders must improve.
Milan Skriniar – 7: A leader and a captain in the back who leads by example when taking matters into his own hands when teammates not up to par. Man of the match.
Francesco Acerbi – 6,5: Solid performance by the veteran defender winning if not all then certainly most of the aerial challenges he set himself up to win.
Alessandro Bastoni – 6,5: Good match defensively and decent going forward but not as impressive in attack as we know he can be. Works well with Skriniar and Acerbi.
Matteo Darmian – 6,5: Another Mr Dependable performance in both phases reading the game well. Didn't offer much in attack as Inter's attacks came down the left.
Henrikh Mkhitaryan – 6,5: Much better performance by the Armenian who was the best Inter midfielder out of the ones starting. Important to bounce back after Monza.
Hakan Calhanoglu – 6: Took one for the team gritting his teeth when making himself available to play despite injury but was also clearly hampered by said injury.
Roberto Gagliardini – 6,5: Criticized as per usual but for once he wasn't a disappointment but in fact one of Inter's better players, especially in the defensive phase.
Federico Dimarco – 6,5: Worked tirelessly up and down the left flank providing width as well as decent crosses but needs to be more selfish when he's got a shot on goal.
Edin Dzeko – 6: Did well linking up & holding up the ball in Hellas' half being on the receiving end of lots of clear fouls which the referee ignored.
Lautaro Martinez – 7: Scored his third goal in as many matches getting a good goal after only 3 mins and should have bagged a brace if not for inconsistent officiating.
Kristjan Asllani – 6,5: Came on in 69th minute for Calhanoglu and built on the good performance against Parma midweek. Has a good shot but must improve his aim.
Joaquin Correa – 5,5: Replaced Dzeko in the 69th minute and was invisible when not tripping over his own feet or the slightest touch by the Hellas defenders.
Robin Gosens – 6: Substituted on in the 77th minute for Dimarco in a situation where Inter wanted to just run down the clock and weren't attacking at all.
Nicolo Barella – 6: Brought on in the 77th minute for Mkhitaryan and did what he needed to do: stabilize midfield whilst retaining possession.
Valentin Carboni – N/A: Was brought on in the 88th minute for Lautaro Martinez but didn't play long enough to be able to be rated.
Simone Inzaghi – 6: Played the best starting line-up he had available to him and wont be happy with the performance overall but more-so with result.
Michael Fabbri – 5: The lack of consistency was laughable. Got 1 major decision right and 2 horribly wrong not sending off Hien and disallowing Inter's second goal.
Inter – 6: Not exactly the most sparkling or dazzling performance by the Nerazzurri but won the match and kept a clean sheet which is all that matters.
Agree? Disagree?
Let us know in the comments below or hit us up on Twitter and Facebook.