Five Things We Learned From Inter Milan This Week: "Easy Fixture List Must Be Capitalized On"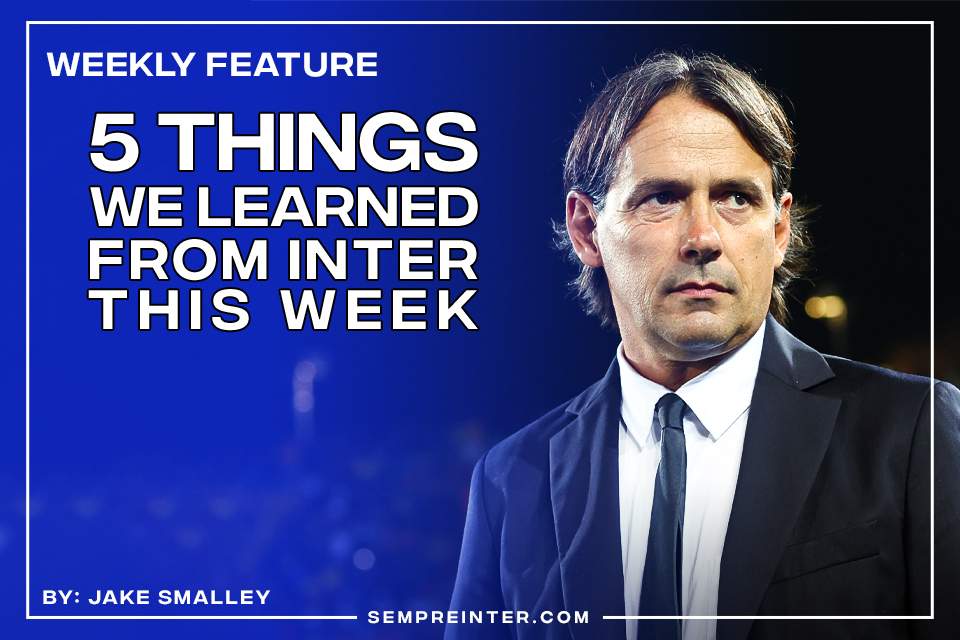 Inter swept aside a struggling Hellas Verona on Saturday evening to somewhat spare their blushes following their midweek jitters against Parma.
The Nerazzuri needed extra time to deal with the second division outfit, which led to questions of a hangover following their disappointing draw with Monza the previous weekend.
However, a plucky goal from Lautaro Martinez saw off the league's second bottom side and allowed Inter to continue their attempts to consolidate a position in the top four.
Here's what we learned this week from Inter.
1) Romelu Lukaku Loan Move To Be Ended?
Another injury to Romelu Lukaku leaves his career at something of a crossroads.
Completely shut out by his parent side who continue to splash the cash on lavish attacking players and now seemingly has Inter losing patience with him.
A significant outlay was made in the summer to bring back the Scudetto hero but Inter haven't even seen pocket change in terms of a return on that investment from the Belgian.
Cancel his loan whilst the window is open? We shall see.
2) Depay – Correa Swap In The Mud
Inter fans woke up the the surprising news that Barcelona were potentially interested in a loan swap between Joaquin Correa and Memphis Depay.
Former United winger come striker Depay would be an excellent addition to Inter's ranks, especially if it means losing the flailing Correa as part of the deal.
However, in the hours since the news first broke, it seems that a deal is a long way off and perhaps Depay's salary and Barca's lack of committal over a permanent clause in Correa's end of the deal seem to be the real stumbling block.
Let us know what your thoughts would be on this.
3) Barcelona Also Keen On Brozovic
Similarly to the aforementioned Lukaku, Inter have also had to sweat on the fitness of Marcelo Brozovic very often this term.
Since the World Cup, Inter fans are yet to see the Croat grace the field and if transfer rumours are to be believed, they may not see much more of him.
Alongside the rumours of the Depay and Correa swap, Inter and Barcelona are also rumoured to have discussed a swap of some kind between Brozovic and former Milan man Franck Kessie.
Whilst a deal is certainly not close, this one seems to have had a bit more steam than the previously mentioned attacking swap.
As before, let us know your thoughts.
4) No Progress On Milan Skriniar Contract Extension Talks
A rather concerning situation continues to develop over the future of Inter talisman Milan Skriniar.
The Slovakian centre half is still yet to agree a deal and talks are said to be stalling.
With his contract up in the summer, it would simply be catastrophic for Inter to lose a player of his value for nothing.
The Inter ultras made their feelings clear with a banner pleasing for the player to stay and it is clearly felt around the club that the club's hierarchy should be willing to bend to Skriniar's demands.
Let's hope this is resolved and fast.
5) Fixture Kindness Must Be Capitalised On
Whilst no fixture is easy, Inter must make their mark over the next two league fixtures following the glorified friendly that is the Supercoppa.
Whilst the Supercoppa represents silverware and could also help Inter gain a psychological edge over their neighbours knowing that the derby is just a couple of weeks away, their their next two league games on paper are routine.
With the likes of Atalanta, Roma and Lazio nibbling away at the the top four beneath them, games against lowly Empoli and winless Cremonese represent a chance for Inter to take maximum points and push their bid for top four on a gear.
Whilst we do hope Inter are successful in the Supercoppa, the league now must become the focus prior to the resumption of the Champions League next month.
Do you agree? Or disagree?
Let us know in the comments below or hit us up on Twitter and Facebook.