Player Ratings – Inter Milan 0 – 1 Empoli: Woeful Nerazzurri Crash Out of Serie A Title Race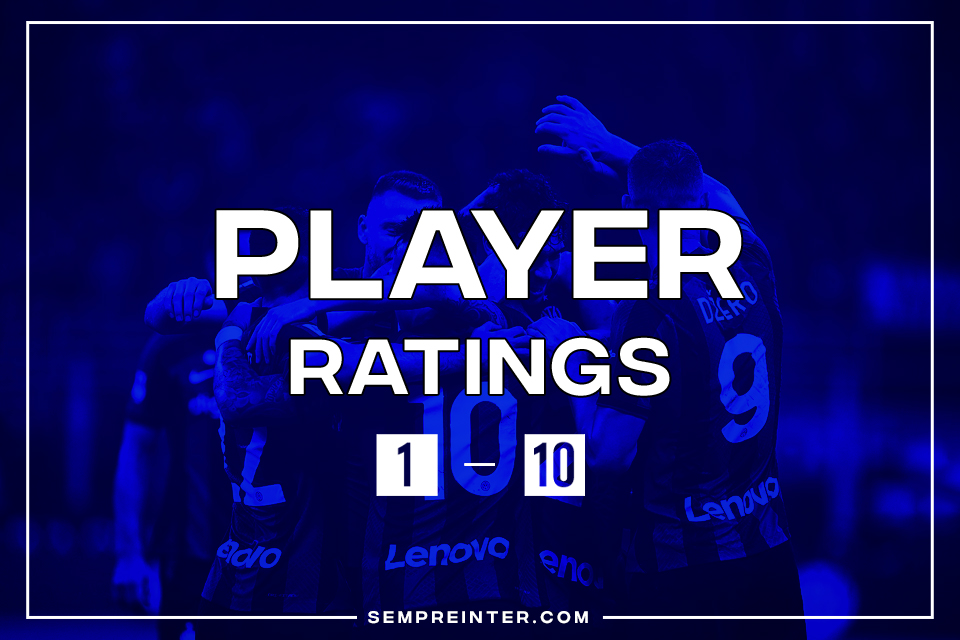 Inter lose to Empoli at the Stadio Giuseppe Meazza by 1-0 after a woeful performance crashing out of the Serie A title race and must focus on finishing in the top 4 to secure Champions League football.
The Nerazzurri started the match poorly, lacking energy and looking stale. Matters were made worse when Milan Skriniar got himself sent off midway through the first half.
In the second half, the Nerazzurri continued as they had in the first period: nervous, ill-tempered whilst looking scared.
So it was no surprise when Tommaso Baldanzi broke the deadlock with what turned out to be the only goal of the game.
André Onana – 6: Barely had anything to do. Should have done better on the goal as shot was very centrally placed. Still made one or two good saves.
Milan Skriniar – 5: Lost head when lunging into that challenge when already on a yellow. Ironic timing to get first red card in Inter shirt after his agent's statements.
Stefan de Vrij – 6: His return to the starting line-up went OK from a personal perspective as he was unlucky not to score when header hit crossbar.
Alessandro Bastoni – 6: Goal came from counter-attack after his poor cross. Didn't have the best of games, but then again not a single Inter player did.
Matteo Darmian – 6: Saved a certain goal with a last ditch tackle early on in the 2nd half which demonstrates the kind of character he has and is. Leader.
Henrikh Mkhitaryan – 5,5: Looked exhausted from pretty much the start of the game, completely devoid of energy, ideas and creativity. Shouldn't have started.
Hakan Calhanoglu – 6,5: The only player together with Darmian who somewhat resembled himself but was far from his best. Crosses and set pieces good as usual.
Nicolo Barella – 5,5: A step back to the cranky and negative player who constantly complains when he has no right to. Will miss next match after picking up booking.
Federico Dimarco – 5,5: Not a good performance by the Italian international who didn't have any of the desired effect on neither his runs nor his crosses.
Joaquin Correa – 4: Woeful. Barely resembles a professional footballer at the minute. Can barely string two passes together. Offers absolutely nothing.
Lautaro Martinez – 5,5: Very poor performance by the Argentinian. It's games like this he must lead by example and he did anything but. In no-man's land throughout.
Raoul Bellanova – 5: Brought on at half-time for Correa and showed that he is not ready to start or play for Inter right now. Has a lot of growing up to do.
Robin Gosens – 5: Replaced Dimarco in the 72nd minute and got involved well getting himself in two good goalscoring positions but squandered both.
Edin Dzeko – 6: Came on in the 72nd minute for Darmian and got involved in both phases of play without really creating anything of substance in attack.
Kristjan Asllani – 6: Substituted on for Barella in the 72nd minute and showed hunger, fire and desire against his former paymasters. Inter have a player here.
Romelu Lukaku – 5: Brought on in the 76th minute for Mkhitaryan and was invisible again. Probably had the best seats in the house as a spectator on the pitch.
Simone Inzaghi – 5: This Inter cannot string two good performances in a row domestically. Threw everything he had on pitch but to no avail tells the full story.
Andrea Rapuano – 6: Got every single major decision right. The two yellow cards in Skriniar were clear as day. Could've given Empoli a penalty. Consistent.
Inter – 5: Horror-show by the Nerazzurri with echoes from the banter era. Scudetto? Fat chance, more like focus on finishing in the top 4.
Agree? Disagree?
Let us know in the comments below or hit us up on Twitter and Facebook.