Five Things We Learned From Inter Milan This Week: "Skriniar Debacle Final Straw Proving Suning's Inter Project Is Dead"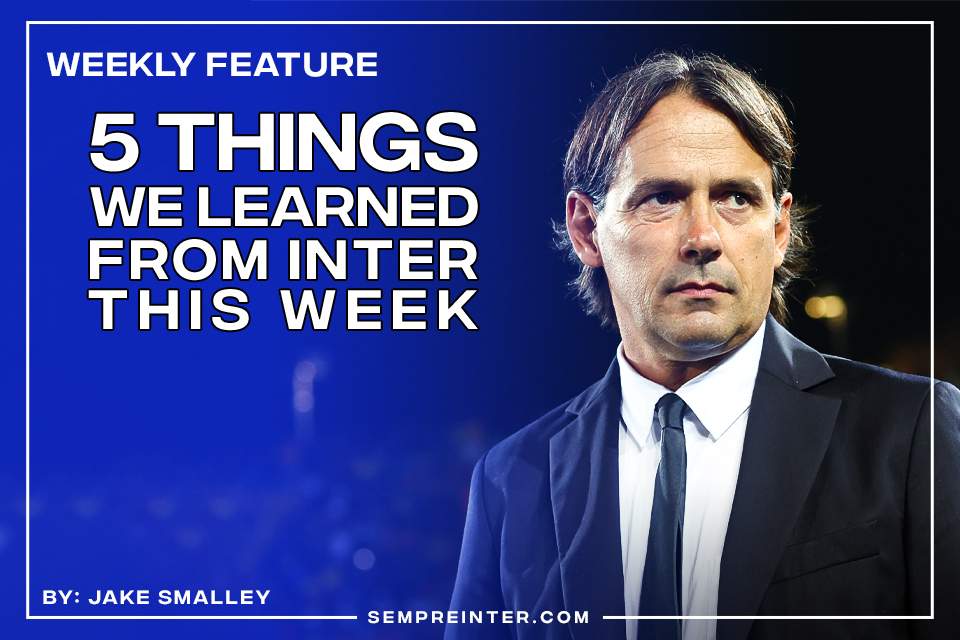 Inter find themselves on the verge of an internal crisis this week following the shocking handling of Milan Skriniar's future coupled with a disastrous home defeat to Empoli.
Last week's dumping of city rivals Milan to win the Supercoppa now seems a distant memory as Inter looked a shadow of themselves against Paolo Zanetti's plucky Empoli outfit.
Here's what we have learned from what could be the beginning of a disastrous spell for Inter.
1)  Supercoppa Win Is Good Form
Now let's get the positives in first before we hit the panic button.
Albeit to some it may be a glorified friendly but it is still good to add a trophy to the trophy cabinet.
Sure some gloss is taken away when it is played away from the country and it is played mid season but to beat Milan in a final is always nice.
A couple of good performances from the likes of Lautaro Martinez and Federico DiMarco were also pleasing.
2) Milan Skriniar Debacle A Complete Mess
When Milan Skriniar booted Francesco Caputo in the head to earn his second yellow card on Monday night, his rather dim witted agent took the moment to all but signal the end of the Slovakian's Inter career.
With his contract up in the summer, it appears that these next few months will now be the last of one of the fans heroes in Nerazzuri colours.
A player who bleeds for and loves the club is set to be allowed to walk away on a free as the club were seemingly unwilling to match his demands.
A future captain and a future living legend of the club was allegedly used by the penniless Suning Group as a potential saleable asset in the summer which has seemingly irked the player and his agent who are now exploring options away from Italy for Skriniar.
How can one of the world's biggest and most reputable clubs lose one of its stalwarts for nothing?
The answer to that question brings us to our next point.
3) Suning's Inter Project Is Dead
The Suning group are no longer fit for purpose.
Post pandemic, they now find themselves without the financial clout to bankroll a club with the reputation of Inter and therefore must leave the club.
Inter's Scudetto win under Antonio Conte should've been the catalyst for Inter to gain a grasp of all the domestic honours and push on in Europe but it has instead marked the beginning of cut backs.
With key players and manager replaced for cheaper less expensive models, Inter now find themselves facing a battle for top four rather than a run for the title.
The whole Skriniar debacle appears to be the last straw as it beggars belief that a player who was willing to stay with Inter is then made to walk essentially as they can't afford to pay him what he deserves.
Suning out.
4) Raoul Bellanova An Example Of Cutbacks
Raoul Bellanova was part of a very poor Cagliari side who went down from Serie A last season with a whimper.
A player discarded by Inter's rivals Milan now finds himself shockingly out of his depth in the colours of the Nerazzuri.
The wing-back's cameo on Monday night was one of the worst substitute appearances made by an Inter player in some time which again points to Inter's management who have brought in a player here that isn't at the required level.
We could go into years of detail on how Italian football's model stops the top sides in Italy competing with the Premier League juggernaut but for Inter to recruit better than Bellanova can't have been too difficult.
His manager may well have hung him out to dry a little but Monday's performance shows us that Bellanova's loan should not be made permanent.
5) Simone Inzaghi's Substitutions Once Again A Cause For Concern
When a game begins to go against Simone Inzaghi, he appears to lose all rational sense when making subs.
The same could be said for when he inexplicably tries to sit on a win too but his botched subs on Monday night were a huge factor in Inter's defeat.
The decision to start Joaquin Correa over an inform Edin Dzeko seemed bizarre and to throw Bellanova in over Dumfries appeared mad too.
If it were six things we learned from Inter the other point would be about how appallingly bad Joaquin Correa was and is for Inter in general but we don't want to change our fancy new graphic!
Anyway, back to the point.
The manager almost seems to have the game visioned in his head pre match of how he wants and expects it to go and then when that doesn't happen he hits the panic button and makes totally irrational subs.
If he is to coach Inter long term and make a successful career for himself as a top manager, this needs fixing pronto as this is far from the first time we have discussed this issue of his.
Do you agree? Or disagree?
Let us know in the comments below or hit us up on Twitter and Facebook.