Inter Milan Coach Simone Inzaghi: "Milan Skriniar Will Probably Start In The Milan Derby"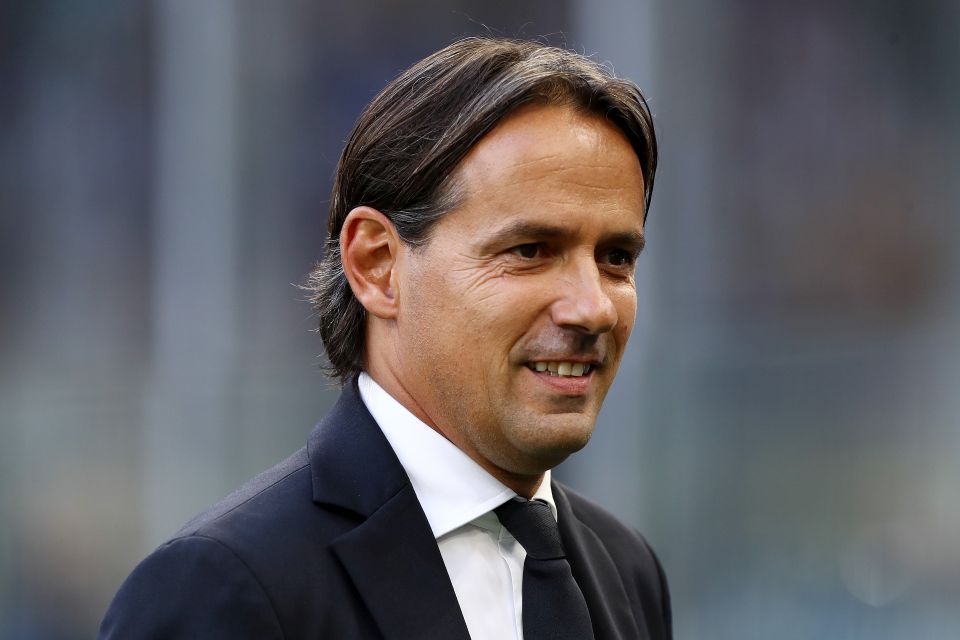 Inter head coach Simone Inzaghi expects that in all likelihood, defender Milan Skriniar will be in the starting eleven to face AC Milan tomorrow.
Speaking in a press conference ahead of the match, as reported by FCInterNews, the Nerazzurri coach addressed the Skriniar issue, noting that the Slovakian is likely to play from the start but will not be captain, whilst he also gave his thoughts ahead of the match.
Skriniar has not played in either of Inter's past two matches.
The 27-year-old was suspended for the Nerazzurri's last league match away to Cremonese, whilst he was left out of the squad for personal reasons against Atalanta in the Coppa Italia, amid the soap opera that his links with Paris Saint-Germain have become.
However, Inzaghi is ready to bring the Slovakian back into the team, and he has made clear that there is a good chance he will start against the Rossoneri tomorrow.
"As far as Skriniar is concerned, I don't judge his choice, I judge him as a person and as a player," he said.
"He's a brilliant guy who always works at his best in training," he said of the defender.
"We still have to do today's training and then tomorrow morning, but in all likelihood he will start the match," the coach said.
Inzaghi went on to say that "Skriniar will no longer be the captain, this is something that's been discussed calmly with the player and the club."
"The captain is Handanovic," he noted, "and then we will make choices based on the match."
Looking to tomorrow's match, Inzaghi said that "The derby is a match that we all feel very deeply."
"We'll need to have both our heads and hearts in it."
"We go into it ready to give our all, and with confidence after qualifying for the semi-finals of the Coppa Italia, which we'll think about in April."
Of the fact that the last time these two teams met, Inter won 3-0 in the Supercoppa Italiana, Inzaghi made clear that "We've played many times and each match is different."
"The cup matches have helped us to win two important trophies."
"The league matches have been disappointments for us so we have to be completely focused, we have to take a balanced approach as we don't want to come into the match having expended too much mental energy."
Of the fitness of striker Romelu Lukaku, Inzaghi said that "He's growing in fitness, I hope that I can have everyone at their best condition."
"I'm the coach, and I'll try to make the best decisions to get a result from this match."
"The two teams who fought for the Scudetto last season and then faced off in the Supercoppa this time around are facing off again," he noted.
"Both teams are going to be fired up to get the result, and these are the kinds of matches that can turn on a single moment."
Asked if it is more difficult to find the right attitude of concentration on the derby knowing how far ahead Napoli are in the table, Inzaghi replied that "Nothing changes."
"We're aware of what the gap is."
"Every point is important for our seasons, and we're only focused on Inter."
Of how he intends to reintroduce midfielder Marcelo Brozovic into the team now that the 30-year-old is back to fitness, Inzaghi replied that "It will depend based on the match."
"Brozovic is a very important player for us," the coach continued.
"We've had to deal with Lukaku and Brozovic being out, and at points we've done very well to cope without them."
"Calhanoglu has done very well in that role, we have Asllani who's growing into the team as he's shown in how he's taken over off the bench in important matches, such as away to Cremonese or against Atalanta."
Of the injury struggles of Lukaku this season, Inzaghi said that "I speak a lot with Romelu."
"These injury struggles are something new for him, I dealt with them as a player because after the age of 26 they were something recurring for me."
"He's never had these kinds of problems before," he noted of the Belgian.
"He was out because he came back from an injury and then he ended up relapsing," the coach noted.
"He's giving his best in training and the last few sessions have been very positive, let's hope it continues like this."
Asked if he's noticed a difference in striker Lautaro Martinez after the World Cup, Inzaghi replied that "He's been playing this way all season, he's been brilliant, not just the World Cup."
"Over the last twelve his performances have been at a consistently high level," he added.
"He deserves it for how he works in training."
"In the first three months of last season he wasn't in the best condition, but that happens to all players."
And asked whether he thinks the recent struggles of Milan can make it an easier match for the Nerazzurri, Inzaghi stressed that "The derby is always its own match, Milan are not in a good period of form but they're also Italian champions and in the round of sixteen of the Champions League."
"They have quality, I have complete respect for them, and we have to approach them with quality, determination, and focus."