Five Things We Learned From Inter Milan This Week: "Romelu Lukaku No Longer Player He Once Was"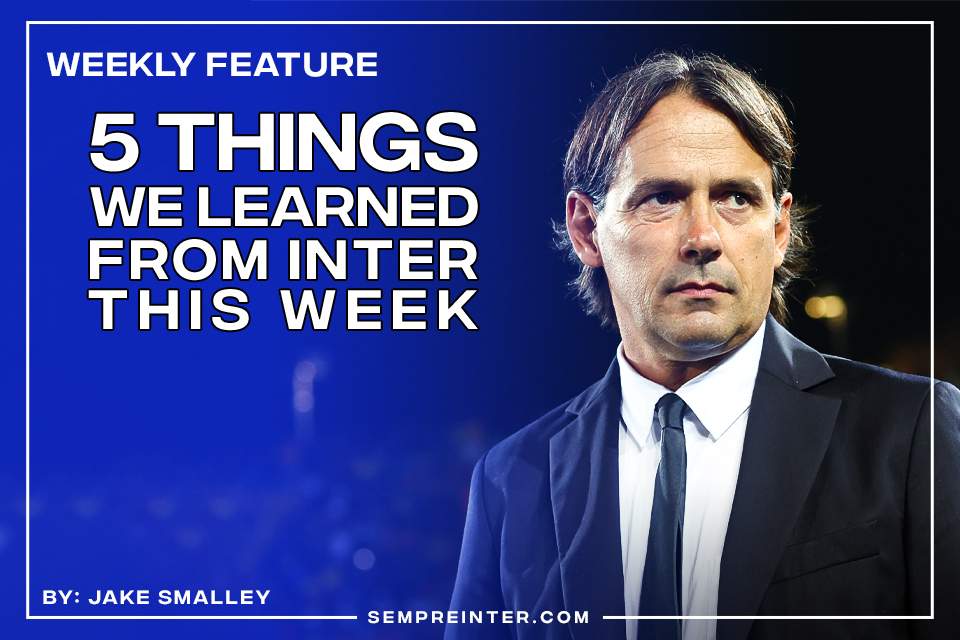 Inter continue to be the best of the rest in Serie A following their win over Udinese on Saturday evening.
After a four draw with struggling Sampdoria on Monday, Inter returned to winning ways by seeing off Andrea Sottil's side to gain revenge after the Friuli based outfit beat the Nerazzuri in the reverse fixture.
Here's what we learned over the course of this week about Inter.
1) Romelu Lukaku No Longer Player He Once Was
A twice taken penalty allowed Romelu Lukaku to squeak his second league goal of what has been a horrible campaign for the big Belgian.
Injuries seem to have taken their toll on the once Scudetto hero and it is really sad to see.
Given Inter's precarious financial situation and the fact that they've barely been able to get Lukaku out on the pitch all year, it looks highly unlikely that he will be returning to Milano in the summer.
Perhaps this goal may ignite a fire in him but it looks that Inter have seen the best of him already and he is well and truly on a downward spiral.
Get the best odds and bets on an online casino.
2) Federico Dimarco Doing The Damage
Federico Dimarco is fast becoming Inter Milan's greatest recent Primavera graduate.
After doing the rounds on loan, it appears that DiMarco has not only established himself as an Inter player, he is now even ahead of Germany international Robin Gosens in the pecking order.
Rightly so as well as he offers pace, a wand of a left peg that is handy in set piece situations and to borrow a classic term from South America, he is full of grinta.
His assist for the goal of Henrikh Mkhitaryan, that allowed Inter to take control of the game, was typical of the player and showed his capabilities in the final third.
Rumours early this week were that even Manchester City have noticed his form and are monitoring him.
Keep up the excellent form Fede!
3) Francesco Acerbi A Real Bargain?
A very disappointing pursuit of Bremer over the summer ended up with Inter having to settle for bringing in the ageing former Lazio defamer Francesco Acerbi.
After a very poor year at Lazio, many Inter fans questioned and rather abruptly shunned the signing.
However, the 35 year old is enjoying something of an Indian summer and appears to be adding consistent performances almost weekly at the time of writing.
This could perhaps raise the question of whether the player should be retained for next year when his loan ends.
Let us know your thoughts on this one.
4) Inter Must Cut Losses This Summer On Joaquin Correa
Now sat on the treatment table and quite probably making full use of his grilling technique, Joaquin Correa is simply a waste of time.
Unfit for the crucial derby and now seemingly out with an unknown return date set, Correa should now be on borrowed time in Inter colours.
It now seems absolutely absurd that Inter paid Lazio around the €30million mark for a player who has played in just registered just three goals and a solitary assist over 17 Serie A matches.
Whilst Inter may have to take a hit to their wallet, a fresh start for both parties is best in this situation.
5) Focus Returns To European Action
With the Scudetto out of sight for this year, barring the most ridiculous Napoli collapse, Inter's best chance of doing something of note may be in Europe.
The Supercoppa has been retained and Inter still remain in the hunt for a second successive Coppa Italia but it would be a real statement if they were to progress in Europe.
With Portuguese side Porto in their path, Inter have a good opportunity to reach the Quarterfinals, something that they haven't done in over a decade.
Whilst ex Inter winger Sergio Conceicao's side should not be under estimated, Inter found themselves thwarted by Liverpool at the stage last year who, with no disrespect intended, are a superior side to Porto.
If Inter are to consider this year any form of success, they must push past Porto and make Europe a real priority alongside adding another Coppa Italia to their trophy cabinet.
Do you agree? Or disagree?
Let us know in the comments below or hit us up on Twitter and Facebook.