Exclusive – Inter Milan Legend Beppe Bergomi: "Porto Coach Conceicao Has Character & Coaches Like That Have Always Done Well At Inter"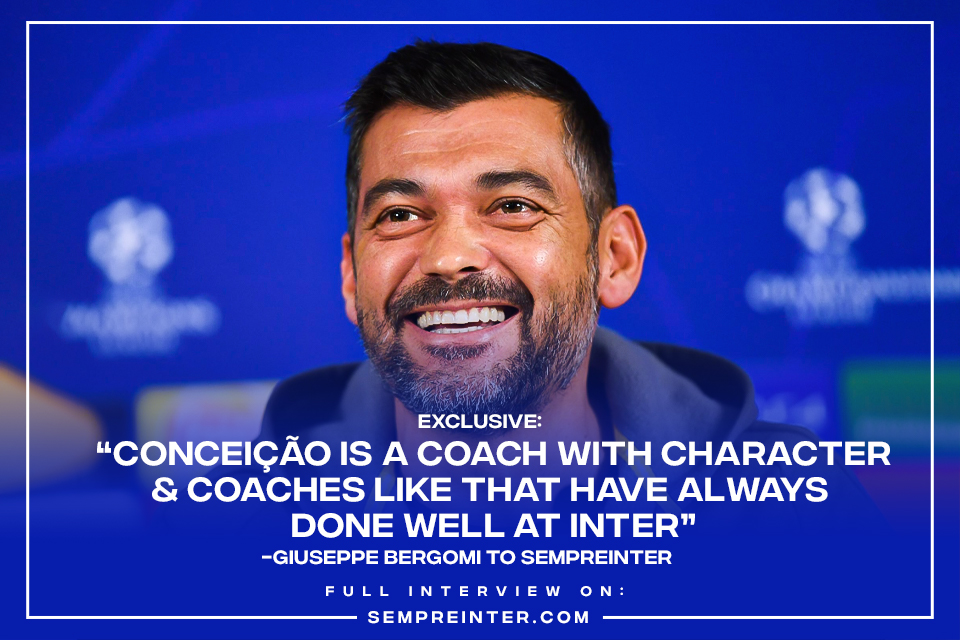 Inter Milan legend Beppe Bergomi believes Porto coach Sergio Conceicao would do well should he take over the Nerazzurri hot seat, but insists that current coach Simone Inzaghi is doing a great job.
This is the first part of an exclusive interview with Bergomi focusing entirely on tonight's Champions League Round of Last 16 first leg clash at the Stadio Giuseppe Meazza, with kick-off scheduled for 21.00 CET.
Tomorrow morning at 09.30 am CET, the second in-depth part of the interview will be published on SempreInter.com covering everything from the Skriniar situation, Suning's handling of the club's affairs, Simone Inzaghi's future and much, much more.
"He [Conceicao] is a nice personality. His teams play well, but we have to remember that it is never easy to coach Inter. Trapattoni said that 'After many years of being at Juventus, I arrived at Inter and it was like entering a centrifuge.'
"Sergio Conceicao is a coach with character, and these coaches have always done well at Inter. But I will stop here as Inzaghi has done an excellent job which should not be called into any doubt today."
Inter Vs Porto The Toughest Match-Up In Champions League Round Of 16
The former Nerazzurri captain believes the Inter Milan's clash with Porto is the toughest match-up in the Champions League Round of Last 16 but believes Simone Inzaghi's men can go through.
"This is the toughest one of all the draws. I'll explain: looking at it you'll say 'last year we played on equal terms with Liverpool, we played two great matches, this year we can do it.
"This is true, but watch out! Porto have Mehdi Taremi who is the player that creates the most chances out of all players in the Champions League as well as making the entire team play well.
"There are quick players like Evanilson and Galeno. Otavio and Eustaquio get stuck in well, a tall defence. They do have their points of weakness too, they are narrow on the pitch and so Inter can hurt them with a fifth man.
"They risk a lot when they attack too but the message that has to come across is that Porto is a strong team. It wont be easy, in the last few years they have eliminated Juventus, AC Milan and Roma.
"So Inter can go past them but it will be tough."
How Far Can Inter Go In The Champions League?
Many have questioned that should Inter go past Porto the Nerazzurri could go pretty far in the Champions League, something Bergomi agrees with.
"Certainly! Remember, one of Bayern Munich and PSG will be eliminated. The same is true of Liverpool and Real Madrid. It is possible to think that something interesting can be done, as the other teams are also imperfect teams.
"This is a Cup and a tournament that doesn't always reward the strongest teams in it. Going past this round would make things very interesting….
"Simone has always prepared his teams well for knockout games. As a fan that is what I wish, for but honestly it seems a bit utopian to think about winning the Champions League but then again never say never."