Exclusive – Inter Milan Legend Beppe Bergomi: "Inzaghi Doing A Good Job, Every Year Club Forced To Sell Player Like Hakimi, Lukaku & Perisic"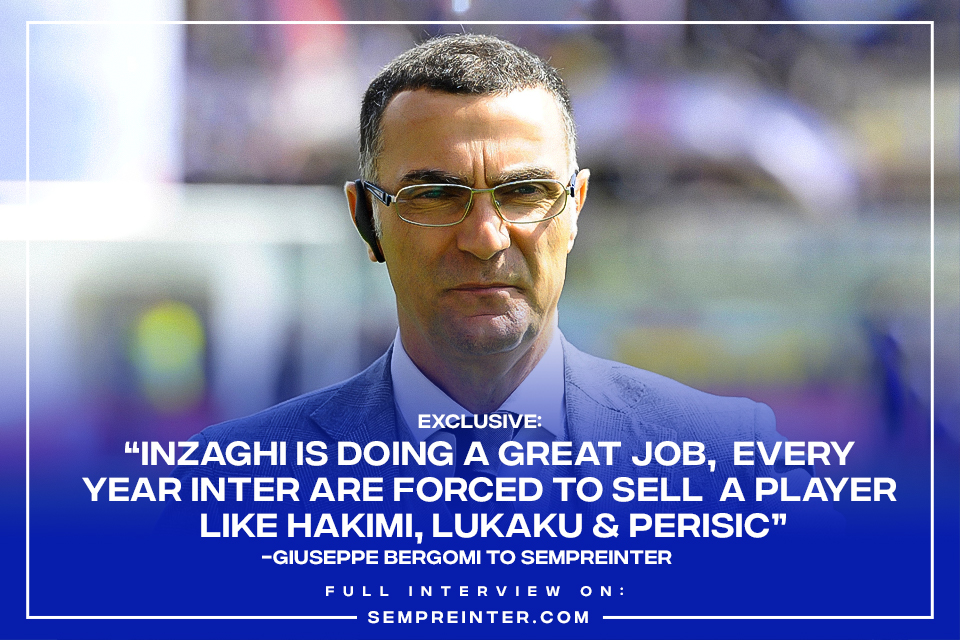 Inter Milan legend Beppe Bergomi believes Simone Inzaghi is doing a good job in a situation where the Nerazzurri are forced to sell a big name player every summer, he tells SempreInter exclusively.
Yesterday we published the first part of SempreInter.com's exclusive interview with Nerazzurri legend Giuseppe Bergomi focused entirely on the Porto match at the San Siro.
Today, we publish the second part, in an in-depth conversation touching on all the hottest topics in the world of Inter, with a man who wrote history at the club on the pitch and is now one of the best analysts, experts, play-by-play commentator and pundits on Italian football around.
The former Nerazzurri captain, also believes that despite Milan Skriniar leaving the club in the summer on a free transfer, the Slovakian will give his best for Inter for as long as he is at the club.
"We have to go back to last summer. Unfortunately every summer, Inter have to sacrifice someone, we saw it with Lukaku, Hakimi and Perisic. Last summer they chose him [Skriniar].
"Instead, the player stayed and we know what happened. We have to start from that point. I have gotten to known Milan, he is a good lad, timid, serious.
"He is a professional who has made his decision. Maybe he could have communicated it better, even though many times it's not easy to do so even for these players.
"I think we have to draw a conclusion from this and other similar cases: the Serie A is a league that players pass through, and is not the final destination.
"Regarding one-club players and bandiere, the world has changed with respect to the past. We have to accept this. No doubt Skriniar will give his all from now until the end of the season. People need to understand this and leave him alone.
"He was nervous in the game against Empoli and this cost Inter the match, these are things that can happen."
Did Milan Skrinar Betray Inter?
The fact that Milan Skriniar spoke exclusively to the Curva Nord but not to the media regarding this matter, has raised some eyebrows, but that is something Bergomi feels is not as important as Skriniar speaking to his teammates.
"He was clear with his team-mates, communicating his decision to them, that is the most important thing. I don't like talking about relationships I am unaware of.
"I will only say that I am sad that he is leaving, he is a great player, who has represented Inter well these years. Let's not forget other cases at other clubs.
"We have to remember that things are no longer like they were in the 90's and early 2000's. Nowadays these players find other solutions."
However, reports in the Italian press have suggested that Inter feel betrayed by Skriniar , a sentiment shared by many fans but Bergomi stresses there could be details in this story that are not publicly known.
"Maybe they could have found a deal, similar to the one Torino found with Bremer. There, he signed a one year contract extension.
"They could have put in a minimum release fee clause. But then there are agents who maybe had already agreed all terms and at that point you don't sign contract extensions and it becomes difficult."
Criticism Aimed At Club CEO Beppe Marotta 
A lot of discussion among fans and pundits alike has circled around how the entire Skriniar situation was handled poorly by Inter CEO Beppe Marotta, something Bergomi disagrees with.
"We have seen that there was a clear line decided on by the club. I don't see it as a mistake, they looked to handle the situation but they were unable to. But that is not a mistake.
"One has to accept these contingent situations, which Inter have had to live with for the last three years. The club can't spend on the transfer market but remains competitive, wins trophies and goes through past group stage of Champions League.
"Sure, they are far behind Napoli who have done something extraordinary. In this light a draw against Sampdoria for example isn't good enough. But for the rest what can you possibly say to this team?
"The past few years it's a team that has been impoverished but always manages to remains competitive and this is a sign of merit.
Ever since winning the Serie A title under Antonio Conte, many pundits and fans have argued that the Scudetto winning Inter team could have gone on to achieve success in Europe with just one or two additions, which Bergomi agrees with.
"You will never be able to win this argument. But, however, if we go back to when Inter won the Serie A title and you imagine that you could add one or two players, of course you could have given continuity.
"But continuity is being given, you have won the Coppa Italia, the Supercoppa Italiana, but of course you could have been even more competitive, no doubt about that.
"Players like Acerbi, Dzeko and Mkhitaryan are strong players, they give you a lot now."
The Suning Question
A never-ending talking point which has divided fans and experts is what verdict to give to Suning, especially how they have run Inter since the pandemic began, a situation Bergomi believes is a difficult one to handle for any owner.
"Given I don't know all of the internal situations, it makes me feel sorry. I understand the difficulties they have faced, from the pandemic to respecting UEFA's Financial Fair Play rules.
"However, you always have to gift the fans a dream, but many times the fans struggle to understand the situation at hand and this makes me sorry.
"I don't want to enter into the problems that the President of the club faces. It is evident for everyone to see that the ownership is undergoing difficulties but are trying to handle them in the best way possible."
A lot of speculation has been made whether or not Suning can continue owning Inter and at what level the club can be maintained at, something Bergomi believes is already the case.
"We are already at a certain level, then everyone always wants something more. But again, I repeat, we have seen 9-10 years pass without winning anything.
"And now the Nerazzurri are winning, there is continuity there which is the most important thing. Then if Suning decide to no longer continue and sell the club for the good of Inter, then that is OK.
"Right now, things are going the way they are and we have to let them do well."
The Verdict On Simone Inzaghi
Given their inconsistent Serie A form and results, Inter coach Simone Inzaghi has been severely criticized, with some reports claiming he could leave the club at the end of the season, but Bergomi disagrees insisting the Nerazzurri coach has done a good job.
"Often other coaches are praised, then experience difficult moments, but then one game is enough and they are back to being praised again.
"Simone is always under scrutiny. In my opinion he has Inter playing good football, the team plays well, he doesn't make mistakes in cup games.
"There's always this stat about the dribbling that makes me think, the stat that says Inter are second bottom team for dribbling completed in the Serie A and the Champions League.
"Do you know what that means in modern football? The change of pace and acceleration is fundamental. Today's Inter is always in a good position to do well, to bring many players forward beyond the lines with the ball and to play a specific type of football.
"When faced with teams that close themselves off it becomes much more difficult. Inzaghi is doing an excellent job. Many say Inter should change coach but this team was built to play like this.
"It is very difficult to imagine this team on the pitch playing in a different way, and also put up a defence. But the wingbacks? Who plays outside of the central defenders.
"I don't want to defend him [Inzaghi] at all costs but in my opinion Inzaghi is doing an excellent job."
Inter Lacking Courage To Give Youth A Chance?
There's been a lot of debate about whether or not Inter lack the courage to take a chance on young and unknown players like Napoli did with Khvicha Kvaratskhelia, something Bergomi takes issue with.
"Kvaratskhelia, in this sense, was not an unknown player. I speak to Inter's scouts and I was told that Inter were monitoring Kim Min-jae in case Milan Skriniar had been sold last summer.
"Also Kvaratskhelia was known to them. But then you have to put them in a system of play, with a 3-5-2 it would become too difficult to get them to play in that system.
"Inter know and are aware of all players, many times you have to have the courage to make certain kinds of investments.
"Italian football have to have the ideas and to be prepared to take risks on some players who are yet to explode, but where you can see potential. This is true for Inter as it is for all Italian teams.
"If someone like Kvaratskhelia would have adapted to a 3-5-2? I agree. But we always come back to this. There are many good players in Europe. Now that you know that Skriniar is leaving, you have to do be ready and do well to replace him.
"You have to be good at identifying the right player with the right characteristics, who is quick and good when going forward. Sometimes – and I'm speaking generally here – you try to hang on to players by force, who then end up complicating your dealings on the transfer market.
"But you have to be ready to grab your cash and to immediately find a replacement" Bergomi concludes.