Player Ratings – Bologna 1 – 0 Inter: Pathetic Performance Brings 7th Defeat In Serie A This Season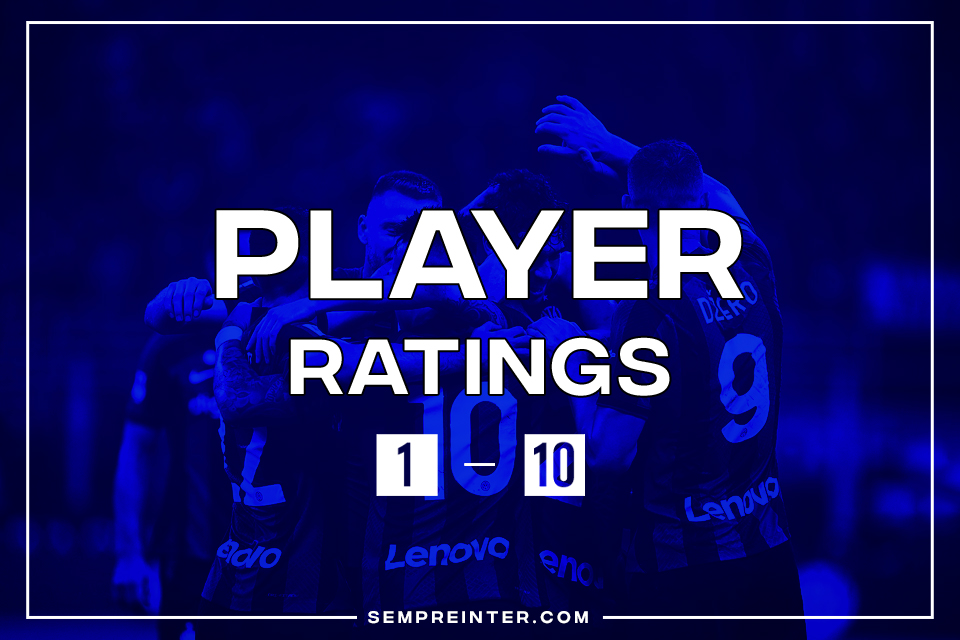 Inter lost 1-0 away to Bologna in the Serie A at the Stadio Renato Dall'Ara for the second year in a row after a shambolic performance that should have everyone involved ashamed of themselves.
The Nerazzurri started the match about as poor as they played it throughout. No movement, poor passing, simple unforced errors and an approach that was shameful.
In fact, Inter were lucky to concede the only goal of the game in the 76th minute and not sooner as that was how bad of a performance this was. Bologna were better throughout and deservedly won.
André Onana – 6: Could have perhaps done better on the goal but conceding it wasn't exactly a mistake either. Not his usual commanding presence.
Matteo Darmian – 6: Didn't make any mistakes defensively, at least not big ones but looked off pace and struggled in final third, especially with timing.
Stefan De Vrij – 4: Abhorrently poor first half which saw him get subbed off at half-time after picking up a yellow card. Looks a shell of player he once was.
Alessandro Bastoni – 5: Struggled with the pitch just like his teammates did throughout. Defensively he did better than when attacking which says it all.
Denzel Dumfries – 4: Inter replaced Maicon with Jonathan. Now the Nerazzurri have repeated that mistake again when replacing Hakimi with Dumfries.
Hakan Calhanoglu – 5: Off pace, out of position, mistimed passes, struggled with physical aspect of game and looked burned out. Just like entire midfield.
Marcelo Brozovic – 5,5: The mind boggles at fact that this is the same player that came on and was the main reason Inter beat Porto some three days ago.
Henrikh Mkhitaryan – 4,5: Looked so tired, so drained, so burned out, something we saw clearly already against Porto. Needs to be benched for a few games now.
Robin Gosens – 6,5: Only Inter player that came up to some level even if that level was far from being very good which tells you all you need to know.
Romelu Lukaku – 5,5: Physically only Inter player who won the majority of his battles against his opponents but again flat-footed when in goalscoring positions.
Lautaro Martinez – 5,5: Squandered another header in a good position just like against Porto and looked like Bambi on ice when tripping over on rainy pitch.
Francesco Acerbi – 6: Replaced De Vrij at half-time and showed why he must start every game for Inter to have composure and balance in back three currently.
Nicolo Barella – 5: Substituted on for Mkhitaryan in the 63′ minute and showed nothing to suggest Inter would have played better had he started.
Edin Dzeko – 4,5: Brought on for Lukaku in the 64′ minute and offered nothing in the build-up phase where he looked slow and very rusty.
Danilo D'Ambrosio – 5: Came on for Dumfries in the 68′ minute and provided some improvement defensively but played like a player on his last legs.
Valentin Carboni – N/A: Was brought on for Brozovic in the 83′ minute and didn't play long enough to be able to be rated.
Simone Inzaghi – 4: Unacceptable performance. This wasn't a tactical issue but a mental and attitude issue for which he is 100% responsible for.
Dabiele Orsato – 6,5: Inter fans sighed when they saw him appointed but there was nothing to complain about at all. Got every single major decision right.
Inter – 4: Pathetic. Nato saving grace, no-one except maybe Gosens or Acerbi escapes what was an absolutely disgraceful display from start to end.
Agree? Disagree?
Let us know in the comments below or hit us up on Twitter and Facebook.