Five Things We Learned From Inter Milan This Week: "Samir Handanovic Must Never Start Over André Onana Again"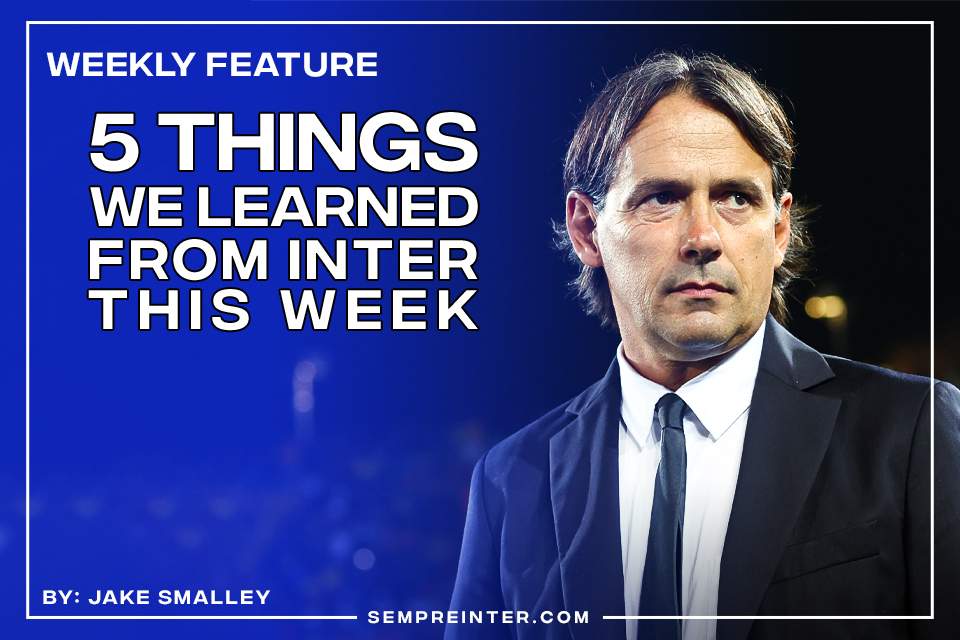 Inter made it into to the last eight of the Champions League for the first time since 2011 following a goaless draw away against Porto.
The 0-0 stalemate saw Inter progress and somewhat remind supporters of how well their cup exploits seem to be going once again this term.
It was important for Inzaghi's men to reach the next phase after last Friday's appalling defeat to relegation threatened Spezia.
Here's what we've picked out as key talking points of Inter's past week.
1) Simone Inzaghi Summarised
Tuesday night's aggregate victory sees Simone Inzaghi take Inter further in Europe than any other coach has in over a decade.
Add this to the fact he has won two Supercoppa titles, a Coppa Italia title and looks like he may well deliver another second place league finish whilst still having the opportunity to defend the aforementioned Coppa title.
When discussing this, we must also take into account the fact that he has lost key players and seen them replaced with ageing alternatives.
For all the talk of his future being in question due to Inter's eight league losses this term, has Simone Inzaghi actually done a very good job at Inter in the circumstances?
Perhaps a question that needs revisiting come the end of the season?
Click here for other sites similar to Bovada
2) Robin Gosens Injury Career Defining?
Just as Robin Gosens has finally found form in an Inter shirt, he now looks to face a stint on the treatment table.
The German looks to have suffered a flare up of the injury he suffered and the back end of 2022 whilst at Atalanta.
Whilst we wish him back to fitness and form as quickly as possible, does this perhaps provide an explanation to why Gosens has found it so hard to find his feet at Inter.
Maybe it is also reason for why Inter were able to pick up one of Atalanta's stars for such a cheap fee too.
Let's hope this injury doesn't become a career definer for a player who clearly wants to make it work at Inter.
3) The Francesco Acerbi Conundrum
I think you will have been hard pushed to find an Inter fan who was truly mesmerized by the signing of Francesco Acerbi last summer.
Approaching 35 and coming off the back of a poor year at Lazio, many in the Nerazzuri camp were quick to dismiss the former Milan centre half.
Fast forward seven months and Acerbi has slotted in nicely as an option for Inzaghi's men, taking in seven games in Europe as well as 19 league matches.
With the need for centre back high on Inter's agenda for the summer mercato, bringing in Acerbi could prove a cheap option to bulk out the depth of the squad.
Sure his age is a bit of a concern but a cheap deal to get another year out of him may well be a worthwhile consideration.
4) Samir Handanovic Must Never Start Over André Onana Again
All good things must come to an end.
Samir Handanovic must simply now take his role of Club Captain solely off field and allow his reputation and dignity to remain intact.
A nice send off in Inter's final game against Torino would be a fitting end to a player who was often Inter's shining light in arguably the darkest period in the club's history.
As for now Andre Onana is the future and by taking him out last Friday, Simone Inzaghi unsettled the side by playing the ageing Samir in his place.
You've more than done your bit Samir. Now it is time to be put out to stud.
5) First Hurdle Of A Tough Period Navigated Nicely
After Friday's abomination, many feared for Inter in Porto but despite a late onslaught, them managed to escape into the last eight of the Champions League.
With Juve up next and soon in the Coppa, Inter should gain confidence from seeing out the win in Portugal to take into these games.
Inter also owe the Bianconeri for beating them in the league's reverse fixture.
Fiorentina will not be a cake walk either and dependent on the draw in Europe, Inter could face a very daunting ant challenging late March heading into April.
A good start so far though, especially after the nightmare of the Piccho.
Do you agree? Or disagree? Would you keep Simone Inzaghi past this season? Do you think Inter should sell Robin Gosens? What are your thoughts on the Samir Handanovic or André Onana discussion?
Let us know in the comments below and remember to follow us on Twitter, Instagram and Facebook.