Inter Milan 4 – 2 Sassuolo Player Ratings: 8/10 Romelu Lukaku MOTM As Nerazzurri Move Up To Third Spot In Serie A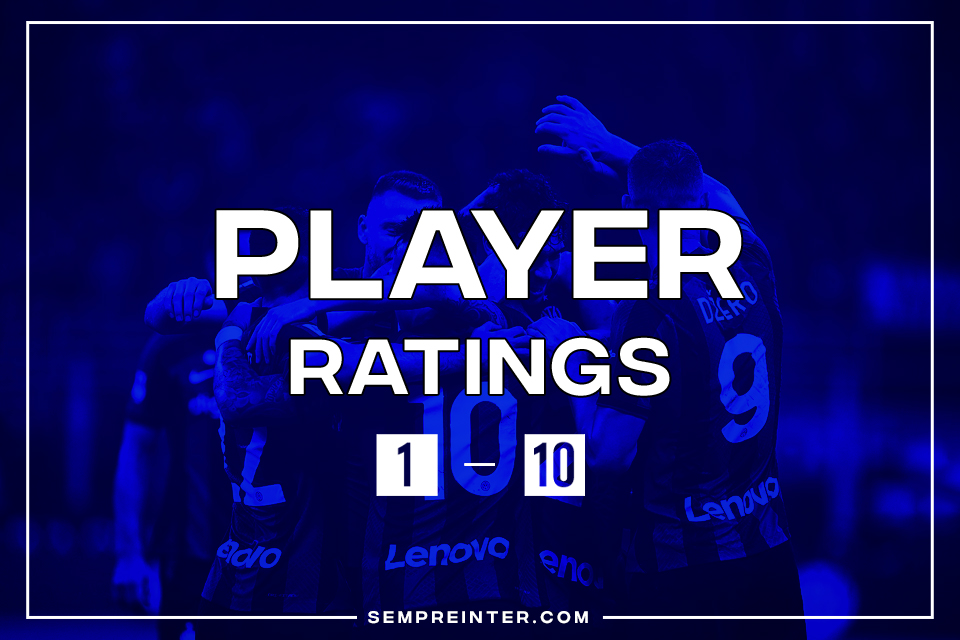 Inter Milan beat Sassuolo 4-2 in Match Day 35 of 2022/2023 Serie A season at the Stadio Giuseppe Meazza, after an awful performance defensively but much better in attack, thanks to MOTM Romelu Lukaku, something reflected in the SempreInter.com Inter Milan player ratings.
Ratings by Thomas Millar.
The Nerazzurri started the match poorly and were lucky to not go a goal down. This when Domenico Berardi's goal was disallowed for offside in the 13th minute following awful defending.
Inter had their own goal disallowed for offside after Federido Dimarco ran offside before Joaquin Correa scored.
However, Inter Milan broke the deadlock when Danilo D'Ambrosio assisted Romelu Lukaku who demonstrated all his strengths as a footballer before belting home a rocket.
In the second half, Inter went for the kill. Which they did after Raoul Bellanova's shot was directed into his own net by Ruan in the 55th minute.
Three minutes later Lautaro Martinez scored Inter's third and everyone thought that was it. Wrong. This is Inter and today Inter decided to not defend.
Matheus Henrique in the 63rd and Davide Frattesi in the 77th scored twice for Sassuolo to make it unnecessarily exciting.
Until Romelu Lukaku scored his second and Inter's fourth to wrap up the three points, the Nerazzurri's 7th win in a row in all competition, which push the Nerazzurri into third spot in the Serie A.
Inter Milan Player Ratings Vs Sassuolo – Romelu Lukaku MOTM
Samir Handanovic (C) – 6: Seems to be afraid of letting the ball hit him, got caught flat-footed on both opposition goals, did not challenge.
Danilo D'Ambrosio – 6,5: A quality player who is now a rotation utility player. Solid effort always, able to put in a good shift when asked.
Stefan de Vrij – 6,5: Not nearly the player he was just two years ago, but still gives flashes of that player every once in a while.
Francesco Acerbi – 6: A different defensive line than he is used to, and sometimes got confused with positioning. Not necessarily his fault.
Raoul Bellanova – 7: Harshly judged this season with his limited opportunities. Good flashes of pace and understanding, but shows bits of immaturity.
Roberto Gagliardini – 5,5: A shock that he was given ninety minutes. Essentially does nothing aside from jogging around and the odd foul.
Marcelo Brozovic – 7: Made many crucial interceptions, recycling the ball or stopping a counter-attack. Began to tire towards the end.
Henrikh Mkhitaryan – 6: A more quiet match compared to his UCL performance. Deserved a rest today but started, still showed his skill.
Federico Dimarco – 7: A chance creation machine on the left. Put in perfect accurate crosses on many occasions, and could have gotten an assist.
Joaquin Correa – 5: Still unable to find a breakthrough where he makes an impact. Brought off at half-time due to a minor thigh injury.
Romelu Lukaku (MOTM) – 8: He is picking up incredible form exactly when Inter need him to. A birthday brace with two wonderfully taken goals.

Substitutes
Lautaro Martinez – 7: Replaced compatriot Correa at halftime and was an immediate impact. Missed an important chance but followed up with a goal.
Robin Gosens – 6,5: Brought on in the 61′ minute for Federico Dimarco. At his best, he is a quality player. Slowly, we are beginning to see this version.
Kristjan Asllani – 6: Substituted in the 61′ minute for Mkhitaryan. Showed some signs of promise, but mostly why he hasn't been given many chances.
Alessandro Bastoni – 6: Entered in the 73′ minute for Stefan de Vrij. Made a good impact and showed his comfort on the ball, evading the press.
Matteo Darmian – 6: Came on in the 79′ minute for Raoul Bellanova. Brought on to give defensive solitude and did exactly that.
Manager
Simone Inzaghi – 7: Rotated heavily, as expected, between UCL semi-final legs. Got the job done, narrowly, but made significant progress to finish top 4.

Referee
Matteo Marcenaro – 6: Two tricky disallowed goals in the first half, and did well. Made some minor mistakes, such as a non-existent yellow card for De Vrij.
Team Performance
Inter – 6,5: Made it way too close at the end of the match but got the job done. Closed the gap to second place and widened the gap from 5th place.
Do you agree or disagree with Sempreinter.com's Inter Milan player ratings? Who was your Inter Milan Man of the match? And who was the Nerazzurri's worst performer on the day?
Let us know in the comments below or hit us up on Twitter and Facebook.