Inter Milan Coach Simone Inzaghi: 'My Contract Expiring Next June Isn't A Problem Whatsoever'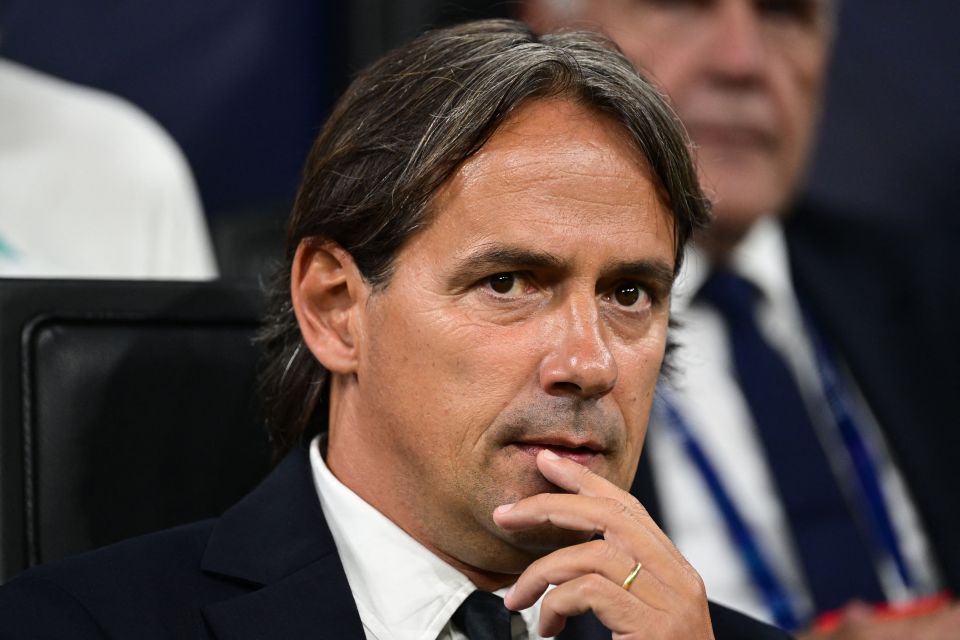 Inter Milan coach Simone Inzaghi has made very clear that the status of his contract isn't a problem.
Speaking in a press conference after the Nerazzurri's Coppa Italia final win over Fiorentina yesterday evening, as reported by FCInterNews, the coach stressed that he's not worried about the fact that his current contract with the club runs out at the end of next June.
It is now clear that Inzaghi will remain as Inter coach for the start of next season.
Nerazzurri President Steven Zhang confirmed as much once again yesterday evening.
A few weeks ago, there were suggestions that the former Lazio coach was on the verge of being sacked.
The likes of Bologna's Thiago Motta and Brighton and Hove Albion's Roberto De Zerbi had been rumoured as potential replacements.
Were Inzaghi to be on his way, Tottenham Hotspur are reportedly interested in his signature. Now, however, it is absolutely abundantly clear that Inzaghi will stay.
However, there is the question of the coach's contract to consider.
As it stands, Inzaghi is under contract with Inter until the end of June. The former Lazio boss signed a one-year extension with the club last summer.
Simone Inzaghi – Duration Of Contract With Inter Milan Not A Problem
From the perspective of the coach himself, however, there is little to worry about.
When his contract status was pointed out, Inzaghi replied that "This isn't a problem."
"The problem I'm concerned with is playing matches like this in the best way possible," the coach said after beating Fiorentina win the Coppa Italia. "I've never felt like I'm in a precarious position."
"The contract can be discussed in a few days," Inzaghi added. 'The trust has always been there and that's kept us going even through difficult periods."
"My staff and I have done well to listen when things haven't been going very well. Now we have to complete our mission."
Of how he feels about winning the Coppa Italia, Inzaghi replied that "It's enormously satisfying."
"We're coming into the finale of this season in great form," the coach added.
"We knew it would be a very difficult run-in. I've tried to keep the guys calm."
Inzaghi admitted that "We approached that start of it badly, you can't concede a goal in the first three minutes of a final."
"But the guys didn't lose their heads, and played a good first half. Then we suffered in the second half."
"Fiorentina are a quality team," Inzaghi said. "We suffered in the right way, as a team. Congratulations to everyone."
Of his assertion that he brings both trophies and financial revenues to the club, made before a match against Roma in October, Inzaghi defended it, saying that "It didn't seem like a rash idea to me."
"It was a difficult moment for us, but I was calm even after that loss against Roma."
"I'm fortunate to coach total professionals who always commit themselves completely," he said.
Inzaghi On The Secret To His Success In Finals
Next, Inzaghi was asked about how he manages to get the best out of finals in cup competitions.
"I'm lucky enough that I've always coached top teams," the 47-year-old said. "First, Lazio, between the youth team and then the first team. Then Inter."
"I have players who don't give up," Inzaghi said.
"I've never had a team concede a goal in the first three minutes of a final," he added. "But we kept our heads and played a great first half."
Inter Milan Sent A Message To Man City Ahead Of UCL Final
The Inter coach was also asked about what kind of message that the Nerazzurri sent to Champions League final opponents Manchester City.
"They will have seen a good final, a good advertisement for our football," he said.
"Two teams on a mission, we've come into it in good form," Inzaghi continued.
"Now we get to enjoy the evening, and then we have to get right back to concentrating on the league."
"Then we go to Istanbul, where we'll play in a final that's unexpected but which we desired with all our strength."