Inter's Nicolo Barella: "Antonio Conte's Helped Me Improve, Europa League Final Loss Is Greatest Career Disappointment"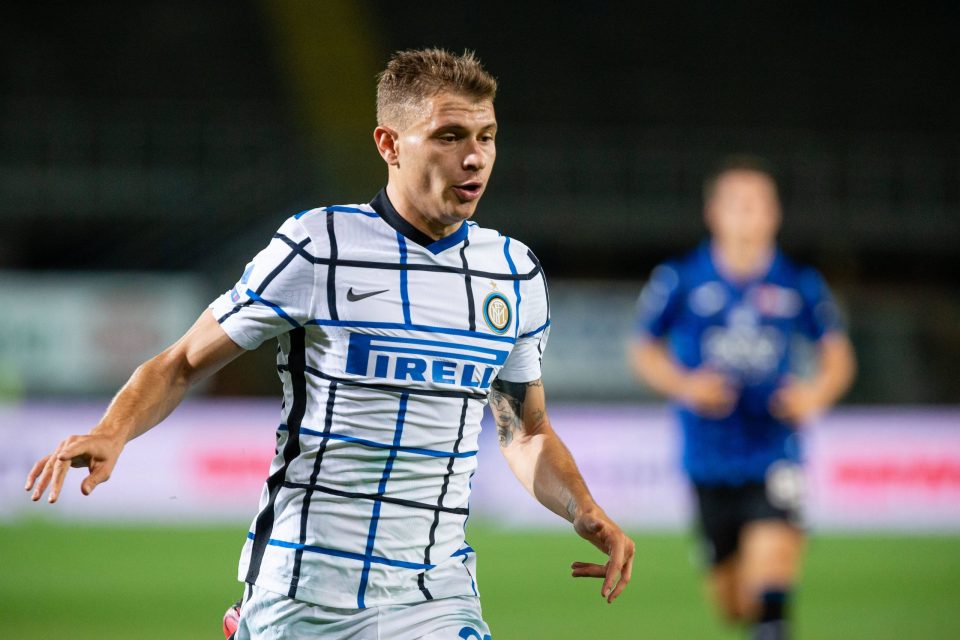 Inter midfielder Nicolo Barella has spoken on a range of topics, from starting out at Cagliari to losing the Europa League Final last summer in a long interview with an Italian broadcaster, which was broadcast today.
Barella is expected to start on the bench today when the Nerazzurri play Fiorentina in the last 16 of the Coppa Italia.
He joined from Cagliari in the summer of 2019 in a deal worth up to €40 million and has since become one of Antonio Conte's most important players.
"As a child I dreamed of Serie A and the Cagliari captain's armband. Now I have even more dreams and now they are coloured in black-and-blue," Barella explained to DAZN's Diletta Leotta on the 'Linea Diletta' show.
The Italian national team midfielder then spoke on the origins of his nickname 'radio'.
"It was a nickname that the 'old men' of Cagliari, Andrea Cossu and Marco Sau gave me, because when I arrived in the first team I spoke little, but when I started playing I started talking on the pitch and they told me I was better than I was before."
Barella then spoke on when he started playing football.
"I started at three and a half years old.
"My mother always told me that when they took me to the pitch they thought I would stay there making piles of sand on the clay court, but I always listened, I paid attention.
"Around 14-15 years old I began to understand that maybe I was a little better than the others."
Barella proceeded to recall his first meeting with legendary Cagliari player Gigi Riva.
"I met him aged 17, he invited me to an anniversary of the football school of which he is honorary president.
"He congratulated me, he said he followed me from an early age and you could see that I had something more than the others.
"I was pleased, even if I was a bit dazed."
Barella went on to discuss Gianfranco Zola, who handed him his Cagliari debut and shared his pride in being a Sardinian.
"He gave me debut in the Coppa Italia against Parma, I owe him so much.
"He is probably one of the most humble people I have met in football.
"He made me realize that it takes being humble to be a great champion.
"I am very proud to be Sardinian.
"I feel Sardinian with my attitude on and off the pitch, I hope that people and teammates appreciate my way of being."
Barella then began to speak on Inter and started by speaking on how Inter coach Antonio Conte has helped him out since they started working together.
"I am very methodical? The coach has helped me a lot in this regard.
"Before I was more of a free spirit on the pitch, Conte helped me to be more orderly.
"I study a lot on the pitch, I have taken the best parts of my teammates' games and made them my own."
Barella then reflected on the low of losing the Europa League final against Sevilla last season with Inter in his first year with the club.
"So far that is the biggest disappointment since I've played.
"I wouldn't want to relive it, I'd rather raise the cup.
"We spent a long time away from our families and we deserved to have a different ending."
He then spoke on his recent goal over former employers Cagliari as well as his strike versus Hellas Verona last season.
"It was a good goal, perhaps after the one against Hellas Verona at San Siro, which was the most beautiful one I have scored in Serie A.
"It was strange. It was a moment when I was happy but I was also sorry.
"My thoughts were a mess, I apologised, I got a little excited."
As part of the interview, a video message from legendary Inter midfielder Dejan Stankovic was shown to Barella and he responded to the praise by saying: "Stankovic's goals are the thing that caught my eye.
"But in reality he was everything, he never gave up.
"You could see he was a leader with an attitude. Watching him on TV when he scored certain goals and San Siro exploded, it was a beautiful feeling."
Barella also reiterated his recent thoughts on the similarities between Romelu Lukaku and basketball legend Shaquille O'Neal.
"Both have made their overwhelming physical power their best weapon.
"Romelu is also much more than that, but it is normal that that characteristic stands out.
"Even in training two or three of us have to cling on to him to move him.
"He manages to have a wonderful relationship with everyone. On the pitch he determines a lot.
"When he arrived he already greeted everyone in Italian, this was already strange.
"I think he knows all the languages ​​in the world."
The interview topic then shifted on to the Italian national team, who Barella has represented on 18 occasions thus far in his young career.
"The national team is a source of pride for me, I think it's every footballer's dream.
"I owe a lot to many coaches, even Roberto Mancini: he believed in me before I joined Inter and managed to create a beautiful group.
"The coach was good because he gave everyone maximum peace of mind, we are all free to express ourselves.
"There is no great player going against the smaller one, we all help each other."
He then spoke on some of his Azzurri teammates who he gets on well with.
"I have a wonderful relationship with Salvatore Sirigu because we are both Sardinian and he is a beautiful person while Giorgio Chiellini is a bit of everyone's 'mother', he is protective.
"He has always pampered us and made us not feel like kids but important players.
"This is what the coach wants and he is the one who puts it into action."
Barella spoke on what he believes is his biggest strength is.
"My main strength is being a humble and genuine person with values, a defect of this is that on the field every now and then I get carried away."
The 23-year-old was asked if he felt he was ready for a move abroad and simply said: "If I'm ready? So-so."
In conclusion he spoke on his family.
"My family gives me the strength to want even more, to make them proud.
"Would I like my daughters playing football? I would be happy to see them realise their dreams.
"The important thing is that they give 100% in what they want to do, I will teach them this."