Player Ratings Inter 3 – 1 Roma: Romelu Lukaku Stars As Nerazzurri Record 14th Home Win In Serie A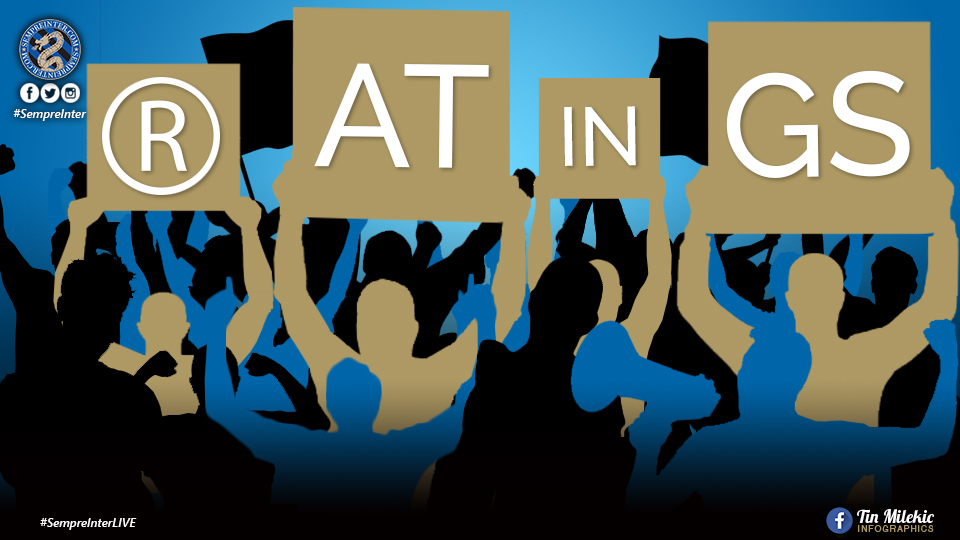 Inter recorded their 14th home win in the Serie A this season after a 3-1 win against Roma at the Stadio Giuseppe Meazza in Milan's San Siro district.
Marcelo Brozovic broke the deadlock early in the first half before Matas Vecino doubled the Nerazzurri's lead. Roma's Henrikh Mkhitaryan pulled one back before the break and Romelu Lukaku restored Inter's 2 goal lead, for 3-1.
Andrei Radu – 5.5: Not a great first start for Radu. Should have saved the goal. Most saves were pretty routine but this is further proof that Inter need a new goalkeeper.
Danilo D'Ambrosio – 6: Did okay in defence all the time. Lacks the movement and the passing ability that Conteball needs to release the forwards or midfielders in space.
Andrea Ranocchia – 6: That defensive header towards the end knocked the wind out of Roma. Dzeko managed to lose him a couple of times. Kept his calm as tonight's captain.
Milan Skriniar – 7: Skriniar cant play in a 3 man defence? Yes he can. Skriniar cant play on the left? Yes he can. Great game from Milan. That tackle is his speciality. Beast.
Matteo Darmian – 6.5: One of the reasons Inter have a month of playing games without much pressure. Whenever Conte has asked, he has delivered. Consistent and reliable.
Nicolo Barella – 7: Barella didn't have the best of first halves as he was playing from the left. Once Sensi came in, Nicolo switched on to world class mode. Box to box.
Marcelo Brozovic – 7: Wasn't as secure in defensive midfield, but he more than made up for it in the build up play. Kept his composure to complete a beautiful move for 1-0.
Matias Vecino – 7: Nice to see Vecino back to full fitness. He lacks a lot with the ball and build up play, but his positioning is top class. Could and should have had more.
Ivan Perisic – 6: Ivan didn't have much impact in the offensive phase as he didn't really venture forward as he usually does. Kept his flank secure for most of the game.
Romelu Lukaku – 7: His hold up play is second to none in world football at the moment. Great assist for Vecino and finally got his goal towards the end. Good vibes always.
Alexis Sanchez – 6: Unfortunate that he got an injury as he was looking in great form in his 35 mins or so. Deserved an assist for that backheel flip. Too bad it fell to Matias.
Lautaro Martinez – 5: The only player who didn't meet expectations today. Lost his mind a bit and always made the wrong decisions in attack. Conte wasn't happy at all. Poor.
Stefano Sensi – 6: Came on when Roma had pedal to the metal. Did his defensive duties well and helped Inter release some pressure. Didn't do well at the other end.
Hakimi – 6.5 : Doesn't need to play 90 mins to have an impact on the score line. Got away twice and made Roma pay. On another day he would also have a goal or 2.
Ashley Young – N/A: Young was brought on to give some rest to Darmian and to add pace to the flank. Did decent and the only time he went up was to take a free kick.
Andrea Pinamonti – N/A: Good 15 minutes or so from Pinamonti. Could have had a goal too. If he can keep this up, Conte and co might actually consider keeping him around longer.
Antonio Conte – 6: The game plan worked very well in the first half. Inter managed to soak the pressure when Roma threw everything. Correct timing of the substitutions.
Daniele Chiffi – 6: Good use of the VAR. Gave a few yellow cards to Roma when they really didn't deserve it and let a few harsh fouls go. No major mistakes is a relief.
Inter – 6.5 : Inter continue their month of celebration but the only low point was the Lautaro-Conte shouting match which left a bad taste. The fire still burns.
Agree? Disagree?
Let us know in the comments below or hit us up on Twitter and Facebook.