Sheriff Tiraspol Captain Frank Castaneda: "We Have To Get A Result Against Inter, I'll Ask For Alexis Or Lautaro's Shirt"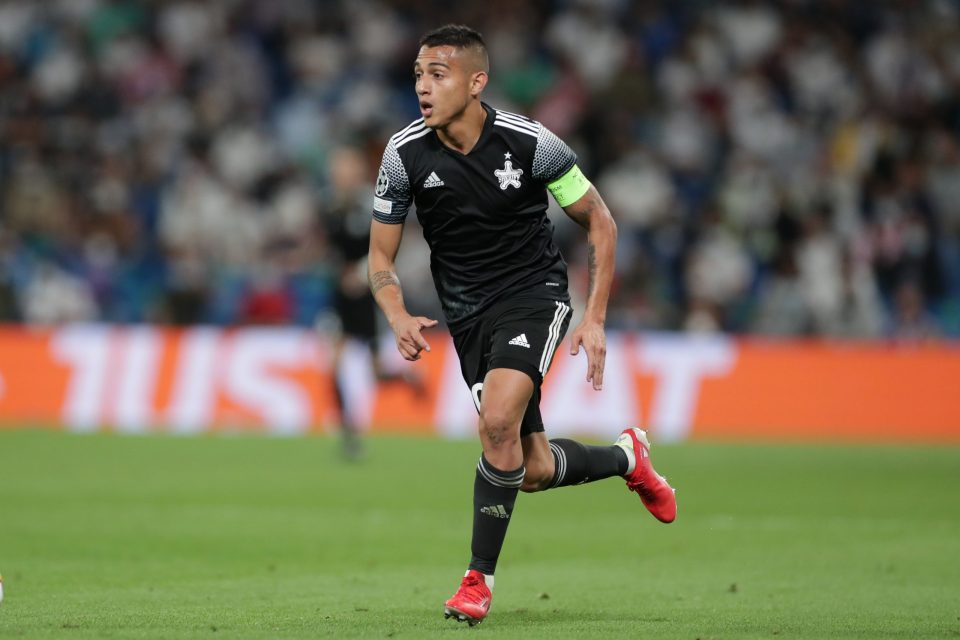 Sheriff Tiraspol captain Frank Castaneda is prepared for a difficult match against Inter when his side travel to face the Nerazzurri in the Champions League this evening.
Speaking to Rome-based newspaper Corriere dello Sport in an interview published in today's print edition, the 27-year-old Colombian opened up about how he feels coming into the match in a position of group leaders, and suggested that his team will have to work hard to get anything from the match against a strong Inter side.
Sheriff Tiraspol were considered to be major outsiders in a group containing established European teams Inter, Real Madrid, and Shakhtar Donetsk, but they have proved their doubters wrong thus far.
An impressive win against Shakhtar at home on the first matchday was followed by a shock defeat of Real Madrid at the Bernabeu, meaning that the Moldovans have started perfectly and top the group.
Castaneda knows, however, that regardless of what the group standings say, the match will be a difficult one for he and his teammates.
On his feelings at being drawn in the group he said, "I felt great happiness because it's nice to have the chance to play against top clubs like Inter, Real Madrid and Shakhtar."
"From the beginning we focused on hard work because we knew it was the only way to do well against these opponents," he stated. "I admit that winning against Shakhtar and Real was a dream come true. Wins against two such clubs have convinced us even more that we can do great things."
"It is great for us, but also for football that such a young team having their first experience in the Champions League have written an important page in history, earning everyone's respect," he stated.
On what has brought Sheriff to the position they're in he named, "The individual desire and ambition. On the pitch we lean on each other, we try to achieve a result together, we all give our best and no one spares any running for their teammates."
"We are a team in the true sense of the word," he said. "In this way we are also able to compensate for some shortcomings we have compared to the most famous squads we face."
He also admitted that Real and Inter are still the group favourites, stating that "We were lucky in Madrid, but Real and Inter are two very strong teams, two clubs with a great tradition. It will be hard to keep them behind us."
"We already feel like a Cinderella who has done something exceptional since in the qualifying rounds we eliminated Red Star and Dinamo Zagreb," he said. "Those who considered us unsuitable for the Champions League will have changed their minds."
Of qualifying for the knockout rounds he stated that "I think it is a possible goal if we continue to work very hard. We have to get a result against Inter and it won't be easy because we will be up against the Italian champions."
"Inter play better with Inzaghi and demonstrate more fluid football, like a great team," he opined. "We will have to pay close attention to their transitions and fight back when it is possible."
On the Inter player he expects to be the biggest threat he stated, "Lautaro is great and always scores for Argentina. On TV I often study his movements – he is agile and intelligent, one of those who, if you forget him, can kill you in a second. Both he and Dzeko will have to be kept in check."
Asked which Inter player he will ask to trade shirt with at the end of the match Castaneda named "Martinez or Sanchez. I've been following Alexis since he went to Barcelona, he's great."
Of the San Siro he said, "None of us have ever played there and it will be a new experience for everyone. Indeed, a dream that will come true exactly as it did when we went to the Bernabeu. I've seen the San Siro on TV many times when I followed Inter winning the treble in which my compatriot Cordoba was there."
Castaneda also expressed a desire to play in Italy, stating that "My great desire is to play in Serie A because so many important players play in this league. I know well that compared to the past the Premier League is more attractive than Serie A, but your league remains the top for me. I would do anything to have a chance at an Italian club."
"I', coming off from the best season in my career in which I set the goal record for Sheriff [33] and I also made 16 assists," he stated. "I think I have grown a lot, but can still improve. I'm hungry and I want to test myself on the big stage."
Lastly Castaneda described the city of Tiraspol, stating that "It is a small city, but with a lot of greenery. I arrived in Europe thanks to my agent who took me first to Slovakia and then to the Sheriff where I feel good."